The NF-S12A marks the third generation of Noctua's signature S12 series quiet case fans, which have received more than 250 awards and recommendations from the international press. Featuring a further refined blade design with Anti-Stall Knobs that works in tandem with the new AAO (Advanced Acoustic Optimisation) frame, the NF-S12A improves the airflow/noise efficiency of its renowned predecessor by up to 8%. The FLX version provides 1200/900/700rpm speed settings via the supplied Low-Noise Adaptors in order to give you full flexibility in fine-tuning the fan for maximum ventilation performance or near-silent operation. Its superb running smoothness, SSO2 bearing and Noctua's trusted premium quality make it an elite choice for quiet case cooling.


Anti-Stall Knobs


AAO Frame


Stepped Inlet Design




Inner Surface Microstructures


SSO2 Bearing
Metal Bearing Shell


NE-FD1 PWM IC


Which Noctua 120mm fan should I choose?
Details
Award-winning S12 design
The NF-S12A features the third evolution of Noctua's classic Straight Blade Design that has earned its S12 series countless recommendations from hardware journalists and enthusiasts around the world. Further optimised for even better airflow/noise efficiency, it makes the NF-S12A an ideal quiet case fan.
Anti-Stall Knobs
The NF-S12A's Anti-Stall Knobs reduce flow separation phenomena in medium to high impedance situations and thereby increase the fan's stall margin. This means that the NF-S12A is even more versatile than its renowned predecessor and can achieve better performance on heatsinks and radiators.
AAO Frame
Noctua's AAO (Advanced Acoustic Optimisation) frames feature integrated anti-vibration pads as well as Noctua's proprietary Stepped Inlet Design and Inner Surface Microstructures, both of which further refine the fan's performance/noise efficiency.
Stepped Inlet Design
Noctua's Stepped Inlet Design adds turbulence to the influx in order to facilitate the transition from laminar flow to turbulent flow, which reduces tonal intake noise, improves flow attachment and increases suction capacity, especially in space-restricted environments.
Inner Surface Microstructures
With the tips of the fan blades ploughing through the boundary layer created by the Inner Surface Microstructures, flow separation from the suction side of the blades is significantly suppressed, which results in reduced blade passing noise and improved airflow and pressure efficiency.
Integrated Anti-Vibration Pads
Integrated Anti-Vibration Pads made from extra-soft silicone minimise the transmission of minute vibrations while maintaining full compatibility with all standard screws and other mounting systems.
Smooth Commutation Drive 2
The latest version of Noctua's advanced Smooth Commutation Drive system ensures superb running smoothness by eliminating torque variations and switching noises. This makes the NF-S12A remarkably quiet even at very close distances.
3 speed settings for full flexibility
Providing 1200, 900 and 700 rpm speed settings via the supplied Low-Noise and Ultra-Low-Noise Adapters, the NF-S12A FLX (Flexibility) can be fine-tuned for superior airflow or maximum quietness.
Extensive cabling options
The fan's short 20cm primary cable minimises cable clutter in typical applications while the supplied 30cm extension provides extended reach when necessary. Both cables are fully sleeved.
SSO2 Bearing
The NF-S12A features the further optimised second generation of Noctua's renowned, time-tested SSO bearing. With SSO2, the rear magnet is placed closer to the axis to provide even better stabilisation, precision and durability.
Metal bearing shell
In order to guarantee the highest possible degree of manufacturing precision, minimum tolerance and excellent long-term stability, the NF-S12A sports a CNC milled bearing shell made entirely from brass.
6-year manufacturer's warranty
Noctua fans are renowned for their impeccable quality and outstanding longevity. Like all Noctua fans, the NF-S12A features an MTBF rating of more than 150.000 hours and comes with a full 6-year manufacturer's warranty.
Rotational Speed (+/- 10%)
1200 RPM
Rotational Speed with L.N.A. (+/- 10%)
900 RPM
Rotational Speed with U.L.N.A. (+/- 10%)
700 RPM
Airflow with L.N.A.
83,2 m³/h
Airflow with U.L.N.A.
65,8 m³/h
Acoustical Noise
17,8 dB(A)
Acoustical Noise with L.N.A.
10,7 dB(A)
Acoustical Noise with U.L.N.A.
7,4 dB(A)
Static Pressure
1,19 mm H₂O
Static Pressure with L.N.A.
0,73 mm H₂O
Static Pressure with U.L.N.A.
0,51 mm H₂O
Max. Input Current
0,12 A
Scope of Delivery
Low-Noise Adaptor (L.N.A.)
Ultra-Low-Noise Adaptor (U.L.N.A.)
3:4-Pin Adaptor
30cm Extension Cable
4 Vibration-Compensators
4 Fan Screws
| | | |
| --- | --- | --- |
| | | |
| 30.03.2013 // eTeknix.com | | |

The Noctua 1200RPM fans (FLX and ULN) posted generally better scores than the SilverStone AP123 fans despite running at lower RPMs and being quieter. I think the results speak for themselves. [...] So we have a great deal of performance flexibility across the whole NF-S12A series, we have the extensive Noctua accessory bundle with each fan giving you even more flexibility to use your fans whichever way you want, we have the usual top notch build quality and reliability backed by Noctua's 6 year warranty, we have mind boggling levels of research and development that have gone into these products and most importantly a price which is still competitive despite this best-in-class excellence that you just don't expect to find on most fans. As I always seem to say with Noctua fan reviews the price is justified by the premium nature and excellent all-round capabilities of the product. If you want some excellent case fans then you cannot go wrong with the NF-S12A series. My only concerns are that relatively speaking the price is high, but like I have said I still feel this is justified, and again the aesthetics will not be to everyone's tastes but the brown and beige colour scheme is what makes Noctua products unique. Without it they would just blend into to a market full of average fans when their fans are certainly far from average, though I do feel they could have made an effort to braid the cables all the way into the motor so the multi-coloured cabling on the rear isn't visible.

Test verdict: "Noctua products never cease to amaze me with their innovation and performance and if I was going to put some 120mm fans into my case then these would be my first choice, without a doubt. That said, these fans are in my opinion deserving of the eTeknix Editor's Choice award." (Ryan Martin, eTeknix.com)
| | | |
| --- | --- | --- |
| | | |
| 29.06.2013 // Vortez.net | | |

Noctua has devoted itself to quiet cooling. In that they have succeeded well. One measure of their insistence on quietness was their not bringing PWM products to market until they were ready to do it the Noctua way. "Fans" of Noctua's fans long wrote about how they wanted PWM versions, yet there were no PWM fans from Noctua. But it turned out that Noctua was not ignoring PWM; their engineers were working on developing a silent PWM control. The clicking seen in other PWM fans – even quiet clicking – is completely absent in Noctua PWM fans. This started with their NF-F12's, and has now extended to their A series. All are clickless. As well as can be measured in a non-professional setup, Noctua's airflow specifications are accurate. You can listen to a fan and hear if it is quiet or not, and whether it makes unpleasant noises (Noctua fans are free of unpleasant noises). But airflow is another matter. Airflow takes special instruments to measure. It is comforting to know Noctua's specifications on this are accurate; so you can use those specifications in your buying decisions. The various Low Noise Adapters and Ultra Low Noise Adapters are different for each of the fans. Clearly, they are tailored to achieve particular results. This may or may not be unique to Noctua fans. Interestingly, Noctua says nothing about it. The Noctua accessories are of good quality, and appear likely to last in extended usage. They are all handsomely sleeved as well. The fan frames are sturdy, and the corner cushions do not extend into the screw holes. That means the fans can be securely fastened with or without the cushions.

Test verdict: "Overall, the Noctua A series is a fine set of fans. Careful attention to airflow and acoustics, along with the best PWM circuits in existence, make these superb fans." (Ed Hume, Vortez.net)
| | | |
| --- | --- | --- |
| | | |
| 26.04.2013 // HiTechLegion.com | | |

Noctua products are far from typical, not just in terms of aesthetic with the unique love-it-or-hate-it beige and brown color scheme but in terms of build quality as well. At its core, a cooling fan is essentially just a set of impellers rotating to push or pull air but Noctua fans takes the idea one step further and hones the science of cooling to an art form. This is evident from the moment you open the box and see the organized packaging and the accessory kit, carefully chosen with so much consideration. Every cable is covered and even the labels are printed in thick glossy paper and will not easily come off over time. The Noctua S12A series fans are premium products after all and it is also very evident in the price. While most case fans have an MSRP of $10 to 15 USD, the Noctua S12A costs $27 USD per fan (The lowest price currently that I could find is $23 from Amazon.com). Considering how much R&D Noctua puts in to their fan designs however, this isn't surprising. Also, the build quality is beyond compare so it is somewhat justified. Is it practical? It is about as practical as a Ferrari in that it is an investment for the long run instead of just for the current build. With a MTBF of 150,000 hours and 6-year warranty, the Noctua S12A will outlast multiple system builds so it essentially pays for itself after a while. In terms of performance, the Noctua S12A series are designed primarily as a case ventilation fan. Despite improvements in design compared to its predecessors, Noctua offers the NF-F12 and the NF-P12 fans as superior choices for heatsinks and radiators due to their static pressure performance which the NF-S12A lacks. In our testing, the S12A was noticeably very quiet without any high pitch whine at maximum voltage and had a very even airflow distribution compared to other fans. Even when the low-noise and ultra-low noise adapters were added, the performance did not drop significantly and still cooled the overclocked CPU decently.

Test verdict: "Overall the Noctua S12A series provides flexible cooling options across three different versions. The price is noticeably higher than other fans but considering the longevity promised by the excellent build quality and the lengthy 6-year warranty, users eventually get their money's worth. For the Noctua S12A's technological innovations, unique design and extremely silent performance, it earns the HiTechLegion Editor's Choice Award." (Ron Perillo, HiTechLegion.com)
| | | |
| --- | --- | --- |
| | | |
| 16.04.2015 // GameTechModding.com | | |

Noctua NF-S12A FLX: a 1200rpm è sorprendente l'assenza di alcuna vibrazione, merito tutto dell'ottima qualità costruttiva che permette un bilanciamento eccellente oltre che ai componenti studiati appositamente per tale scopo, ad esempio il cuscinetto idrodinamico ad olio denominato SSO2 Bearing. Il flusso d'aria è davvero elevato e a tale velocità è impensabile sperare che non produca rumore, anche se contenuto, presenta ancora frequenze alte (che sono le più udibili). Utilizzando il riduttore di potenza LNA NA-RC 10 la velocità massima della ventola scende a 960 rpm dove ancora si può percepire del rumore anche se molto poco e soprattutto a bassa frequenza. Con il riduttore ULNA NA-RC 12 la velocità massima scende ulteriormente a 700 rpm dove non si percepisce più alcun rumore nonostante sia ancora presente un flusso discreto d'aria. Noctua NF-S12A PWM: come per la versione FLX, la Noctua NF-S12A PWM raggiunge una velocità massima di 1200 rpm e con il riduttore di potenza LNA NA-RC 7 raggiunge una velocità massima di 960 rpm. Anche qui dunque valgono le stesse considerazioni appena scritte per il modello FLX. Per arrivare a non udire più alcun rumore occorre abbassare la velocità a 800 rpm. Noctua NF-S12A ULN: questa ventola si differenzia dalle altre due per il fatto che già senza alcun riduttore di potenza la velocità massima è di 810 rpm dove non produce alcun rumore ne vibrazione ne turbolenza. La Noctua ha ponderato molto bene il settaggio di questa ventola limitandola a una velocità in cui il flusso d'aria è soddisfacente e soddisfacente soprattutto per l'orecchio! Se poi aggiungiamo anche il riduttore LNA NA-RC 12 la velocità massima scende a 610 rpm, ma se già a 810 rpm non produceva rumore, non vedo la necessità di ridurre ancora di più la velocità.

Test verdict: "Le ventole Noctua NF-S12A risultano molto prestanti e silenziose." (Enrico Luperini, GameTechModding.com)
| | | |
| --- | --- | --- |
| | | |
| 16.04.2015 // esPCializados.es | | |

En lo personal, me han gustado bastante y son unos productos que recomendaría sí o sí, a no ser que tengas el bolsillo un poco ajustado. Pero pensad en esto: la calidad tiene un precio, y en este caso se nota. Y son unos productos que nos aseguran muy buen rendimiento, grandes prestaciones y muy bunea calidad en los acabados. También quería hacer mención a que estaría bien que tuvieran una mejor cantidad de colores, pero esto algo sin importancia ya que muchos de ellos (por no decir todos) quedarán dentro de la torre y no se serán visibles. Eso sí, en cajas blancas y/o metalizadas, la combinación de colores le da un toque de elegancia y se nota que no estás ante un producto cualquiera. En mi caso, podéis comprobar que el color crema y marrón queda muy bien. Como puntuación final, a los 3 les pongo un 9,5/10.

Test verdict: "Noctua viene demostrando que sus productos están hechos con mucho mimo y cariño y tienen una calidad muy alta." (Pol Ribas, esPCializados.es)
| | | |
| --- | --- | --- |
| | | |
| 11.04.2015 // MadeForGaming.com | | |

As you can see from the results, the Noctua fans truly raise the dilemma between good performances versus noise. Spotting the differences between 1200 and 600 RPM can be easily done without using any special equipment, yet although the FLX was quite loud, in comparison to other fans I've had before it's less noticeable. This might be due to the added silicon anti-vibration pads that are easily placed. Noctua states that the S12A fans can last for more than 150,000 hours, and provides a six years warranty, three times more than what both Corsair and Cooler Master provide.

Test verdict: "The build quality is top notch and everything from the box to the performance shows that Noctua puts all their efforts in this product." (David Melloul, MadeForGaming.com)
| | | |
| --- | --- | --- |
| | | |
| 23.02.2015 // techanthology.com | | |

Già a bassissimi regimi di rotazione le ventole della serie Noctua NF-S12A si difendono bene dai concorrenti, in particolare la NF-S12A PWM tiene testa alla soluzione Enermax ed affianca le Blademaster sia in idle che in full load. In poche situazioni quest' ultima è stato in grado di offrire risultati superiori rispetto alle ventole Noctua.

Test verdict: "Dobbiamo essere sinceri, con Noctua abbiamo fatto davvero fatica a distinguere i diversi livelli di rumorosità già a 900rpm; pur disattivando qualsiasi sistema di dissipazione attiva all' interno del case inclusa la ventola della PSU arrivati ad un certo punto il componente più rumoroso era la pompa integrata della nostra soluzione all-in-one." (Michele Sanfilippo, techanthology.com)
| | | |
| --- | --- | --- |
| | | |
| 19.01.2015 // QWERTYmag.it | | |

Dopo aver fatto questi test ci riteniamo abbastanza soddisfatti soprattutto per quanto riguarda il rumore, che a distanza di 60cm dopo aver installato 3 ventole rimane comunque inudibile. Per le temperature non ci aspettavamo grossi miracoli ma qualche grado in meno nello stress test ci avrebbe fatto molto piacere. A livello bundle riteniamo che sia di prima qualità, troviamo infatti tutto quello che può servire, dagli adattatori alle prolunghe fino ad arrivare alle viti in gomma per un sistema ancora più silenzioso. Insomma queste scelte sono eccellenti in ogni loro aspetto, seppur la colorazione non sia apprezzata da molti, sono disponibili tutte e tre ad un prezzo di 19,90€ su Amazon. Quello che vi consigliamo è che qualora sceglieste di acquistarle, di fare bene i conti dei CFM in entrata e in uscita che avrete una volta installate.

Test verdict: "Noctua ha dimostrato ancora una volta di essere leader nel settore grazie alla qualità delle sue componenti che è possibile notare anche solo dall'accuratezza con cui è stata realizzata la scatola. Prestazioni eccellenti e rumore impercettibile sono le parole chiave di questo prodotto." (Davide Torno, QWERTYmag.it)
| | | |
| --- | --- | --- |
| | | |
| 07.01.2015 // Basic-Tutorials.de | | |

Unter Kennern ist Noctua bekannt. Nicht nur wegen der markanten Gestaltung der Lüfter, sondern auch wegen der Technik die hinter den Lüftern steckt. Diese Generation der Noctua-Lüfter verbessert das SSO-Lagersystem. Mit SSO2 befindet sich der Magnet noch näher an der Lüfterachse, um mehr Stabilität zu gewährleisten. Zur verbesserten Stabilität und geringer Vibration tragen außerdem integrierte Vibrationspuffer und abgestufte Einlassbereiche bei. Noch wichtiger ist aber die Mikrosturktur im Innenbereich. So gewährleistet euch Noctua mit seinen Lüftern eine herausragende Laufruhe. Auch das Antriebsystem hat Noctua verbessert. So werden zum Beispiel Switching-Noises einfach eliminiert.

Test verdict: "Für alle, die ein bisschen auf Verarbeitung, Leistung und vorallem die Lautstärke ihrer Lüfter achten, bringt Noctua mit diesen drei Lüftern ein perfektes Trio. Je nach Bedarf, ob schnell, langsam oder extrem leise drehend, für jeden ist etwas dabei." (Lukas Heinrichs, Basic-Tutorials.de)
| | | |
| --- | --- | --- |
| | | |
| 16.11.2014 // Hardwareslave.com | | |

These fans in their various set ups give very good air flow performance when used as an exhaust fan, but they give even better performance when used to quieten a chassis down. Despite their low noise credentials we found a flatter performance profile when it comes to cooling. Giving the chassis one exhaust fan and no intake fan gave each version the job of intake and exhaust, not an easy task.

Test verdict: "Using the three variants of the same fan it was clear that a system builder could manage airflow and noise with a high degree of accuracy. The level of design and thought in these fans is amazing, you will know it when you feel and open the box." (Jim McGhee, Hardwareslave.com)
I get a CPU fan error despite the fan is running!
Some mainboards display a CPU fan error when the fan speed falls below a certain threshold, e.g. 900rpm. If you want to run the fan below this speed (e.g. using the supplied U.L.N.A.), please adjust the threshold in the BIOS or disable CPU fan error warning.
Can I disassemble my fan for cleaning?
In order to ensure flawless operation over many years of usage, all Noctua fans come with a premium grade SSO bearing, which is fully sealed to prevent the entering of fine dust particles. Please note that the fan is not designed to be taken apart by the user. Removing the impeller from the frame will break the sealing of the bearing and results in a loss of warranty.

It is thus recommended to clean your fans using a duster, slightly moist tissue or canned air. Please be careful not to use too much force in order to prevent any damage to the fan. Please don't use a vacuum cleaner as this may apply excessive force to the fan.
Can I paint my Noctua fan in order to change its color?
Since even small variations in the layer of paint can lead to an imbalance of the impeller, resulting in vibrations, higher noise levels, increased stress on the bearing and thus reduced lifespan, we do not recommend painting the fan. Please note that for the reasons stated above, painting the fan will void your warranty.
How can I find out the direction of airflow and sense of rotation?
When looking at the fan so that the circular sticker with the Noctua logo is facing you, the direction of airflow is towards you and the sense of rotation is clockwise: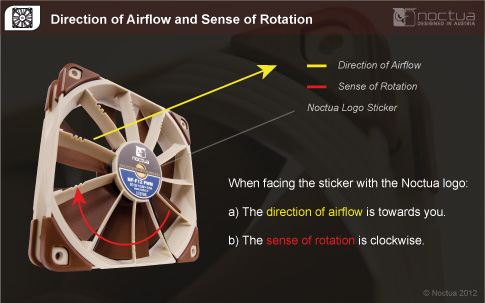 How should I clean my Noctua fan?
Fans inside computer cases tend to accumulate dust over longer periods of usage. In order to maintain maximum performance, please clean your fans regularly using a duster, slightly moist tissue or canned air. Please be careful not to use too much force in order to prevent any damage to the fan. Please do not use a vacuum cleaner as this may apply excessive force to the fan and do not put the fan under running water as water residues inside the motor may lead to short circuits.
In order to ensure flawless operation over many years of usage, Noctua's premium grade SSO bearings are fully sealed to prevent the entering of fine dust particles. Please note that the fan is not designed to be taken apart by the user. Removing the impeller from the frame will break the sealing of the bearing and results in a loss of warranty.
My Noctua 3-pin fan starts to spin when the PC boots but then stops, what is wrong?
Many mainboards are able to automatically regulate the fan speed of 3-pin fan via voltage based measures. However, due to limitations of this method it may occur that the mainboard reduces the voltage so much that the fan stops. To resolve the issue, you can:
Choose a higher fan speed profile in the BIOS (e.g. "normal" instead of "silent", etc.) or deactivate automatic fan speed control and use a Low-Noise Adaptor instead.
Use the mainboard's fan speed control software or 3rd party tools like Speedfan to regulate the fan speed. Unlike BIOS based fan speed control, the supplied software usually checks whether the fan has stopped and increases voltage accordingly or at least offer more options to set up the fan properly.
What pin configuration do Noctua fans use?
All Noctua fans feature the standard pin-configurations set out in the Intel and AMD specifications. These standard pin-configurations are used on most mainboards and fan controllers today: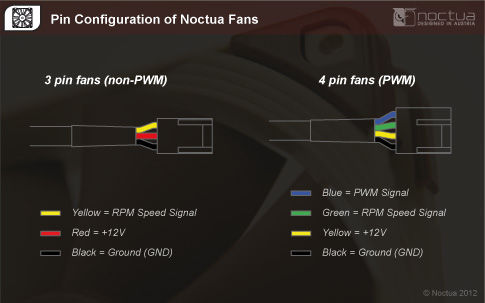 You specify airflow in m³/h, how can I convert to CFM?
In accordance to the International System of Units (SI system), Noctua specifies volumetric flow rate (airflow) using the SI unit of cubic metres per hour (m³/h). The SI unit can easily be converted to cubic feet per minute (CFM): One m³/h is ~0.589 CFM and one CFM is ~1.699 m³/h. For convenient conversion, online tools such as
www.convertunits.com
can be used.
Do you have a question concerning one of our products? Please use this form to pose a question!