The NH-L9a is a premium quality quiet CPU cooler for AMD based HTPCs and Small Form Factor systems. At a super-low profile of only 37mm, the NH-L9a is ideal for extremely slim cases and due to its 92x114mm footprint, it provides excellent compatibility with tall RAM modules and other components on mini-ITX mainboards. The custom designed SecuFirm2™ mounting system for AM3+/FM1/FM2/FM2+ makes installation a child's play and thanks to the highly optimised
NF-A9x14
premium fan that supports fully automatic speed control via PWM, the NH-L9a runs remarkably quiet. Topped off with Noctua's renowned
NT-H1
thermal compound, the NH-L9a fuses everything users have come to expect from Noctua's larger coolers into a super-compact package for slim HTPC systems.
| | |
| --- | --- |
| | Caution: The NH-L9a is a highly-compact low-profile quiet cooler designed for use in small form factor cases and HTPC environments. While it provides first rate performance in its class, it is not suitable for overclocking and only recommended for CPUs with up to 65W TDP (Thermal Design Power). Please consult our TDP guidelines to find out whether the NH-L9a is recommended for your CPU. |
Details
37mm low profile
Due to the slim 23mm heatsink and the NF-A9x14 low profile fan that measures only 14mm in thickness, the NH-L9 stands a mere 37mm tall, which makes it ideal for use in compact HTPCs or Small Form Factor cases that offer minimum clearance for CPU coolers.
100% RAM compatibility
The NH-L9a has a 92x114mm footprint that complies to the 96x114mm keep-out zone specified by AMD. This means that it doesn't overhang the RAM slots, so it's fully compatible with tall memory modules.*
100% compatibility with PCIe cards on mini-ITX
Some AMD based mini-ITX mainboards have the PCIe slot sitting close to the 96x114mm socket zone. While larger coolers that exceed this zone may block the PCIe slot, the 92x114mm sized NH-L9a provides full compatibility with PCIe cards.
NF-A9x14 PWM premium fan
The highly optimised NF-A9x14 premium fan features Noctua's proprietary AAO frame as well as sophisticated aerodynamic design measures. Supporting PWM for fully automatic speed control, the NF-A9x14 allows the NH-L9a to stay remarkably quiet.
Low-Noise Adaptor
Allowing to reduce the maximum speed of the NF-A9x14 fan from 2500 to 1800rpm, the included (L.N.A.) makes it possible to achieve near-silent setups using CPUs with less than 65W TDP.
Custom-designed SecuFirm2™ mounting for AMD
The NH-L9a bundles a custom-designed SecuFirm2™ mounting system for AM2(+)/AM3(+)/FM1/FM2/FM2+ that offers extended compatibility with mini-ITX boards and makes installation easier than ever, all while maintaining the trusted SecuFirm2™ quality.
NT-H1 thermal compound
Noctua's much-acclaimed
NT-H1
is a pro-grade TIM solution that provides minimum thermal resistance, excellent ease-of-use and outstanding reliability.
6-year manufacturer's warranty
Noctua products are renowned for their impeccable quality and outstanding longevity. Like all Noctua fans, the supplied NF-A9x14 features an MTTF rating of more than 150.000 hours and the entire NH-L9a package comes with a full 6-year manufacturer's warranty.
AM2(+), AM3(+), FM1, FM2, FM2+
Height (without fan)
23 mm
Width (without fan)
114 mm
Depth (without fan)
92 mm
Weight (without fan)
390 g
Weight (with fan/s)
465 g
Material
Copper (base and heat-pipes), aluminium (cooling fins), soldered joints & nickel plating
Fan compatibility
92x92x14mm, 92x92x25mm
Scope of Delivery
NF-A9x14 PWM premium fan
Low-Noise Adaptor (L.N.A.)
NT-H1 high-grade thermal compound
SecuFirm2™ Mounting Kit
Screws for 92x92x25mm fans
Noctua Metal Case-Badge
Model
Noctua NF-A9x14 PWM
Max. Rotational Speed (+/- 10%)
2500 RPM
Max. Rotational Speed with L.N.A. (+/- 10%)
1800 RPM
Min. Rotational Speed (PWM, +/-20%)
600 RPM
Max. Acoustical Noise
23,6 dB(A)
Max. Acoustical Noise with L.N.A.
14,8 dB(A)
| | | |
| --- | --- | --- |
| | | |
| 14.11.2016 // PCMasters.de | | |

Der Kühlkörper wurde seitens Noctua erwartungsgemäß gut verarbeitet und bietet in diesem Punkt keinen Anlass zu negativer Kritik. Damit stellt der Hersteller abermals unter Beweis, dass unabhängig von der Größe des CPU-Kühlers die Verarbeitungsqualität im Hause Noctua hoch gehalten wird.

Test verdict: "Noctua bietet mit dem NH-L9a einen kleinen, schmucken Low-Profile CPU-Kühler in höchster Verarbeitungsqualität, welcher auch im aller kleinsten System Platz findet. Die Fertigungsgüte ist bis ins kleinste Detail äußerst präzise umgesetzt und kann einen bleibenden Eindruck hinterlassen." (Tobias Mann, PCMasters.de)
| | | |
| --- | --- | --- |
| | | |
| 11.08.2016 // PCReviews.es | | |

Uno de los aspectos a tener en cuenta es que Noctua especifica en su pagina web que el Noctua NH-L9i y el NH-L9a están diseñados para CPUs de hasta 65W de potencia térmica, aunque en caso de utilizar uno de mayor potencia tampoco pasa nada, aunque no tiene mucha lógica debido a que para este fin tenemos disipadores mejores e incluso más baratos. Para realizar la prueba se ha empleado un procesador 3770K que no es ni remotamente el idóneo pero ha aguantado de forma correcta los 77W. Aunque una vez lo probamos es imposible perder lo de vista, ya que la gran virtud de este disipador es que con 37 mm existen pocos disipadores con un perfil menor que este en el mercado y aun menos con la capacidad de que se encuentren diseñados para un consumo moderado y potencias térmicas limitadas. Las pruebas realizadas en idle y en full dejan un buen resultado, ademas hay que destacar su sonoridad, ya que apenas se escucha el disipador.

Test verdict: "Sin duda alguna los disipadores Noctua NH-L9i y NH-L9a son una opción recomendable para todos aquellos usuarios que quieran disponer de equipos pequeños a un sonido bajo, el punto negativo a estos disipadores es el precio ya que se encuentran con un precio aproximado de 50€ cada uno, pero aun así no deja de ser un precio adecuado para unos disipadores de una gran calidad." (Sergi Sanz, PCReviews.es)
| | | |
| --- | --- | --- |
| | | |
| 18.05.2016 // AndroidPC.es | | |

Después de probar los modelos Noctua NH-L9i y Noctua NH-L9a hemos podido comprobar otra vez como esta marca sigue en su línea de calidad, los acabados y materiales son excelentes. El rendimiento térmico está en la línea de lo exigido a un producto así que como es lógico no está diseñado para realizar OC del procesador. En cuanto al nivel de sonoridad como hemos podido comprobar casi son imperceptibles en un uso normal y molestan muy poco cuando se les exige algo más.

Test verdict: "Un modelo que se merece nuestro sello de producto recomendado ya que seguro que no defrauda a quien busque este tamaño de disipador para su caja." (Joaquin Prida Trujillo, AndroidPC.es)
| | | |
| --- | --- | --- |
| | | |
| 23.12.2015 // SmallFormFactor.net | | |

[E]specially when taking the rated 65w limit into account, the cooler performs admirably in the face of the higher thermal load provided by our test bench. And, during our load tests, the L9a manages to significantly outperform AMD's own stock low profile cooler, which is taller than the L9a. The recently tested Scythe Kodati is also easily bested, although this isn't too surprising given that the Kodati has a smaller fan. During testing, the sound output of the L9a felt very similar to the other cooler we tested, the Noctua NH-L9x65 (review coming soon!). This is not at all suprising, as they use the exact same uprated NF-A9x14 fan. Consequently, the fan was never 'loud', and the sound signature was always pleasing and non-obtrusive. That's quite the achievement, given the fact that our load testing exceeded the TDP of the cooler by a whopping 23%!

Test verdict: "The Noctua NH-L9a is an excellent performer, considering it's size. Being this small, it was always going to be a challenge for it to keep our hot 89W test CPU under control, but the NH-L9a did manage to achieve this – your chassis ambient temperature would have to top 45 degrees celcius for the cooler to hit the AMD thermal limit of 65C." (John Morrison, SmallFormFactor.net)
| | | |
| --- | --- | --- |
| | | |
| 08.03.2015 // videotesty.pl | | |

Jest to dość cicha jednostka i w pełni kompatybilna z pierwszym slotem PCI-E czy pamięciami ram. Posiadacze platformy Intel powinni wybrać wersję oznaczoną "i". Model "a" przeznaczony jest na procesory firmy AMD. W środku znajdziemy wszystkie niezbędne narzędzia do zainstalowania chłodzenia na płycie głównej. Podobnie jak w przypadku wielu produktów od firmy Noctua, instalacja jest dziecinie prosta.

Test verdict: Te rozwiązanie znakomicie się sprawdza do komputerów biurowych i multimedialnych HTPC. Przy słabszych procesorach AMD, NH-L9a znakomicie będzie wykonywał swoją pracę." (Paweł Borysewicz, videotesty.pl)
| | | |
| --- | --- | --- |
| | | |
| 26.02.2015 // TruePCGaming.com | | |

So what advantage does this cooler have over the bundled stock heatsink? For one, the unit is virtually inaudible and extremely quiet. By default, the included fan operates at 2500 rpm and contains an Acoustical Noise level of 23.6 db(A). When you attach the Low Noise Adapter, this limits the fan speed to 1800 rpm and dramatically reduced the noise rating to 14.8 db(A).

Test verdict: "The Noctua NH-L9i is undoubtedly the coolest and quietest ITX heatsink I've tested. Noctua have performed miracles when you consider the high-airflow and reasonable temperatures given its limiting size." (John Williamson, TruePCGaming.com)
| | | |
| --- | --- | --- |
| | | |
| 25.10.2014 // PCkoloji.com | | |

Noctua'nın kasa boyutlarından ötürü soğutma açısından sıkıntı yaşayan kullanıcılar için geliştirdiği NH-L9 serisine ait Intel işlemcilere özel NH-L9i modelinden sonra AMD işlemcilere özel NH-L9a modelini de inceledik. İkisi de 14 mm kalınlıklı ince tip Noctua NF-A9x14 fanla geliyor. AMD özel modelde radyatör tasarımı kare yerine dikdörtgen ve böylece standart AMD işlemci soketindeki deliklere uyacak yapı benimseniyor ama bundan ötürü soğutucu sadece bir doğrultuda sabitlenebiliyor. ASRock Soket FM2+ anakartımızla yaptığımız testte herhangi bir sorun yaşamadık. Sadece arka plakasız montaj gerekti ama işlem son derece basit ve fazla zaman almıyor. Bununla birlikte montaj sonrasında soğutucu stabil ve oynama yok. Büyük boyutlu bir tüp kaliteli termal macunla gelen işlemci soğutucusunda malzeme, işçilik ve kutulama seviyesi birinci sınıf. Alüminyum plakalar, bakır ısı boruları ve tabana nikel kaplama uygulandığı için daha hoş görünüyor, kullanım ömrü uzuyor ve korozyon riski düşüyor. Benzer soğutucular aksine 80 değil 92 mm fan kullanıldığı için daha düşük devir ve gürültüyle daha iyi soğutma elde edilebiliyor. Gerçekten de tamamen sessiz olsun isterseniz kutudaki LNA filtreyi ekleyebilirsiniz ama PWM destekli olduğundan filtresizken bile 1500 devirde kalıyor ve varlığını belli etmiyor.

Test verdict: "AMD işlemcili Mini ITX anakart ve kasa sahiplerinin yüzünü güldürecek" (Gorkem Yildirim, PCkoloji.com)
| | | |
| --- | --- | --- |
| | | |
| 25.10.2014 // Conseil Config | | |

La qualité de fabrication est comme d'habitude chez Noctua irréprochable, le bundle fournit tout ce qu'il faut pour monter le ventirad sans problèmes et le montage se fait très rapidement (4 vis et hop c'est monté). Au niveau des performances ils sont capables de refroidir un processeur de 95 Watts, il faudra cependant privilégier un processeur de type Core i3 ou Pentium G pour garder un silence appréciable.

Test verdict: "[L]es Noctua NH-l9x seront d'excellents choix de ventirads lors du montage d'une configuration mini-ITX de très petite taille." (Christian Marchini, Conseil Config)
| | | |
| --- | --- | --- |
| | | |
| 23.01.2014 // WASD.ro | | |

Valorile unui cooler box pentru procesor Intel nu le-am mai masurat, deoarece sunt etalonul si ar trebui sa le cunoasteti deja. Oricum, in caz ca va sunt necunoscute le puteti verifica in articolul dedicat barebone-ului ASRock M8. De asemenea, am testat in doua scenarii procesorul Intel deoarece comportamentul unui cooler difera de la o carcasa la alta si sincer va spun ca speram ca Noctua L9i sa fie alegerea perfecta pentru ASRock M8. Din pacate, mi-a fost demonstrat ceea ce Noctua declarau deja pe site-ul lor: faptul ca este recomandat pentru un procesor cu TDP de 65W. Motivul pentru care frecventa procesorului este mai mica in al doilea scenariu este cat se poate simplu de ghicit. Da. A atins temperatura critica si frecventa a fost scazuta automat. Din fericire pentru noi gamerii, aceste temperaturi sunt imposibil de atins in timpul unei sesiuni de gaming, deoarece un joc nu este capabil sa utilizeze procesorul 100%. Oricum, in combinatie cu un procesor Intel core i3 puteti fi siguri ca nu veti ajunge la temperaturi prea mari. Asadar, recomandarea noastra este sa folositi aceste cooler-e impreuna cu un APU sau cu un procesor i3. Cu i5 il recomandam doar in cazul in care nu va deranjeaza sa va urce temperatura procesorului un pic mai mult decat de obicei.

Test verdict: "Pretul unui cooler L9, indiferent ca este pentru Intel sau AMD este de 217,66 Lei la PC Garage si daca detineti un PC de mici dimensiuni sunt cea mai buna alegere." (Octavian Fulger, WASD.ro)
| | | |
| --- | --- | --- |
| | | |
| 16.11.2013 // Hardware-360 | | |

As with all Noctua products, the NH-L9a and NH-L9i are both covered with a 6-year warranty which softens the blow of the high price tag somewhat since users can get that NF-A9x14 fan replaced for free should it break within that time period. The bundle also includes a full-size NT-H1 thermal compound so users can mount and re-mount their NH-L9 cooler through several system upgrades. If you are looking for a stock cooler replacement, the NH-L9 does a decent job considering the size but where it really shines is inside an HTPC setup, where it can do its task without hindering the installation or operation of other components. Typical heat sinks are simply too big to fit in some small form factor cases and if they do the noise trade off is not in the same league as the silence the NF-A9x14 mounted NH-L9 offer, even at 2500 RPM.

Test verdict: "The Noctua L9 coolers may be small in size but they are excellent for their primary purpose of silence and issue-free clearance. Quality and design is typical Noctua, engineered with precision and of impeccable caliber." (Ron Perillo, Hardware-360)
The mounting brackets don't touch the mainboard, is this an issue?
No. The mounting brackets are not meant to touch the mainboard and the flexibility of the brackets is required to create the appropriate contact pressure. There should be up to 3mm (Intel) or 4mm (AMD) space between the mainboard and the mounting brackets when the cooler is correctly installed.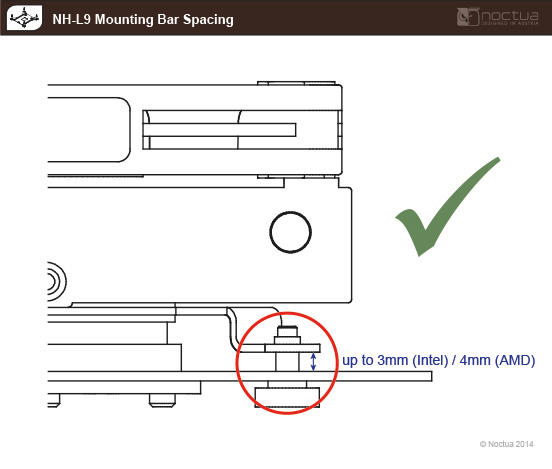 Can the cooler be used on mainboards where components on the rear side prevent the installation of the backplate?
Yes, the cooler can be installed on such mainboards using the NM-APS3 plastic spacers as shown below. The NM-APS3 spacers have been included within the NH-L9a's scope of delivery since April 2013. If your NH-L9a didn't yet include the NM-APS3 spacers and if you would like to install the cooler on a mainboard where components on the rear side prevent the installation of the backplate, please contact our customer support. We will send you the NM-APS3 spacers free of charge if you provide a proof of purchase (scan, photo or electronic copy of the invoice) of both the cooler and the mainboard.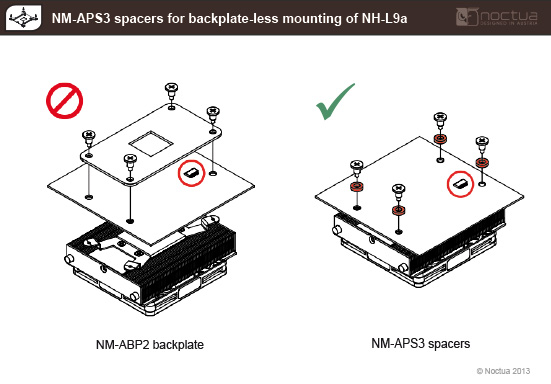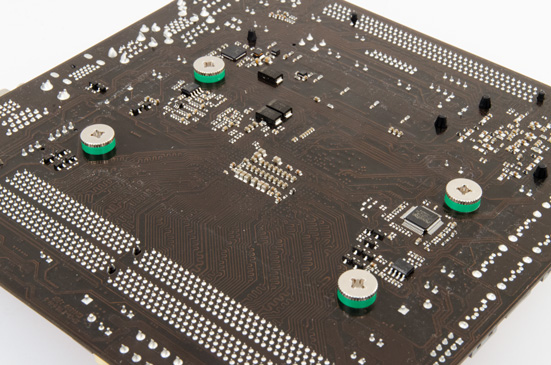 How can I determine if the motherboard's UEFI BIOS is overclocking my processor by default and deactivate this automatic overclocking?
Most motherboard vendors allow their overclocking-enabled products (e.g. those with Intels X- or Z-series chipsets) to run the processor at increased clock speeds by default, without requiring any user action at all. Since TDP (Thermal Design Power) limits are usually also disabled by default, this leads to the CPU exceeding the rated TDP to a varying degree, depending on the used applications and their workloads. Due to the increased heat output of the CPU, you may see higher CPU temperatures than expected.
In order to find out if your motherboard is overclocking your processor by default, please enter the UEFI BIOS and select the "advanced" or "overclocking" menu. There you should be able to find options such as "MultiCore Enhancement" (options: enabled/disabled), "CPU Ratio Apply Mode" (options: all/per core) or similar. To disable the automatic overclocking, adjust the settings either to "disabled" or "per core" and make sure that the individual multipliers match the original specifications.
In doubt, please contact your motherboard vendor for detailed instructions on how to disable this feature.
My unlocked Intel CPU is running too hot although my heatsink supports the specified TDP, what's the problem?
Intel's unlocked CPUs (K, X and C suffix) can dissipate more heat than indicated by the TDP specification if
the TDP limits are extended or disabled in the motherboards' BIOS.
the motherboard applies automatic overclocking by default, e.g. by raising the supply voltage of the CPU and using higher Turbo-Mode multipliers.
some software creates untypical loads, e.g. Prime95 with AVX2 support and a) and/or b) apply.
This can lead to temperature issues, especially when using smaller coolers or compact cases.
The actual power draw of the processor can be monitored with software provided by the motherboard vendor or with 3rd party tools like HWInfo or HWMonitor.
If you encounter temperature issues (>90°C) and notice a higher than specified power draw, please ensure that no automatic overclocking is applied and limit the TDP to the specified value by choosing appropriate BIOS settings.
For Kaby Lake CPUs, it may also help to lower the CPU clock speed for applications that heavily use the AVX instruction set, which can lead to higher loads and power draw. This option is usually referred to as "AVX offset" and makes it possible to lower the multiplier specifically for AVX based applications without reducing performance when using other instruction sets. Depending on the quality of the CPU and the programs being used, a reduction of 2-3 steps usually gives very good results.
Please contact your motherboard vendor for details if you have trouble finding the appropriate settings in the BIOS.
All our TDP recommendations are based on thorough testing with the default values specified by Intel using popular applications such as Asus Realbench and prime95. Please note, however, that prime95 creates a particularly high load that goes beyond typical application scenarios and this leads to elevated temperatures. We thus recommend using other programs such as Realbench for checking the stability and temperatures of the CPU in realistic scenarios.
Do you have a question concerning one of our products? Please use this form to pose a question!