Featuring advanced aerodynamic design measures such as
Flow Acceleration Channels
and Noctua's
AAO
frame, the NF-A4x10 FLX is a highly optimised, premium quality quiet fan in 40x10mm size.
Smooth Commutation Drive
technology and Noctua's reference class
SSO2
bearings guarantee superb running smoothness and excellent long-term stability. Topped off with modular cabling, a Low-Noise Adaptor and
OmniJoin Adaptor Set
as well as 6 years manufacturer's warranty, the NF-A4x10 is a premium choice for the highest demands.
Details
Flow Acceleration Channels
The NF-A4x10 impeller features suction side Flow Acceleration Channels. By speeding up the airflow at the crucial outer blade regions, this measure reduces suction side flow separation and thus leads to better efficiency and lower vortex noise.
Reduced motor hub size
Thanks to its streamlined, compact motor design, the NF-A4x10's motor hub is smaller than with conventional 4cm fans. This allows for more blade surface area and thus contributes to the NF-A4x10's superior airflow and pressure performance.
AAO frame
Noctua's AAO (Advanced Acoustic Optimisation) frames feature integrated anti-vibration pads as well as Noctua's proprietary Stepped Inlet Design and Inner Surface Microstructures, both of which further refine the fan's performance/noise efficiency.
Stepped Inlet Design
Noctua's Stepped Inlet Design adds turbulence to the influx in order to facilitate the transition from laminar flow to turbulent flow, which reduces tonal intake noise, improves flow attachment and increases suction capacity, especially in space-restricted environments.
Inner Surface Microstructures
With the tips of the fan blades ploughing through the boundary layer created by the Inner Surface Microstructures, flow separation from the suction side of the blades is significantly suppressed, which results in reduced blade passing noise and improved airflow and pressure efficiency.
Integrated Anti-Vibration Pads
Integrated Anti-Vibration Pads made from extra-soft silicone minimise the transmission of minute vibrations while maintaining full compatibility with all standard mounting systems and fan clips used on heatsinks.
Smooth Commutation Drive 2
The latest version of Noctua's advanced Smooth Commutation Drive system ensures superb running smoothness by eliminating torque variations and switching noises. This makes the NF-A4x10 remarkably quiet even at very close distances.
SSO2 Bearing
The NF-A4x10 features the further optimised second generation of Noctua's renowned, time-tested SSO bearing. With SSO2, the rear magnet is placed closer to the axis to provide even better stabilisation, precision and durability.
Low-Noise Adaptor for full flexibility
The NF-A4x10 FLX (Flexibility) is supplied with a Low-Noise Adaptor (L.N.A.) that reduces the maximum fan speed from 4500 to 3700rpm so that it can be fine-tuned for superior airflow or maximum quietness.
3 to 2-pin Adaptor and Polarity Protection
The NF-A4x10 comes with an adaptor from 3-pin Molex to the 2-pin connectors used on many graphics cards or network and storage devices. An integrated diode provides polarity protection on 2-pin connections.
OmniJoin™ Adaptor Set
Many devices featuring 40mm fans use proprietary fan headers, so the NF-A4x10 comes with Noctua's OmniJoin™ adaptor set. Just cut the original fan's cable, fix it to the adaptor using the supplied 3M Scotchlok™ connectors and you can plug the NF-A4x10 to proprietary fan headers!
Extensive cabling options
The fan's short 20cm primary cable minimises cable clutter in typical applications while the supplied 30cm extension provides extended reach when necessary. Both cables are fully sleeved.
6-year manufacturer's warranty
Noctua fans are renowned for their impeccable quality and outstanding longevity. Like all Noctua fans, the NF-A4x10 features an MTTF of more than 150.000 hours rating and comes with a full 6-year manufacturer's warranty.
Mounting hole spacing
32x32 mm
Rotational Speed (+/- 10%)
4500 RPM
Rotational Speed with L.N.A. (+/- 10%)
3700 RPM
Acoustical Noise
17,9 dB(A)
Acoustical Noise with L.N.A.
12,9 dB(A)
Static Pressure
1,78 mm H₂O
Static Pressure with L.N.A.
1,21 mm H₂O
Max. Input Current
0,05 A
Scope of delivery
Low-Noise Adaptor (L.N.A.)
3:2 Pin Adaptor
OmniJoin Adaptor Set
30cm Extension Cable
4 Vibration-Compensators
4 Fan Screws
| | | |
| --- | --- | --- |
| | | |
| 04.02.2016 // SmallFormFactor.net | | |

All in all, these products are well built, well designed, and are able to achieve specs that by-and-large merit the premium price asked of them. None of the tested fans exhibited loud operation, and the included accessories ensured that the fans can be used in many different systems.

Test verdict: "It is typical for high-end or "luxury" goods to embrace a brand, style, or ethos, and Noctua does precisely that with their distinctive color scheme. The rest comes down to performance, though, and while you'll pay top dollar to install a Noctua fan in your build, we're hard-pressed to imagine how anyone will find themselves disappointed." (John Morrison, SmallFormFactor.net)
| | | |
| --- | --- | --- |
| | | |
| 08.11.2015 // AndroidPC.es | | |

Después de probar los modelos NF-A6x25 PWM, NF-A6x25 FLX, NF-A4x10 FLX y NF-A4x10 5V nos dan ganas de dejar un ventilador en nuestras placas pasivas, pero preferimos no hacerlo, como ya sabéis nos gustan los sistemas pasivos. Ciertamente es estos productos pueden ofrecen una mejora térmica en nuestros dispositivos si vamos a exprimirlos y además no nos molestan con ruidos. Si tenemos algún modelo pasivo con problemas térmicos añadirle un pequeño ventilador bien dimensionado siempre es una solución, sobretodo si tienen la calidad de estos modelos.

Test verdict: "Los recomendamos sin ninguna duda para quien quiera mejorar el rendimiento de su miniPC o AndroidPC con problemas térmicos." (Joaquin Prida Trujillo, AndroidPC.es)
| | | |
| --- | --- | --- |
| | | |
| 18.02.2015 // PCGamers.net.au | | |

Last year, Noctua gave us 120 and 140mm fans with a technology feature list that they struggled to fit on the back of the packaging. The designers had improved the bearings, the fan blades, the frame, mounts - basically everything about their previous (and very successful) design to further improve the efficiency to noise ratio. At the time it was great news for those looking to silence their medium to large sized PCs. Now there is also good news for builders looking to maximise the airflow whilst minimising the noise of their mini ITX builds with the NF-A8 and NF-A9 series of fans that include all the bells and whistles of their larger siblings. We also tested a pair of 40mm fans for chipsets and other really compact applications.

Test verdict: "If silence is critical to your build, the Premium series from Noctua is worth the price and a safe option." (Phil Carroll, PCGamers.net.au)
| | | |
| --- | --- | --- |
| | | |
| 09.02.2015 // QWERTYmag.it | | |

In questa recensione ci siamo realmente resi conto di quanto Noctua sia attenta ai dettagli e alla cura dei propri prodotti anche in delle "semplici" ventole che poi, in questo caso specifico, semplici non sono visto l'elevata cura nella produzione e nelle tecnologie adottate. Ci ha stupito moltissimo il fatto di ritrovare tutte le tecnologie citate nell'introduzione anche nelle ventole di dimensione ridotta come le NF-A4. Siamo decisamente soddisfatti sia dalle prestazioni in termini di efficienza/rumore, sia dal bundle che dai prezzi decisamente in linea con quelli di altri produttori ma assolutamente superiori in termini di caratteristiche e prestazioni. Attribuiamo a tutta la NF-A Series il premio Gold Award per l'innovazione tecnologica e la cura dei particolari che L'azienda ha dimostrato in questa serie di ventole super-efficienti.

Test verdict: "Ventole per ogni tipo di esigenza. Noctua con la serie NF-A ha pensato proprio a tutti e a tutto proponendo prodotti di altissima qualità e tecnologia mantenendo un ottimo rapporto qualità/prezzo. Decisamente apprezzata la cura dei dettagli e del bundle che rendoni queste ventole il TOP DI GAMMA sul mercato." (Davide Torno, QWERTYmag.it)
| | | |
| --- | --- | --- |
| | | |
| 03.11.2014 // Conseil Config | | |

Malgré la taille qui présageait des nuisances sonores horribles comme nous avons tous l'habitude d'entendre venant de ventilateurs comme ceux-ci, et bien il n'en est rien! Le ventilateur qui me faisait le plus peur était le tout petit Ax410, un ventilateur de 4cm qui, tournant à 4500 RPM, me donnait mal aux oreilles avant même de le brancher, mais au final il se révèle être extrêmement silencieux, du très bon pour Noctua qui pourra enfin vous réconcilier avec vos appareils utilisant des ventilateurs de cette taille. Le A6x25 est le plus silencieux du lot, il n'y a aucun bruit parasite audible et il saura se faire discret même au maximum. Le A9x14, qui n'est autre qu'un ventilateur 92 mm au format "low profile" est un modèle qui est très intéressant si vous êtes en manque de place dans vote HTPC (ou tout autre boitier avec peu de place), il a une grande plage d'utilisation et saura se faire très discret, à noter qu'il émet un léger son aigu à plein régime.

Test verdict: "Que dire de cette série un peu spéciale de chez Noctua? Au départ un peu sceptique quant au bruit que génèrent généralement ces types de ventilateurs il faut avoué que j'ai été agréablement surpris. [...] si vous cherchez à remplacer un ventilateur criard (par exemple dans un switch, ou un NAS etc..) par un silencieux vous avez trouvé ce qu'il vous faut!" (Christian Marchini, Conseil Config)
| | | |
| --- | --- | --- |
| | | |
| 04.06.2014 // GreenTechReviews.ru | | |

Стоит отметить, что для 40 мм вентилятора он тихий даже на максимальной скорости работы, о чём не могут мечтать дешёвые вентиляторы, функционирующие и на менее высоких скоростях. А при установке NF-A4x10 FLX в корпус о нём вообще можно забыть — шум невозможно услышать.

Test verdict: "Noctua NF-A4x10 FLX, пожалуй, самый качественный и тихий 40 мм вентилятор из тех, что нам доводилось видеть. Нельзя не отметить и богатый комплект поставки, который значительно расширяет возможности установки вентилятора в различные устройства. Если вы ищете 40 мм вентилятор, то обязательно обратите внимание на Noctua NF-A4x10 FLX!" (Владимир Солонин, GreenTechReviews.ru)
| | | |
| --- | --- | --- |
| | | |
| 29.03.2014 // Radeon3d.org | | |

Mit dem Voltcraft SL-100 Schallpegelmessgerät wurde der Lüfter aus 20 cm Entfernung einmal bei 12 Volt und bei Verwendung des Low-Noise Adapter gemessen. Bei 12V Dreht der Lüfter mit 4500 Umdrehung pro Minute was eine Lautstärke von 36,7 dB entspricht. Unter Verwendung des Low Noise Adapters dreht der Lüfter nur noch mit 3700 Umdrehung pro Minute und ist nun nur noch 33,8 dB laut. Bei 5V zeigte das Messgerät kein Ausschlag und auch so war nichts zu hören.

Test verdict: "Noctua liefert auch bei dem kleinen NF-A4x10 FLX Lüfter ein Produkt mit sehr hoher Qualität. Der Lieferumfang ist überdurchschnittlich in dieser Klasse. Es fehlt nichts was einen Einsatz verzögern würde. Auch in Sachen Lautstärke Punktet der kleine Lüfter bei doch erstaunlichen 4500 Umdrehung pro Minute." (Frank Hempel, Radeon3d.org)
| | | |
| --- | --- | --- |
| | | |
| 01.08.2013 // islaBit.com | | |

El modelo NOCTUA NF-A4x10 FLX está ampliamente Recomendado por islaBit para sustituir ventiladores del mismo tamaño en placas base y cajas de pequeñas dimensiones para PC, así como válido también para fuentes de alimentación de pequeño formato específicas. La mayoría de casos requerirán ventiladores pequeños de baja altura, principalmente por falta de espacio. En este sentido, este formato de 40×40 mm puede explotarse aún más con ventiladores más altos para ganar rendimiento. El problema es que no hay mucha variedad en el mercado de este tipo de ventilador, así que seguro que será bienvenido. El modelo NF-A6x25 FLX está ampliamente Recomendado por islaBit para cualquier colocación compatible de 60x60mm, vigilando su amplio perfil. Es posible que su altura de 25mm condicione su uso, así que habrá que vigilarlo. Su rendimiento es amplio, así que se lleva el Premio Rendimiento islaBit. Poco más se podría explotar en este formato. Por otro lado, dejamos un comentario aquí para el propio fabricante. Quizá en un futuro vendría bien ventiladores de 60×60 de bajo perfil para poder equipar en tarjetas gráficas. Las tarjetas gráficas en general tienen un problema de sonoridad en general, y Noctua podría ser el fabricante que revolucionara tímidamente este mercado, y éste formato de 60×60 junto con el ventilador de formato 90×90 podrían ser grandes protagonistas. El modelo NOCTUA NF-A9x14 PWM está ampliamente Recomendado por islaBit de igual modo que el modelo de 60mm. El hecho de ser de bajo perfil y encima PWM trae dos posibles ventajas que ayudarán a ser más servible. Hace falta señalar el gran caudal de este modelo, capaz de mover más aire que la mayoría de ventiladores del mercado de mayor tamaño (de 120×120) y de rendimiento medio, consiguiendo una sonoridad muy contenida equiparable a éstos. Por ello se lleva también pero de forja ajustada el Premio Rendimiento islaBit.

Test verdict: "Tanto el modelo NF-A410 FLX, como los modelos NF-A6x25 FLX, NF-A9x14 PWM están pensados para reunir todas estas características, alta calidad en materiales empleados, y diseño exclusivo de los mismos para obtener los mejores resultados para su función." (Raúl Planelles, islaBit.com)
| | | |
| --- | --- | --- |
| | | |
| 08.06.2013 // PureOverclock.com | | |

We have come to know Noctua by their continuing tradition of the tan and brown colors on their fans. While there is no denying that these colors are not everyone's taste, this is obviously subjective. From a design stand point, Noctua hit the nail on the head. With its AAO Frame design, to its stepped housing and its anti-vibration pads, Noctua has hit every point that matters. This design helps bring down noise levels and create less turbulence like we see in many other fans. From a performance stand point, Noctua's SSO2 bearing and metal bearing shell keep things in order. Noctua did an outstanding job with each model. The fin design for each model provides sufficient airflow for your every day needs, yet Noctua was able to provide this performance while maintaining lower then normal dB Levels across the board. This is a magnificent feat. All you have to do is select the right model for your needs. If you are looking for low speed dB level fans but still want great airflow, the ULN models will be perfect. If you need a little more flexibility with speeds, the FLX models can meet that sector. If you are just looking for something that has self control, well the PWM models are the perfect design for you. With Noctua offering a wide dynamic of options for each size, model, and design… they really covered their bases. The most outstanding feature about this series of Noctua fans is the warranty. Noctua carries a 6 year warranty! That's RIGHT, 6 years on ALL the fans we tested today. We have not seen any other company that stands behind their products the way Noctua has.

Test verdict: "With the warranty, technology and performance behind each model, we aren't surprised and we find that many consumers today will pay the prices to get a superior product. If you are willing to over-look the odd color of Noctua's traditional style, and you don't mind the slightly higher pricing (which varies from $14.99 to $29.99 per fan), we find that Noctua deserves our Great Hardware award for all of these fans." (Kenny Ha, PureOverclock.com)
| | | |
| --- | --- | --- |
| | | |
| 30.05.2013 // Micougnou.com | | |

Ces résultats nous montre que le Noctua est légèrement en retrait sur les performances du EverFlow (2 à 4°C) ce qui est peu surprenant compte tenu des écarts de vitesses de rotation. Et cette différence va énormément jouer sur... le bruit bien sûr. Pour rappel, 3 dB = 2 fois plus de bruit, donc entre 26 dB et 46dB, les 3 à 4 degrés d'écart sont négligeables face au gain de silence, surtout qu'on reste sous la barre des 50°C! [...] Avec ce modèle, Noctua complète sa gamme sur un segment assez peu populaire, mais qui nécessite un réel besoin : pourvoir refroidir des chipsets efficacement mais surtout en silence. Car c'est bien là le problème, la majorité des ventilateurs dans ces dimensions sont pensés "pour" le refroidissement, et compte tenu de la faible surface disponible sur les pales, et bien on compense par des vitesses de rotations énormes (6200rpm...) au détriment du silence.

Test verdict: "Ce test nous montre qu'il n'y a pas de miracles dans ce segment miniature, mais Noctua s'en sort avec brio en proposant un ventilateur aux performances très correctes mais surtout au fonctionnement très silencieux." (Nicolas Henriques, Micougnou.com)
Can I run Noctua 3-pin fans on 4-pin PWM connectors and use my mainboard's automatic fan controller?
You can simply connect our fan's 3-pin connector to the 4-pin PWM sockets of today's mainboards so that the fourth pin that transmits the PWM signal is left blank (due to the shape of the connector, there's no danger of reversing polarity). Some mainboards (e.g. current Gigabyte models) are capable of controlling fans not only via PWM, but also by adjusting the supplied voltage. In some cases, this may require you to change BIOS options like "Fan Control Mode" from "PWM" to "Voltage" or "Analog". Please consult your mainboard's manual in this regard. However, some mainboards use an "auto" setting by default that automatically chooses PWM or voltage based regulation according to the connected fan. Automatically controlling the fan speed may not possible on mainboards that pulse the power rather than lowering the fan voltage.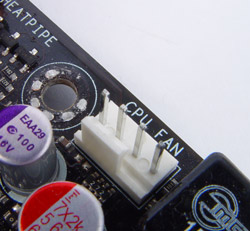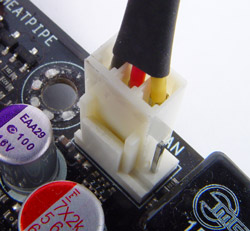 My Noctua 3-pin fan starts to spin when the PC boots but then stops, what is wrong?
Many mainboards are able to automatically regulate the fan speed of 3-pin fan via voltage based measures. However, due to limitations of this method it may occur that the mainboard reduces the voltage so much that the fan stops. To resolve the issue, you can:
Choose a higher fan speed profile in the BIOS (e.g. "normal" instead of "silent", etc.) or deactivate automatic fan speed control and use a Low-Noise Adaptor instead.
Use the mainboard's fan speed control software or 3rd party tools like Speedfan to regulate the fan speed. Unlike BIOS based fan speed control, the supplied software usually checks whether the fan has stopped and increases voltage accordingly or at least offer more options to set up the fan properly.
I get a CPU fan error despite the fan is running!
Some mainboards display a CPU fan error when the fan speed falls below a certain threshold, e.g. 900rpm. If you want to run the fan below this speed (e.g. using the supplied U.L.N.A.), please adjust the threshold in the BIOS or disable CPU fan error warning.
Can I paint my Noctua fan in order to change its color?
Since even small variations in the layer of paint can lead to an imbalance of the impeller, resulting in vibrations, higher noise levels, increased stress on the bearing and thus reduced lifespan, we do not recommend painting the fan. Please note that for the reasons stated above, painting the fan will void your warranty.
What pin configuration do Noctua 12V fans use?
All Noctua fans feature the standard pin-configurations set out in the Intel and AMD specifications. These standard pin-configurations are used on most mainboards and fan controllers today: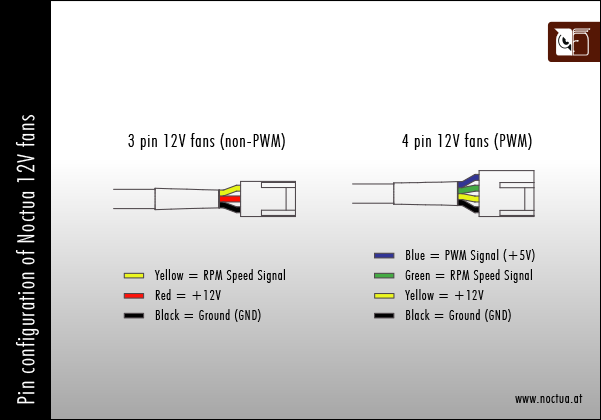 How can I find out the direction of airflow and sense of rotation?
When looking at the fan so that the circular sticker with the Noctua logo is facing you, the direction of airflow is towards you and the sense of rotation is clockwise: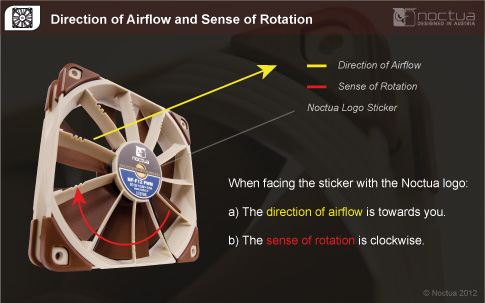 How should I clean my Noctua fan?
Fans inside computer cases tend to accumulate dust over longer periods of usage. In order to maintain maximum performance, please clean your fans regularly using a duster, slightly moist tissue or canned air. Please be careful not to use too much force in order to prevent any damage to the fan. Please do not use a vacuum cleaner as this may apply excessive force to the fan and do not put the fan under running water as water residues inside the motor may lead to short circuits.
In order to ensure flawless operation over many years of usage, Noctua's premium grade SSO bearings are fully sealed to prevent the entering of fine dust particles. Please note that the fan is not designed to be taken apart by the user. Removing the impeller from the frame will break the sealing of the bearing and results in a loss of warranty.
Can I disassemble my fan for cleaning (or other purposes, e.g. painting)?
In order to ensure flawless operation over many years of usage, all Noctua fans come with a premium grade SSO bearing, which is fully sealed to prevent the entering of fine dust particles. Please note that the fan is not designed to be taken apart by the user. Removing the impeller from the frame will break the sealing of the bearing and results in a loss of warranty.

It is thus recommended to clean your fans using a duster, slightly moist tissue or canned air. Please be careful not to use too much force in order to prevent any damage to the fan. Please don't use a vacuum cleaner as this may apply excessive force to the fan.
Can I use Noctua fans in my system from Acer, Apple, Dell, HP, Lenovo or other major brands?
Noctua 12V fans comply with the established specifications for standard PC systems issued by Intel and AMD. Systems from Acer, Apple, Dell, HP, Lenovo or other major brands often deviate from these specifications e.g. by using proprietary fan headers, custom pin-alignments or pin-configurations, different methods of fan speed control, etc. This can lead to compatibility issues when using Noctua fans in systems from said brands. Some of these problems can be avoided with some technical knowledge, but especially BIOS related issues (e.g. errors or shutdowns due to low fan speed) can often not be resolved. As a result, Noctua does not officially support systems from Acer, Apple, Dell, HP, Lenovo or other major brands.
Can Noctua fans be used to replace noisy stock fans in NAS devices?
Noctua fans such as the 40, 60, 80 or 92mm NF-A series models are ideal for replacing noisy stock fans in NAS devices in order to make them quieter and thousands of users have managed to significantly reduce the noise levels of their NAS units this way. However, while it is easy and straightforward to replace the fans in some cases, it can be very difficult in others, so Noctua strongly recommends that users carefully research if it is possible to easily replace the fan(s) of their NAS device before purchasing a Noctua fan for this purpose. Some of the common issues that can occur when replacing NAS fans are:
Different pin assignment: Whereas Noctua fans use the standardised pin assignment for PC fans (see this FAQ for details), some NAS units use different assignments. For example, some devices have the power and GND or rpm and PWM pins swapped. Therefore please carefully verify that your NAS device uses the same pin assignment as standard fans. Experienced users may also change the pin assignment by cutting and resoldering the fan cables, but please note that this will void your Noctua manufacturer's warranty.
Different pin functions: Noctua fans use the standardised pin functions for PC fans (see this FAQ for details); however, some NAS units use fans where certain pins serve a different function. For example, some devices use the RPM pin for "power good" signals. Therefore please carefully verify that your NAS device uses the same pin functions.
Firmware speed control: Some NAS devices demand a certain maximum or minimum fan speed. If the new fan doesn't have the same or similar maximum or minimum speed, the device may display errors or even shut down.
Different starting voltage: Most NAS devices use voltage-based speed control. If the new fan has a higher starting voltage than the original fan, it may not start up right away. This may lead the NAS device to display errors or even shut down because it suspects a fan failure.
Different power draw: Some NAS devices monitor the fan's power draw. If the new fan has a lower power consumption than the stock fan, the device might display errors or even shut down.
Please note that most NAS manufacturers don't provide detailed documentation regarding fan compatibility and control, so users who want to replace the fans of their devices usually have to rely on "How to" guides, blog and forum posts or video tutorials. For example, there are excellent video tutorials available for changing the fans in popular Synology NAS models (DS416j, DS1515+ and DS1812+ in English, DS416/DS415/DS916/DS216/DS214 and DS1515+ in German). Please also note that fan compatibility and control can vary from model to model and even from revision to revision even if the devices stem from the same manufacturer. As a result, it is important to make sure that the information or guidelines you rely on when replacing your NAS fan are applicable to your specific model as well as your specific hardware and firmware revision.
Due to the possible issues listed above, Noctua recommends that only experienced users attempt to replace their NAS fans. Please note that since there are so many different NAS models and most of them lack documentation for aspects such as fan compatibility and control, Noctua customer support cannot assist you with compatibility issues when replacing NAS fans. Please contact your NAS manufacturer for any questions regarding aspects such as the device's pin alignment or fan monitoring and control.
Can I use Low-Noise Adaptors with y-cables / multiple fans?
Yes, Low-Noise Adaptors (L.N.A.s) can be used with y-cables, but please make sure to use one L.N.A. per fan and to place the L.N.A.s between the y-cable and the fans as shown below. Never use one L.N.A. for two (or more fans) by placing it between the mainboard and the y-cable!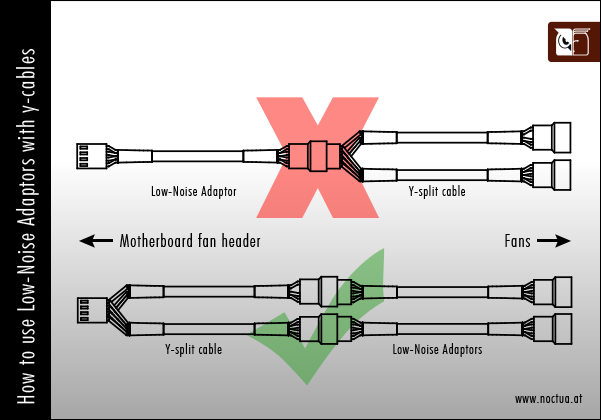 Which Noctua fan or CPU cooler should I buy? How to choose the right model?
Not sure which Noctua product to buy? Our detailed buying guides for
fans
and
CPU coolers
help you to choose the model that works best for you.
Do you have a question concerning one of our products? Please use this form to pose a question!