Featuring advanced aerodynamic design measures such as
Flow Acceleration Channels
and Noctua's
AAO
frame, the NF-A6x25 is a highly optimised, premium quality quiet fan in 60x25mm size. The PWM version sports Noctua's custom designed
NE-FD1 IC
for fully automatic speed control via 4-pin fan headers and comes with a Low-Noise-Adaptor to reduce the maximum speed during PWM control from 3000 to 2300rpm. Its superb running smoothness,
SSO2
bearing and Noctua's trusted premium quality make it an elite choice for the highest demands.
Details
Flow Acceleration Channels
The NF-A6x25 impeller features suction side Flow Acceleration Channels. By speeding up the airflow at the crucial outer blade regions, this measure reduces suction side flow separation and thus leads to better efficiency and lower vortex noise.
Reduced Motor Hub Size
Thanks to its streamlined, compact motor design, the NF-A6x25's motor hub is smaller than with conventional 6cm fans. This allows for more blade surface area and thus contributes to the NF-A6x25's superior airflow and pressure performance.
AAO Frame
Noctua's AAO (Advanced Acoustic Optimisation) frames feature integrated anti-vibration pads as well as Noctua's proprietary Stepped Inlet Design and Inner Surface Microstructures, both of which further refine the fan's performance/noise efficiency.
Inner Surface Microstructures
With the tips of the fan blades ploughing through the boundary layer created by the Inner Surface Microstructures, flow separation from the suction side of the blades is significantly suppressed, which results in reduced blade passing noise and improved airflow and pressure efficiency.
Stepped Inlet Design
Noctua's Stepped Inlet Design adds turbulence to the influx in order to facilitate the transition from laminar flow to turbulent flow, which reduces tonal intake noise, improves flow attachment and increases suction capacity, especially in space-restricted environments.
Integrated Anti-Vibration Pads
Integrated Anti-Vibration Pads made from extra-soft silicone minimise the transmission of minute vibrations while maintaining full compatibility with all standard mounting systems and fan clips used on heatsinks.
SSO2 Bearing
The NF-A6x25 features the further optimised second generation of Noctua's renowned, time-tested SSO bearing. With SSO2, the rear magnet is placed closer to the axis to provide even better stabilisation, precision and durability.
Custom-designed PWM IC with SCD
Supporting fully automatic PWM speed control, the NF-A6x25 PWM uses Noctua's custom-designed NE-FD1 PWM IC that integrates Smooth Commutation Drive (SCD) technology. By providing smoother torque impulses, SCD suppresses PWM switching noises and thus makes the fan quieter at low speeds.
Low-Noise Adaptor
The NF-A6x25 PWM is supplied with a (L.N.A.) that reduces the maximum fan speed from 3000 to 2300rpm. The L.N.A. can be used either to run the fan at a fixed speed of 2300rpm or to cap the maximum speed when using automatic PWM control.
Extensive cabling options
The fan's short 20cm primary cable minimises cable clutter in typical applications while the supplied 30cm extension provides extended reach when necessary. Both cables are fully sleeved and a 4-pin y-cable allows the connection of a second NF-A6x25 PWM fan to the same PWM fan header for automatic control.
6-year manufacturer's warranty
Noctua fans are renowned for their impeccable quality and outstanding longevity. Like all Noctua fans, the NF-A6x25 features an MTTF of more than 150.000 hours rating and comes with a full 6-year manufacturer's warranty.
Mounting hole spacing
50x50 mm
Rotational Speed (+/- 10%)
3000 RPM
Rotational Speed with L.N.A. (+/- 10%)
2300 RPM
Min. Rotational Speed (PWM, +/-20%)
550 RPM
Acoustical Noise
19,3 dB(A)
Static Pressure
2,18 mm H₂O
Static Pressure with L.N.A.
1,29 mm H₂O
Max. Input Current
0,08 A
Scope of Delivery
Low-Noise Adaptor (L.N.A.)
4-Pin Y-Cable
30cm Extension Cable
4 Vibration-Compensators
4 Fan Screws
| | | |
| --- | --- | --- |
| | | |
| 08.11.2015 // AndroidPC.es | | |

Después de probar los modelos NF-A6x25 PWM, NF-A6x25 FLX, NF-A4x10 FLX y NF-A4x10 5V nos dan ganas de dejar un ventilador en nuestras placas pasivas, pero preferimos no hacerlo, como ya sabéis nos gustan los sistemas pasivos. Ciertamente es estos productos pueden ofrecen una mejora térmica en nuestros dispositivos si vamos a exprimirlos y además no nos molestan con ruidos. Si tenemos algún modelo pasivo con problemas térmicos añadirle un pequeño ventilador bien dimensionado siempre es una solución, sobretodo si tienen la calidad de estos modelos.

Test verdict: "Los recomendamos sin ninguna duda para quien quiera mejorar el rendimiento de su miniPC o AndroidPC con problemas térmicos." (Joaquin Prida Trujillo, AndroidPC.es)
| | | |
| --- | --- | --- |
| | | |
| 15.04.2015 // ByTheWay.gr | | |

Κλείνοντας,οι επιδόσεις του νέου NF-A6x25 PWM είναι εξαιρετικές. Καταφέρνει να έχει σπουδαίες επιδόσεις και εξαιρετικά επίπεδα θορύβου με τον low noise adapter που προσφέρει η εταιρία. Set it and forget it προσέγγιση και μπορούμε να εγγυηθούμε το "forget it" κομμάτι. Η επιμονή στην λεπτομέρεια της Noctua είναι προφανής. Μερικές από τις αναφερόμενες τεχνολογίες θυμίζουν μελέτες αεροδυναμιστών παρά κατασκευαστών computer parts και η παρεχόμενη εγγύηση των 6 ετών είναι χωρίς προηγούμενο σε μια αγορά που η 3ετής πλέον θεωρείται πολυτέλεια. Σκεφτείτε το, το 2020 οι ανεμιστήρες σας θα είναι ακόμα εντός εγγύησης και μάλιστα από μια εταιρία που συνηθίζει να την τιμά, χωρίς αστείες δικαιολογίες.

Test verdict: "Η Noctua δείχνει ότι δεν αγχώνεται να διώξει το premium χαρακτήρα της ούτε από την τιμολογιακή της πολιτική, και ειλικρινά δεν περιμέναμε κάτι διαφορετικό εκεί. Όμως, αυτό που έχουμε να παρατηρήσουμε είναι η κορυφαία ποιότητα κατασκευής σε συνδυασμό με τον εξαιρετικό σχεδιασμό που επιφέρουν καλύτερες επιδόσεις, ενώ ταυτόχρονα μπορούν και προσφέρουν ήσυχη και απρόσκοπτη λειτουργία ακόμα και σε πολύωρη χρήση." (Nasioulis Evangelos, ByTheWay.gr)
Can I run 4-pin PWM fans on 3-pin fan headers?
PWM fans come with a 4-pin connectors for fully automatic speed control via your mainboard's 4-pin PWM fan headers. Please note that 4-pin fans can also be connected to your mainboard's 3-pin fan headers though. When connected to 3-pin fan headers, the fan will run at full speed (unless the mainboard supports voltage based speed control).

Can I use Low-Noise Adaptors with y-cables / multiple fans?
Yes, Low-Noise Adaptors (L.N.A.s) can be used with y-cables, but please make sure to use one L.N.A. per fan and to place the L.N.A.s between the y-cable and the fans as shown below. Never use one L.N.A. for two (or more fans) by placing it between the mainboard and the y-cable!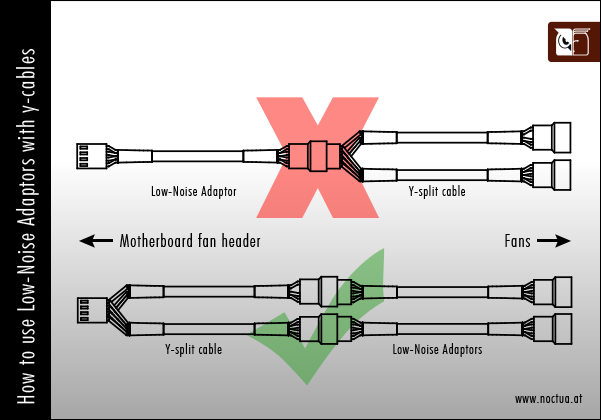 Can I use Noctua fans in my system from Acer, Apple, Dell, HP, Lenovo or other major brands?
Noctua 12V fans comply with the established specifications for standard PC systems issued by Intel and AMD. Systems from Acer, Apple, Dell, HP, Lenovo or other major brands often deviate from these specifications e.g. by using proprietary fan headers, custom pin-alignments or pin-configurations, different methods of fan speed control, etc. This can lead to compatibility issues when using Noctua fans in systems from said brands. Some of these problems can be avoided with some technical knowledge, but especially BIOS related issues (e.g. errors or shutdowns due to low fan speed) can often not be resolved. As a result, Noctua does not officially support systems from Acer, Apple, Dell, HP, Lenovo or other major brands.
Do you have a question concerning one of our products? Please use this form to pose a question!