The NF-A9 is a highly optimised, premium quality quiet 92mm fan. Featuring Noctua's AAO (Advanced Acoustic Optimisation) frame as well as sophisticated aerodynamic design measures such as Flow Acceleration Channels, the NF-A9 further improves the renowned quiet cooling performance of the award-winning NF-B9. The FLX version provides 1600/1250/1050rpm speed settings via the supplied Low-Noise Adaptors in order to provide full flexibility in fine-tuning the fan for maximum ventilation performance or near-silent operation. Its superb running smoothness, reference-class SSO2 bearing and Noctua's trusted premium quality make it an elite choice for the highest demands.
Details
Succeeding the award-winning NF-B9
Noctua's NF-B9 fan has become a default-choice among PC enthusiasts looking for a premium quality quiet 92mm fan. Thanks to its thoroughgoing aerodynamic optimisations, the NF-A9 provides higher static pressure and an even better airflow/noise ratio than its much acclaimed predecessor.
Flow Acceleration Channels
The NF-A9 impeller features suction side Flow Acceleration Channels. By speeding up the airflow at the crucial outer blade regions, this measure reduces suction side flow separation and thus leads to better efficiency and lower vortex noise.
AAO frame
Noctua's AAO (Advanced Acoustic Optimisation) frames feature integrated anti-vibration pads as well as Noctua's proprietary Stepped Inlet Design and Inner Surface Microstructures, both of which further refine the fan's performance/noise efficiency.
Stepped Inlet Design
Noctua's Stepped Inlet Design adds turbulence to the influx in order to facilitate the transition from laminar flow to turbulent flow, which reduces tonal intake noise, improves flow attachment and increases suction capacity, especially in space-restricted environments.
Inner Surface Microstructures
With the tips of the fan blades ploughing through the boundary layer created by the Inner Surface Microstructures, flow separation from the suction side of the blades is significantly suppressed, which results in reduced blade passing noise and improved airflow and pressure efficiency.
Integrated anti-vibration pads
Integrated anti-vibration pads made from extra-soft silicone minimise the transmission of minute vibrations while maintaining full compatibility with all standard screws and other mounting systems.
SSO2 Bearing
The NF-A9 features the further optimised second generation of Noctua's renowned, time-tested SSO bearing. With SSO2, the rear magnet is placed closer to the axis to provide even better stabilisation, precision and durability.
Smooth Commutation Drive 2
The latest version of Noctua's advanced Smooth Commutation Drive system ensures superb running smoothness by eliminating torque variations and switching noises. This makes the NF-A9 remarkably quiet even at very close distance.
3 speed settings for full flexibility
Providing 1650, 1250 and 1050 rpm speed settings via the supplied Low-Noise and Ultra-Low-Noise Adapters, the NF-A9 FLX (Flexibility) can be fine-tuned for superior airflow or maximum quietness.
Extensive cabling options
The fan's short 20cm primary cable minimises cable clutter in typical applications while the supplied 30cm extension provides extended reach when necessary. Both cables are fully sleeved and the supplied 3:4 pin adaptor allows the connection of the fan directly to the power supply.
6-year manufacturer's warranty
Noctua fans are renowned for their impeccable quality and outstanding longevity. Like all Noctua fans, the NF-A9 features an MTTF of more than 150.000 hours rating and comes with a full 6-year manufacturer's warranty.
Mounting hole spacing
82,5x82,5 mm
Frame Technology
AAO
(Advanced Acoustic Optimisation)
Rotational Speed (+/- 10%)
1600 RPM
Rotational Speed with L.N.A. (+/- 10%)
1250 RPM
Rotational Speed with U.L.N.A. (+/- 10%)
1050 RPM
Acoustical Noise
17,1 dB(A)
Acoustical Noise with L.N.A.
11,6 dB(A)
Acoustical Noise with U.L.N.A.
8,4 dB(A)
Static Pressure
1,62 mm H₂O
Static Pressure with L.N.A.
1,04 mm H₂O
Static Pressure with U.L.N.A.
0,71 mm H₂O
Max. Input Current
0,07 A
Scope of delivery
Low-Noise Adaptor (L.N.A.)
Ultra-Low-Noise Adaptor (U.L.N.A.)
3:4-Pin Adaptor
30cm Extension Cable
4 Vibration-Compensators
4 Fan Screws
| | | |
| --- | --- | --- |
| | | |
| 20.03.2017 // ITNdaily.ru | | |

Вентиляторы форм-фактора 92 мм не столь популярны, как 120 мм варианты, однако и те и другие чаще всего используются в компьютерных корпусах и для охлаждения радиаторов процессорных СО. В ассортименте Noctua подобных моделей всего несколько штук, мы решили оценить технические возможности трех представителей из различных линеек.

Test verdict: "В ассортименте Noctua представлено достаточное количество разнообразных вариантов. И самой универсальной стоит признать серию redux, а также модели с суффиксом FLX. Баланс тишины и производительности в них отточен с максимальной точностью." (Евгений Никифоров, ITNdaily.ru)
| | | |
| --- | --- | --- |
| | | |
| 02.11.2015 // Hardaily.com | | |

Los ventiladores Serie A de Noctua están recomendados por Hardaily como ventiladores suplementarios (versiones no PWM), sustitutos de ventiladores más modestos o viejos para lograr mejor ventilación. Las versiones PWM son altamente recomendadas por Hardaily como sustitutos en los disipadores o radiadores y para que tengan autocontrol, ya que son los más potentes también. Todos ellos son perfectamente válidos para torres, servidores, para disipadores o incluso radiadores, siempre que sean compatibles con las medidas estandarizadas de 4 8 y 9cm. Todos estos ventiladores de Noctua son de los más duraderos y resistentes del mercado.

Test verdict: "Estos productos son prácticamente perfectos." (Raul Planelles, Hardaily.com)
| | | |
| --- | --- | --- |
| | | |
| 26.06.2015 // TugaReviews.com | | |

Como é habitual a Noctua apresentou-nos excelentes ventoinhas para qualquer tipo de configuração, desde da qualidade de construção até a performance e não esquecendo os acessórios que completam este produto, as ventoinhas Noctua são algo que os entusiastas e até o utilizador comum devem ter em pensamento quando quiserem qualidade e performance até ao ultimo milímetro. Juntando toda a nova tecnologia, a Noctua obteve excelentes resultados e isso está a olhos vistos, a marca é conhecida por ser eximia nos seus produtos, e podemos comprovar isso ao testar estas excelentes ventoinhas.

Test verdict: "Para finalizar só me resta dar a pontuação que estes excelentes produtos merecem, mais uma vez, a Noctua arrecada mais uma vez o ouro devido a sua excelente qualidade e eficácia." (Napoleão Silva, TugaReviews.com)
| | | |
| --- | --- | --- |
| | | |
| 10.05.2015 // PC Ekspert | | |

Kvaliteta materijala i izrade je nešto na što Noctua posebno pazi a to se odrazilo i na ove nove modele. Performanse svih modela su u skladu s onime što deklarira proizvođač i kod Noctue se dobiva točno ono što se i plaća. PWM hladnjaci su po običaju na maksimalnom broju okretaja malo čujniji, no performanse se ne gube nimalo uz upotrebu L.N. adaptera pri čemu se buka ipak dosta smanji.

Test verdict: "Sve u svemu, Noctua uspješno nadograđuje svoj lineup i kupci će kao i uvijek biti vrlo zadovoljni." (Krešimir Matanović, PC Ekspert)
| | | |
| --- | --- | --- |
| | | |
| 11.03.2015 // OverclockersClub.com | | |

Noctua is always striving to create a better balance between noise and performance. Noctua is always pressing forward and advancing the engineering behind the products released. If you ask anyone who has quiet, high performance fans for computing, Noctua is going to be on the tip of the tongue. I believe Noctua will continue to strive for perfection by releasing new products. These fans are just a set of the many that have come before and the many that will continue to be released.

Test verdict: "If you want less sound humming from your computer case and better cooling, look no further. Even with their size, these fan models with their high static pressure are up to the challenge. As with all of its products, these fans come with a six year warranty, which is longer than some fans last all together." (Allen Woo, OverclockersClub.com)
| | | |
| --- | --- | --- |
| | | |
| 10.03.2015 // HardZone.es | | |

Noctua sigue siendo Noctua, y la calidad de sus productos la mejor. La verdad es que no tienen prácticamente ningún inconveniente si obviamos el apartado estético, algo que siempre ha sido criticado por sus usuarios.

Test verdict: "La calidad de los materiales es la mejor, su funcionamiento impecable y su precio decente para lo que ofrece (alrededor de 16 euros). No podemos hacer otra cosa que recomendarlos para cualquier aplicación que se desee." (Rodrigo Alonso, HardZone.es)
| | | |
| --- | --- | --- |
| | | |
| 03.03.2015 // PureOverclock.com | | |

As always, sound levels are superb with these fans. While my opinions are subjective, what I found was after 45 dBs, that's when I felt a fan was getting too noisy. Nothing about the Noctuas sounded too loud while testing them even at max speed, but with the plethora of LNAs and ULNAs to add to the fans, even if you didn't have a way to control the fans it was unlikely you couldn't tone them down to where you would be happy with them.

Test verdict: "Overall, I believe Noctua makes an excellent product. There really isn't anything I can complain about except for the price, and even then the price is understandable. If you need good air flow, low noise and have a small form factor case that needs some better fans, I could definitely recommend what Noctua has to offer here." (Josh Jackson, PureOverclock.com)
| | | |
| --- | --- | --- |
| | | |
| 18.02.2015 // PCGamers.net.au | | |

Last year, Noctua gave us 120 and 140mm fans with a technology feature list that they struggled to fit on the back of the packaging. The designers had improved the bearings, the fan blades, the frame, mounts - basically everything about their previous (and very successful) design to further improve the efficiency to noise ratio. At the time it was great news for those looking to silence their medium to large sized PCs. Now there is also good news for builders looking to maximise the airflow whilst minimising the noise of their mini ITX builds with the NF-A8 and NF-A9 series of fans that include all the bells and whistles of their larger siblings. We also tested a pair of 40mm fans for chipsets and other really compact applications.

Test verdict: "If silence is critical to your build, the Premium series from Noctua is worth the price and a safe option." (Phil Carroll, PCGamers.net.au)
| | | |
| --- | --- | --- |
| | | |
| 12.02.2015 // GuiaHardware.es | | |

Si buscas unos buenos ventiladores de tamaño diferente a los de 12 y 14 cm, los has encontrado, y no es fácil ver fans decentes de 92 mm, 80 mm o menor tamaño. Noctua ha conseguido trasladar la calidad de sus ventiladores a otros tamaños. Su precio es algo elevado, pero estás pagando calidad de verdad.

Test verdict: "Esperamos que os haya gustado la review, desde GuíaHardware vamos a otorgar a los ventiladores Noctua NF-A un 8 por su excelente calidad. Actualmente se encuentran sin duda entre los mejores ventiladores de 80 y 92 mm." (Sergio Hinarejos Corberá, GuiaHardware.es)
| | | |
| --- | --- | --- |
| | | |
| 09.02.2015 // QWERTYmag.it | | |

In questa recensione ci siamo realmente resi conto di quanto Noctua sia attenta ai dettagli e alla cura dei propri prodotti anche in delle "semplici" ventole che poi, in questo caso specifico, semplici non sono visto l'elevata cura nella produzione e nelle tecnologie adottate. Ci ha stupito moltissimo il fatto di ritrovare tutte le tecnologie citate nell'introduzione anche nelle ventole di dimensione ridotta come le NF-A4. Siamo decisamente soddisfatti sia dalle prestazioni in termini di efficienza/rumore, sia dal bundle che dai prezzi decisamente in linea con quelli di altri produttori ma assolutamente superiori in termini di caratteristiche e prestazioni. Attribuiamo a tutta la NF-A Series il premio Gold Award per l'innovazione tecnologica e la cura dei particolari che L'azienda ha dimostrato in questa serie di ventole super-efficienti.

Test verdict: "Ventole per ogni tipo di esigenza. Noctua con la serie NF-A ha pensato proprio a tutti e a tutto proponendo prodotti di altissima qualità e tecnologia mantenendo un ottimo rapporto qualità/prezzo. Decisamente apprezzata la cura dei dettagli e del bundle che rendoni queste ventole il TOP DI GAMMA sul mercato." (Davide Torno, QWERTYmag.it)
Can I run Noctua 3-pin fans on 4-pin PWM connectors and use my mainboard's automatic fan controller?
You can simply connect our fan's 3-pin connector to the 4-pin PWM sockets of today's mainboards so that the fourth pin that transmits the PWM signal is left blank (due to the shape of the connector, there's no danger of reversing polarity). Some mainboards (e.g. current Gigabyte models) are capable of controlling fans not only via PWM, but also by adjusting the supplied voltage. In some cases, this may require you to change BIOS options like "Fan Control Mode" from "PWM" to "Voltage" or "Analog". Please consult your mainboard's manual in this regard. However, some mainboards use an "auto" setting by default that automatically chooses PWM or voltage based regulation according to the connected fan. Automatically controlling the fan speed may not possible on mainboards that pulse the power rather than lowering the fan voltage.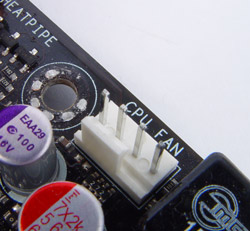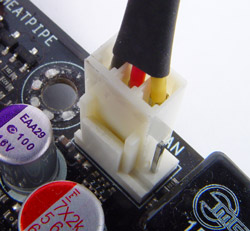 My Noctua 3-pin fan starts to spin when the PC boots but then stops, what is wrong?
Many mainboards are able to automatically regulate the fan speed of 3-pin fan via voltage based measures. However, due to limitations of this method it may occur that the mainboard reduces the voltage so much that the fan stops. To resolve the issue, you can:
Choose a higher fan speed profile in the BIOS (e.g. "normal" instead of "silent", etc.) or deactivate automatic fan speed control and use a Low-Noise Adaptor instead.
Use the mainboard's fan speed control software or 3rd party tools like Speedfan to regulate the fan speed. Unlike BIOS based fan speed control, the supplied software usually checks whether the fan has stopped and increases voltage accordingly or at least offer more options to set up the fan properly.
I get a CPU fan error despite the fan is running!
Some mainboards display a CPU fan error when the fan speed falls below a certain threshold, e.g. 900rpm. If you want to run the fan below this speed (e.g. using the supplied U.L.N.A.), please adjust the threshold in the BIOS or disable CPU fan error warning.
Can I paint my Noctua fan in order to change its color?
Since even small variations in the layer of paint can lead to an imbalance of the impeller, resulting in vibrations, higher noise levels, increased stress on the bearing and thus reduced lifespan, we do not recommend painting the fan. Please note that for the reasons stated above, painting the fan will void your warranty.
What pin configuration do Noctua 12V fans use?
All Noctua fans feature the standard pin-configurations set out in the Intel and AMD specifications. These standard pin-configurations are used on most mainboards and fan controllers today: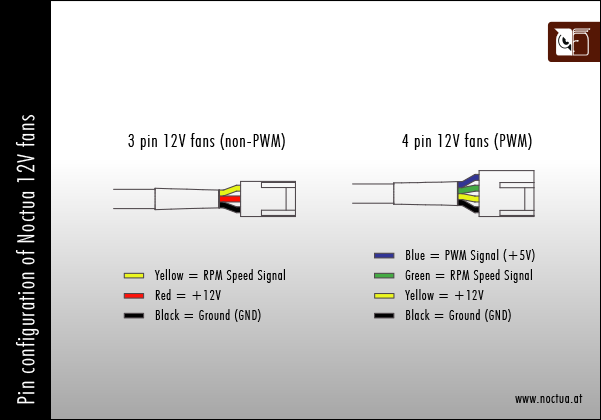 How can I find out the direction of airflow and sense of rotation?
When looking at the fan so that the circular sticker with the Noctua logo is facing you, the direction of airflow is towards you and the sense of rotation is clockwise: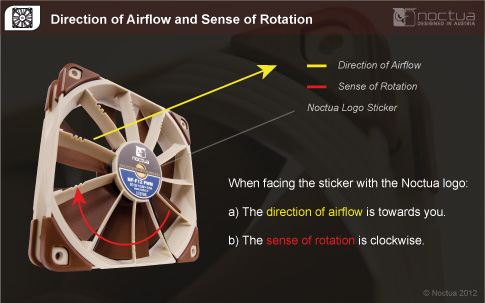 The supplied y-cable is missing a wire at one of the two connectors, is it faulty?
No. As mainboards can process only one rpm-signal per fan header, it would cause problems if the cable transmitted rpm-signals of both fans. For this reason, one of the two connectors does not have an rpm wire and only the fan on the other connector will transmit an rpm signal. Automatic speed control of both fans will work independently from the second fan's rpm signal.
How should I clean my Noctua fan?
Fans inside computer cases tend to accumulate dust over longer periods of usage. In order to maintain maximum performance, please clean your fans regularly using a duster, slightly moist tissue or canned air. Please be careful not to use too much force in order to prevent any damage to the fan. Please do not use a vacuum cleaner as this may apply excessive force to the fan and do not put the fan under running water as water residues inside the motor may lead to short circuits.
In order to ensure flawless operation over many years of usage, Noctua's premium grade SSO bearings are fully sealed to prevent the entering of fine dust particles. Please note that the fan is not designed to be taken apart by the user. Removing the impeller from the frame will break the sealing of the bearing and results in a loss of warranty.
Can I disassemble my fan for cleaning (or other purposes, e.g. painting)?
In order to ensure flawless operation over many years of usage, all Noctua fans come with a premium grade SSO bearing, which is fully sealed to prevent the entering of fine dust particles. Please note that the fan is not designed to be taken apart by the user. Removing the impeller from the frame will break the sealing of the bearing and results in a loss of warranty.

It is thus recommended to clean your fans using a duster, slightly moist tissue or canned air. Please be careful not to use too much force in order to prevent any damage to the fan. Please don't use a vacuum cleaner as this may apply excessive force to the fan.
Can I use Noctua fans in my system from Acer, Apple, Dell, HP, Lenovo or other major brands?
Noctua 12V fans comply with the established specifications for standard PC systems issued by Intel and AMD. Systems from Acer, Apple, Dell, HP, Lenovo or other major brands often deviate from these specifications e.g. by using proprietary fan headers, custom pin-alignments or pin-configurations, different methods of fan speed control, etc. This can lead to compatibility issues when using Noctua fans in systems from said brands. Some of these problems can be avoided with some technical knowledge, but especially BIOS related issues (e.g. errors or shutdowns due to low fan speed) can often not be resolved. As a result, Noctua does not officially support systems from Acer, Apple, Dell, HP, Lenovo or other major brands.
Can Noctua fans be used to replace noisy stock fans in NAS devices?
Noctua fans such as the 40, 60, 80 or 92mm NF-A series models are ideal for replacing noisy stock fans in NAS devices in order to make them quieter and thousands of users have managed to significantly reduce the noise levels of their NAS units this way. However, while it is easy and straightforward to replace the fans in some cases, it can be very difficult in others, so Noctua strongly recommends that users carefully research if it is possible to easily replace the fan(s) of their NAS device before purchasing a Noctua fan for this purpose. Some of the common issues that can occur when replacing NAS fans are:
Different pin assignment: Whereas Noctua fans use the standardised pin assignment for PC fans (see this FAQ for details), some NAS units use different assignments. For example, some devices have the power and GND or rpm and PWM pins swapped. Therefore please carefully verify that your NAS device uses the same pin assignment as standard fans. Experienced users may also change the pin assignment by cutting and resoldering the fan cables, but please note that this will void your Noctua manufacturer's warranty.
Different pin functions: Noctua fans use the standardised pin functions for PC fans (see this FAQ for details); however, some NAS units use fans where certain pins serve a different function. For example, some devices use the RPM pin for "power good" signals. Therefore please carefully verify that your NAS device uses the same pin functions.
Firmware speed control: Some NAS devices demand a certain maximum or minimum fan speed. If the new fan doesn't have the same or similar maximum or minimum speed, the device may display errors or even shut down.
Different starting voltage: Most NAS devices use voltage-based speed control. If the new fan has a higher starting voltage than the original fan, it may not start up right away. This may lead the NAS device to display errors or even shut down because it suspects a fan failure.
Different power draw: Some NAS devices monitor the fan's power draw. If the new fan has a lower power consumption than the stock fan, the device might display errors or even shut down.
Please note that most NAS manufacturers don't provide detailed documentation regarding fan compatibility and control, so users who want to replace the fans of their devices usually have to rely on "How to" guides, blog and forum posts or video tutorials. For example, there are excellent video tutorials available for changing the fans in popular Synology NAS models (DS416j, DS1515+ and DS1812+ in English, DS416/DS415/DS916/DS216/DS214 and DS1515+ in German). Please also note that fan compatibility and control can vary from model to model and even from revision to revision even if the devices stem from the same manufacturer. As a result, it is important to make sure that the information or guidelines you rely on when replacing your NAS fan are applicable to your specific model as well as your specific hardware and firmware revision.
Due to the possible issues listed above, Noctua recommends that only experienced users attempt to replace their NAS fans. Please note that since there are so many different NAS models and most of them lack documentation for aspects such as fan compatibility and control, Noctua customer support cannot assist you with compatibility issues when replacing NAS fans. Please contact your NAS manufacturer for any questions regarding aspects such as the device's pin alignment or fan monitoring and control.
Can I use Low-Noise Adaptors with y-cables / multiple fans?
Yes, Low-Noise Adaptors (L.N.A.s) can be used with y-cables, but please make sure to use one L.N.A. per fan and to place the L.N.A.s between the y-cable and the fans as shown below. Never use one L.N.A. for two (or more fans) by placing it between the mainboard and the y-cable!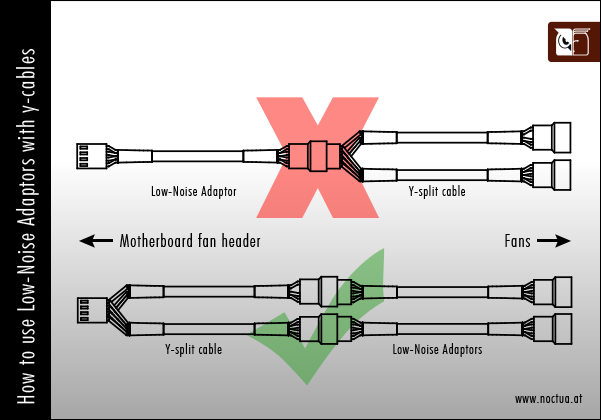 Which Noctua fan or CPU cooler should I buy? How to choose the right model?
Not sure which Noctua product to buy? Our detailed buying guides for
fans
and
CPU coolers
help you to choose the model that works best for you.
Do you have a question concerning one of our products? Please use this form to pose a question!