Dotado de medidas avanzadas de diseño aerodinámico, como canales de aceleración de flujo (
Flow Acceleration Channels
) y el marco
AAO
de Noctua, el NF-A6x25 FLX es un ventilador silencioso, de primera calidad y altamente optimizado, con un tamaño de 60 x 25 mm. La tecnología
Smooth Commutation Drive
y los rodamientos
SSO2
de referencia de Noctua garantizan una fluidez de funcionamiento espectacular y excelente estabilidad a largo plazo. Dotado de cables modulares, adaptadores para reducción del ruido y 6 años de garantía del fabricante, el NF-A6x25 es una elección de primera línea para las demandas más elevadas.
Detalles
Tamaño reducido del cubo del motor
Gracias a su diseño simplificado y compacto del motor, el cubo del motor del NF-A6x25 es más pequeño que el de los ventiladores convencionales de 6 cm. Esto hace posible una superficie de aspas mayor y, por tanto, contribuye al mayor flujo de aire y rendimiento de presión del ventilador.
Canales de aceleración del flujo
El impulsor del NF-A6x25 cuenta con canales de aceleración del flujo en el lado de succión. Al acelerar el flujo de aire en la parte exterior de las aspas más importante, se reduce la separación del flujo en el lado de succión y, por tanto, se consigue una mejor eficiencia y menor ruido de vórtice.
Marco AAO
Los marcos AAO (optimización acústica avanzada) de Noctua cuentan con almohadillas antivibración integradas, así como con el diseño de entrada paso a paso y las microestructuras de superficie internas (ambos propiedad de Noctua), que perfeccionan aún más la eficiencia sonora y el rendimiento del ventilador.
Diseño de entrada paso a paso
El diseño de entrada paso a paso de Noctua añade turbulencia a la entrada de aire para facilitar la transición de flujo laminar a flujo turbulento, lo que reduce el ruido de entrada tonal, mejora la adjunción de flujo e incrementa la capacidad de succión, especialmente en entornos con espacio restringido.
Microestructuras de superficie interna
Con los extremos de las aspas del ventilador en colisión con la capa límite creada por las Inner Surface Microstructures (microestructuras de superficie interna), la separación del flujo desde el lado de succión de las aspas mengua de forma significativa, lo que resulta en un ruido de paso entre las aspas menor, mejor flujo de aire y mayor eficiencia de presión.
Almohadillas antivibración integradas
Las almohadillas antivibración integradas, fabricadas en silicona extrasuave, minimizan la transmisión de las vibraciones por minuto, a la vez que mantienen la compatibilidad con todos los tornillos estándar y otros sistemas de montaje.
Smooth Commutation Drive 2
La última versión del avanzado sistema Smooth Commutation Drive de Noctua asegura una fluidez de funcionamiento espectacular al eliminar las variaciones de torsión y los ruidos de conmutación. Esto hace al NF-A6x25 notablemente silencioso incluso en distancias muy cortas.
Rodamientos SSO2
El NF-A6x25 cuenta con la segunda generación, aún más optimizada, de los renombrados rodamientos SSO de Noctua, de eficacia probada. Con SSO2, el imán trasero se coloca más cerca del eje para proporcionar mejor estabilización, precisión y durabilidad.
3 velocidades para una flexibilidad completa
Al ofrecer configuraciones de velocidad de 3000, 2400 y 1600 rpm, mediante los adaptadores para reducción y ultrarreducción del ruido, el NF-A6x25 FLX (de «flexibilidad») puede ajustarse al máximo para brindar un flujo de aire superior o el máximo silencio.
Extensas opciones de cableado
El cable corto principal del ventilador, de 20 cm, minimiza la acumulación de cables en las aplicaciones típicas, mientras que el cable de extensión de 30 cm incluido proporciona un alcance mayor cuando sea necesario. Los dos cables están completamente enmallados.
6 años de garantía del fabricante
Los ventiladores de Noctua son reconocidos por su impecable calidad y destacada longevidad. Al igual que todos los demás ventiladores Noctua, el NF-A6x25 ofrece un tiempo medio de vida entre fallos (MTBF) de más de 150 000 horas y viene con una garantía total del fabricante de 6 años.
Especificaciones ventilador
Espacio entre orificios de montaje
50x50 mm
Velocidad de rotación (+/-10%)
3000 RPM
Velocidad de rotación con L.N.A. (+/-10%)
2400 RPM
Velocidad de rotación con U.L.N.A. (+/-10%)
1600 RPM
Sonoridad con L.N.A.
14,5 dB(A)
Sonoridad con U.L.N.A.
8,2 dB(A)
Presión estático
2,18 mm H₂O
Presión estático con L.N.A.
1,41 mm H₂O
Presión estático con U.L.N.A.
0,61 mm H₂O
Volumen de entrega
Adaptador para reducción del ruido (L.N.A.)
Adaptador para ultrareducción del ruido (U.L.N.A.)
3:4-Pin Adaptor
Extension 30cm
4 Vibration-Compensators
4 vis de fixation
| | | |
| --- | --- | --- |
| | | |
| 08.11.2015 // AndroidPC.es | | |

Después de probar los modelos NF-A6x25 PWM, NF-A6x25 FLX, NF-A4x10 FLX y NF-A4x10 5V nos dan ganas de dejar un ventilador en nuestras placas pasivas, pero preferimos no hacerlo, como ya sabéis nos gustan los sistemas pasivos. Ciertamente es estos productos pueden ofrecen una mejora térmica en nuestros dispositivos si vamos a exprimirlos y además no nos molestan con ruidos. Si tenemos algún modelo pasivo con problemas térmicos añadirle un pequeño ventilador bien dimensionado siempre es una solución, sobretodo si tienen la calidad de estos modelos.

Resultado del análisis: "Los recomendamos sin ninguna duda para quien quiera mejorar el rendimiento de su miniPC o AndroidPC con problemas térmicos." (Joaquin Prida Trujillo, AndroidPC.es)
| | | |
| --- | --- | --- |
| | | |
| 09.02.2015 // QWERTYmag.it | | |

In questa recensione ci siamo realmente resi conto di quanto Noctua sia attenta ai dettagli e alla cura dei propri prodotti anche in delle "semplici" ventole che poi, in questo caso specifico, semplici non sono visto l'elevata cura nella produzione e nelle tecnologie adottate. Ci ha stupito moltissimo il fatto di ritrovare tutte le tecnologie citate nell'introduzione anche nelle ventole di dimensione ridotta come le NF-A4. Siamo decisamente soddisfatti sia dalle prestazioni in termini di efficienza/rumore, sia dal bundle che dai prezzi decisamente in linea con quelli di altri produttori ma assolutamente superiori in termini di caratteristiche e prestazioni. Attribuiamo a tutta la NF-A Series il premio Gold Award per l'innovazione tecnologica e la cura dei particolari che L'azienda ha dimostrato in questa serie di ventole super-efficienti.

Resultado del análisis: "Ventole per ogni tipo di esigenza. Noctua con la serie NF-A ha pensato proprio a tutti e a tutto proponendo prodotti di altissima qualità e tecnologia mantenendo un ottimo rapporto qualità/prezzo. Decisamente apprezzata la cura dei dettagli e del bundle che rendoni queste ventole il TOP DI GAMMA sul mercato." (Davide Torno, QWERTYmag.it)
| | | |
| --- | --- | --- |
| | | |
| 03.11.2014 // Conseil Config | | |

Malgré la taille qui présageait des nuisances sonores horribles comme nous avons tous l'habitude d'entendre venant de ventilateurs comme ceux-ci, et bien il n'en est rien! Le ventilateur qui me faisait le plus peur était le tout petit Ax410, un ventilateur de 4cm qui, tournant à 4500 RPM, me donnait mal aux oreilles avant même de le brancher, mais au final il se révèle être extrêmement silencieux, du très bon pour Noctua qui pourra enfin vous réconcilier avec vos appareils utilisant des ventilateurs de cette taille. Le A6x25 est le plus silencieux du lot, il n'y a aucun bruit parasite audible et il saura se faire discret même au maximum. Le A9x14, qui n'est autre qu'un ventilateur 92 mm au format "low profile" est un modèle qui est très intéressant si vous êtes en manque de place dans vote HTPC (ou tout autre boitier avec peu de place), il a une grande plage d'utilisation et saura se faire très discret, à noter qu'il émet un léger son aigu à plein régime.

Resultado del análisis: "Que dire de cette série un peu spéciale de chez Noctua? Au départ un peu sceptique quant au bruit que génèrent généralement ces types de ventilateurs il faut avoué que j'ai été agréablement surpris. [...] si vous cherchez à remplacer un ventilateur criard (par exemple dans un switch, ou un NAS etc..) par un silencieux vous avez trouvé ce qu'il vous faut!" (Christian Marchini, Conseil Config)
| | | |
| --- | --- | --- |
| | | |
| 05.06.2014 // GreenTechReviews.ru | | |

Определённо стоит отметить очень тихую работу на скоростях до 2500 об/мин, а при максимальной скорости вентилятор становится немного слышно. Но если корпус с NF-A6x25 FLX расположен не в 15 см от вас, то дискомфорта вы не почувствуете.

Resultado del análisis: "60 мм вентилятор Noctua NF-A6x25 FLX можно назвать отличным выбором, хоть и за немалую цену. Благодаря использованию современных технологий, вентилятор характерен низким уровнем шума при хорошем воздушном потоке. Нельзя не упомянуть и качество продукта, которое, как обычно у Noctua, на высоте. Noctua NF-A6x25 FLX станет отличной заменой штатным вентиляторам!" (Владимир Солонин, GreenTechReviews.ru)
| | | |
| --- | --- | --- |
| | | |
| 01.08.2013 // islaBit.com | | |

El modelo NOCTUA NF-A4x10 FLX está ampliamente Recomendado por islaBit para sustituir ventiladores del mismo tamaño en placas base y cajas de pequeñas dimensiones para PC, así como válido también para fuentes de alimentación de pequeño formato específicas. La mayoría de casos requerirán ventiladores pequeños de baja altura, principalmente por falta de espacio. En este sentido, este formato de 40×40 mm puede explotarse aún más con ventiladores más altos para ganar rendimiento. El problema es que no hay mucha variedad en el mercado de este tipo de ventilador, así que seguro que será bienvenido. El modelo NF-A6x25 FLX está ampliamente Recomendado por islaBit para cualquier colocación compatible de 60x60mm, vigilando su amplio perfil. Es posible que su altura de 25mm condicione su uso, así que habrá que vigilarlo. Su rendimiento es amplio, así que se lleva el Premio Rendimiento islaBit. Poco más se podría explotar en este formato. Por otro lado, dejamos un comentario aquí para el propio fabricante. Quizá en un futuro vendría bien ventiladores de 60×60 de bajo perfil para poder equipar en tarjetas gráficas. Las tarjetas gráficas en general tienen un problema de sonoridad en general, y Noctua podría ser el fabricante que revolucionara tímidamente este mercado, y éste formato de 60×60 junto con el ventilador de formato 90×90 podrían ser grandes protagonistas. El modelo NOCTUA NF-A9x14 PWM está ampliamente Recomendado por islaBit de igual modo que el modelo de 60mm. El hecho de ser de bajo perfil y encima PWM trae dos posibles ventajas que ayudarán a ser más servible. Hace falta señalar el gran caudal de este modelo, capaz de mover más aire que la mayoría de ventiladores del mercado de mayor tamaño (de 120×120) y de rendimiento medio, consiguiendo una sonoridad muy contenida equiparable a éstos. Por ello se lleva también pero de forja ajustada el Premio Rendimiento islaBit.

Resultado del análisis: "Tanto el modelo NF-A410 FLX, como los modelos NF-A6x25 FLX, NF-A9x14 PWM están pensados para reunir todas estas características, alta calidad en materiales empleados, y diseño exclusivo de los mismos para obtener los mejores resultados para su función." (Raúl Planelles, islaBit.com)
| | | |
| --- | --- | --- |
| | | |
| 08.06.2013 // PureOverclock.com | | |

We have come to know Noctua by their continuing tradition of the tan and brown colors on their fans. While there is no denying that these colors are not everyone's taste, this is obviously subjective. From a design stand point, Noctua hit the nail on the head. With its AAO Frame design, to its stepped housing and its anti-vibration pads, Noctua has hit every point that matters. This design helps bring down noise levels and create less turbulence like we see in many other fans. From a performance stand point, Noctua's SSO2 bearing and metal bearing shell keep things in order. Noctua did an outstanding job with each model. The fin design for each model provides sufficient airflow for your every day needs, yet Noctua was able to provide this performance while maintaining lower then normal dB Levels across the board. This is a magnificent feat. All you have to do is select the right model for your needs. If you are looking for low speed dB level fans but still want great airflow, the ULN models will be perfect. If you need a little more flexibility with speeds, the FLX models can meet that sector. If you are just looking for something that has self control, well the PWM models are the perfect design for you. With Noctua offering a wide dynamic of options for each size, model, and design… they really covered their bases. The most outstanding feature about this series of Noctua fans is the warranty. Noctua carries a 6 year warranty! That's RIGHT, 6 years on ALL the fans we tested today. We have not seen any other company that stands behind their products the way Noctua has.

Resultado del análisis: "With the warranty, technology and performance behind each model, we aren't surprised and we find that many consumers today will pay the prices to get a superior product. If you are willing to over-look the odd color of Noctua's traditional style, and you don't mind the slightly higher pricing (which varies from $14.99 to $29.99 per fan), we find that Noctua deserves our Great Hardware award for all of these fans." (Kenny Ha, PureOverclock.com)
| | | |
| --- | --- | --- |
| | | |
| 26.05.2013 // FastPC.pl | | |

Postanowiliśmy również zweryfikować informacje producenta dotyczące natężenia dźwięku wentylatorów. Wszystkie wentylatory wypadły dobrze, a w gruncie rzeczy, akustyka powyżej 20 dB była jedynie zawirowaniami.

Resultado del análisis: "NF-Axx to seria bardzo solidnych wentylatorów. Wysoka jakość wykonania, w połączeniu z wydajnością i cichym działaniem sprawiają, że nowe serie wentylatorów Noctua są idealnym rozwiązaniem dla amatorów niskich temperatur i ciszy. Ciekawym akcentem jest również bardzo dobre wyposażenie dodatkowe, oraz 6 letni okres gwarancyjny." (Michał Bartoś, FastPC.pl)
| | | |
| --- | --- | --- |
| | | |
| 24.05.2013 // ThinkComputers.org | | |

Noctua is known as one of the elites in the PC cooling hardware community. They have multiple award winning products and are always at the top of the performance lists. For this grouping of fans I expected much of the same. Overall I do believe that Noctua delivers. The fans all come well packaged, with a great assortment of accessories, which is great if not a little expected. They are made of high quality plastics and their inner parts are designed to be just as nice. You can tell from the list of features just how much engineering and testing has gone into making these fans as quiet and efficient as possible. I truly do believe they deliver on that.

Resultado del análisis: "In summary these fans are a joy to install and use." (Bob Buskirk, ThinkComputers.org)
| | | |
| --- | --- | --- |
| | | |
| 02.05.2013 // Hardaily.com | | |

Las pruebas varias para el NF-A6x25 FLX básicamente pasan por probar su robustez y funcionamiento, comprobando manualmente su caudal de aire, su sonoridad y su facilidad de montaje. En primer lugar, pasa lo mismo que con su hermano pequeño; este modelo es muy silencioso pese a rotar a revoluciones altas al máximo, siendo la gran sorpresa al experimentar con este ventilador tan pequeño. Acostumbrados a topar con ventiladores pequeños que suenan como la más odiada moscarda que se te mete en la habitación y no para de fastidiar, hasta que abres la ventana y se va, con el ventilador NF-A6x25 FLX tendréis un sonido contenido, solo apreciable si lo tenéis muy cerca de la oreja, con un caudal considerablemente alto, pudiendo provocar una circulación de aire de gran flujo en un circuito cerrado formado por dos unidades estratégicamente colocadas, uno de entrada y otro de salida, considerablemente separados. Será difícil equipar este ventilador para otros dispositivos como placas base o tarjetas gráficas, éstas que requieren perfiles muy esbeltos.

Resultado del análisis: "El ventilador Noctua NF-A6x25 FLX está recomendado por Hardaily exclusivamente para cajas de reducidas dimensiones que requieran de ventilación activa de reducido tamaño, con un caudal considerable visto su tamaño y una sonoridad muy controlada. También es ideal como sustitutivo de ventiladores de 60×60 mm de algunas cajas especiales que ya traigan este tamaño de ventilador y se busque un extra en calidad, o bien para refuerzo en sistemas de disipación pasiva de reducidas dimensiones, aunque este caso es muy rebuscado. Con sus accesorios, que no son pocos, y su fácil colocación será complicado no poder instalarlo en el lugar requerido. Noctua ofrece una solución muy decente para este tipo de necesidades (zonas pequeñas que necesiten de una ventilación directa)." (Raúl Planelles, Hardaily.com)
| | | |
| --- | --- | --- |
| | | |
| 22.04.2013 // HardwareAnalisis.es | | |

Muchas veces, cuando nos encontramos un ventilador ruidoso en algún aparato comprobamos desolados que es difícil encontrar un sustituto, o que los que encontramos, no ofrecen las características que buscamos. Por suerte Noctua ha llegado al nuestro rescate, ofreciéndonos la serie de ventiladores NF-A, entre los que se incluyen los modelos NF-A4x10 FLX, NF-A6x25 FLX y NF-A9x14 PWM. Hasta el momento Noctua no había creado nada tan específico como esta serie de ventiladores. Todos ellos están concebidos para sustituir los ventiladores genéricos de baja calidad y bajas prestaciones que habitualmente encontramos preinstalados en muchos equipos. Y realmente lo consiguen, siendo unos de los ventiladores más silenciosos que hemos probado nunca! Con los nuevos ventiladores NF-A4x10 FLX, NF-A6x25 FLX y NF-A9x14 PWM, Noctua ha vuelto a demostrarnos que es el fabricante de referencia en el sector de la refrigeración por aire. Estos ventiladores no solo cubren un nicho de mercado hasta ahora poco explotado, sino que además ofrecen la más alta calidad de fabricación y las más novedosas tecnologías desarrolladas por los ingenieros de Noctua.

Resultado del análisis: "Noctua lanza los ventiladores NF-A4x10 FLX, NF-A6x25 FLX y NF-A9x14 PWM. Soluciones especiales para problemas especiales, pero sin renunciar a la calidad ni a las mejores prestaciones." (Manuel González Fernández, HardwareAnalisis.es)
Can I run Noctua 3-pin fans on 4-pin PWM connectors and use my mainboard's automatic fan controller?
You can simply connect our fan's 3-pin connector to the 4-pin PWM sockets of today's mainboards so that the fourth pin that transmits the PWM signal is left blank (due to the shape of the connector, there's no danger of reversing polarity). Some mainboards (e.g. current Gigabyte models) are capable of controlling fans not only via PWM, but also by adjusting the supplied voltage. In some cases, this may require you to change BIOS options like "Fan Control Mode" from "PWM" to "Voltage" or "Analog". Please consult your mainboard's manual in this regard. However, some mainboards use an "auto" setting by default that automatically chooses PWM or voltage based regulation according to the connected fan. Automatically controlling the fan speed may not possible on mainboards that pulse the power rather than lowering the fan voltage.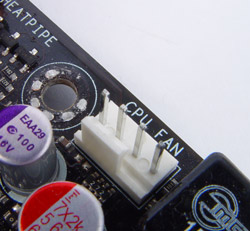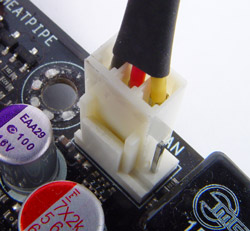 My Noctua 3-pin fan starts to spin when the PC boots but then stops, what is wrong?
Many mainboards are able to automatically regulate the fan speed of 3-pin fan via voltage based measures. However, due to limitations of this method it may occur that the mainboard reduces the voltage so much that the fan stops. To resolve the issue, you can:
Choose a higher fan speed profile in the BIOS (e.g. "normal" instead of "silent", etc.) or deactivate automatic fan speed control and use a Low-Noise Adaptor instead.
Use the mainboard's fan speed control software or 3rd party tools like Speedfan to regulate the fan speed. Unlike BIOS based fan speed control, the supplied software usually checks whether the fan has stopped and increases voltage accordingly or at least offer more options to set up the fan properly.
I get a CPU fan error despite the fan is running!
Some mainboards display a CPU fan error when the fan speed falls below a certain threshold, e.g. 900rpm. If you want to run the fan below this speed (e.g. using the supplied U.L.N.A.), please adjust the threshold in the BIOS or disable CPU fan error warning.
Can I paint my Noctua fan in order to change its color?
Since even small variations in the layer of paint can lead to an imbalance of the impeller, resulting in vibrations, higher noise levels, increased stress on the bearing and thus reduced lifespan, we do not recommend painting the fan. Please note that for the reasons stated above, painting the fan will void your warranty.
What pin configuration do Noctua 12V fans use?
All Noctua fans feature the standard pin-configurations set out in the Intel and AMD specifications. These standard pin-configurations are used on most mainboards and fan controllers today: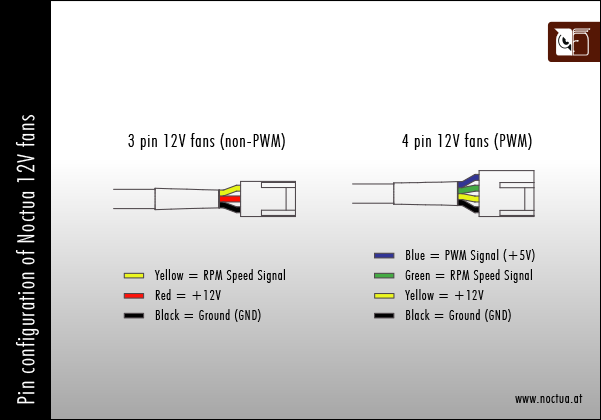 How can I find out the direction of airflow and sense of rotation?
When looking at the fan so that the circular sticker with the Noctua logo is facing you, the direction of airflow is towards you and the sense of rotation is clockwise: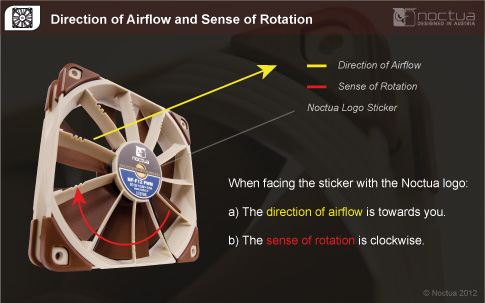 How should I clean my Noctua fan?
Fans inside computer cases tend to accumulate dust over longer periods of usage. In order to maintain maximum performance, please clean your fans regularly using a duster, slightly moist tissue or canned air. Please be careful not to use too much force in order to prevent any damage to the fan. Please do not use a vacuum cleaner as this may apply excessive force to the fan and do not put the fan under running water as water residues inside the motor may lead to short circuits.
In order to ensure flawless operation over many years of usage, Noctua's premium grade SSO bearings are fully sealed to prevent the entering of fine dust particles. Please note that the fan is not designed to be taken apart by the user. Removing the impeller from the frame will break the sealing of the bearing and results in a loss of warranty.
Can I disassemble my fan for cleaning (or other purposes, e.g. painting)?
In order to ensure flawless operation over many years of usage, all Noctua fans come with a premium grade SSO bearing, which is fully sealed to prevent the entering of fine dust particles. Please note that the fan is not designed to be taken apart by the user. Removing the impeller from the frame will break the sealing of the bearing and results in a loss of warranty.

It is thus recommended to clean your fans using a duster, slightly moist tissue or canned air. Please be careful not to use too much force in order to prevent any damage to the fan. Please don't use a vacuum cleaner as this may apply excessive force to the fan.
Can I use Noctua fans in my system from Acer, Apple, Dell, HP, Lenovo or other major brands?
Noctua 12V fans comply with the established specifications for standard PC systems issued by Intel and AMD. Systems from Acer, Apple, Dell, HP, Lenovo or other major brands often deviate from these specifications e.g. by using proprietary fan headers, custom pin-alignments or pin-configurations, different methods of fan speed control, etc. This can lead to compatibility issues when using Noctua fans in systems from said brands. Some of these problems can be avoided with some technical knowledge, but especially BIOS related issues (e.g. errors or shutdowns due to low fan speed) can often not be resolved. As a result, Noctua does not officially support systems from Acer, Apple, Dell, HP, Lenovo or other major brands.
Can Noctua fans be used to replace noisy stock fans in NAS devices?
Noctua fans such as the 40, 60, 80 or 92mm NF-A series models are ideal for replacing noisy stock fans in NAS devices in order to make them quieter and thousands of users have managed to significantly reduce the noise levels of their NAS units this way. However, while it is easy and straightforward to replace the fans in some cases, it can be very difficult in others, so Noctua strongly recommends that users carefully research if it is possible to easily replace the fan(s) of their NAS device before purchasing a Noctua fan for this purpose. Some of the common issues that can occur when replacing NAS fans are:
Different pin assignment: Whereas Noctua fans use the standardised pin assignment for PC fans (see this FAQ for details), some NAS units use different assignments. For example, some devices have the power and GND or rpm and PWM pins swapped. Therefore please carefully verify that your NAS device uses the same pin assignment as standard fans. Experienced users may also change the pin assignment by cutting and resoldering the fan cables, but please note that this will void your Noctua manufacturer's warranty.
Different pin functions: Noctua fans use the standardised pin functions for PC fans (see this FAQ for details); however, some NAS units use fans where certain pins serve a different function. For example, some devices use the RPM pin for "power good" signals. Therefore please carefully verify that your NAS device uses the same pin functions.
Firmware speed control: Some NAS devices demand a certain maximum or minimum fan speed. If the new fan doesn't have the same or similar maximum or minimum speed, the device may display errors or even shut down.
Different starting voltage: Most NAS devices use voltage-based speed control. If the new fan has a higher starting voltage than the original fan, it may not start up right away. This may lead the NAS device to display errors or even shut down because it suspects a fan failure.
Different power draw: Some NAS devices monitor the fan's power draw. If the new fan has a lower power consumption than the stock fan, the device might display errors or even shut down.
Please note that most NAS manufacturers don't provide detailed documentation regarding fan compatibility and control, so users who want to replace the fans of their devices usually have to rely on "How to" guides, blog and forum posts or video tutorials. For example, there are excellent video tutorials available for changing the fans in popular Synology NAS models (DS416j, DS1515+ and DS1812+ in English, DS416/DS415/DS916/DS216/DS214 and DS1515+ in German). Please also note that fan compatibility and control can vary from model to model and even from revision to revision even if the devices stem from the same manufacturer. As a result, it is important to make sure that the information or guidelines you rely on when replacing your NAS fan are applicable to your specific model as well as your specific hardware and firmware revision.
Due to the possible issues listed above, Noctua recommends that only experienced users attempt to replace their NAS fans. Please note that since there are so many different NAS models and most of them lack documentation for aspects such as fan compatibility and control, Noctua customer support cannot assist you with compatibility issues when replacing NAS fans. Please contact your NAS manufacturer for any questions regarding aspects such as the device's pin alignment or fan monitoring and control.
How big is the NH-D15S and how much clearance does it provide for RAM and mainboard heatsinks? Copy
Yes, Low-Noise Adaptors (L.N.A.s) can be used with y-cables, but please make sure to use one L.N.A. per fan and to place the L.N.A.s between the y-cable and the fans as shown below. Never use one L.N.A. for two (or more fans) by placing it between the mainboard and the y-cable!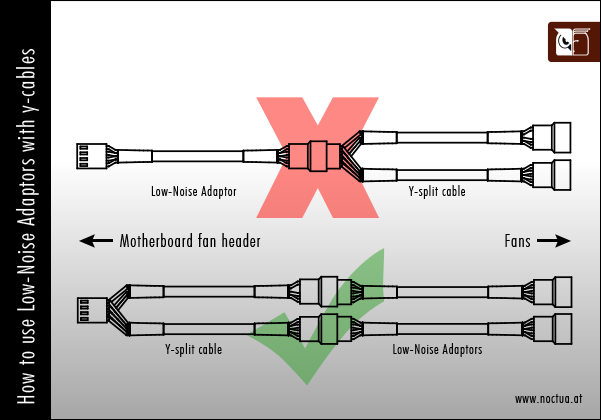 Which Noctua fan or CPU cooler should I buy? How to choose the right model?
Not sure which Noctua product to buy? Our detailed buying guides for
fans
and
CPU coolers
help you to choose the model that works best for you.
¿Tiene alguna pregunta sobre uno de nuestros productos? ¡Por favor use este formulario para enviar una pregunta!