Fin de série. Modèle successeur: NF-S12B ULN
Géométrie des pales et profilage des pales optimisés sur le plan du niveau sonore:
Dans la série NF-S12, on utilise pour la première fois un nouveau rotor développé par l'Institut Autrichien de technologie du transfert thermique et des ventilateurs (Österreichisches Institut für Wärmeübertragung und Ventilatorentechnik) (ÖIWV), qui est plus silencieux de 10 % vis à vis des ventilateurs hauts de gamme actuels ultra-silencieux, grâce à une optimisation spéciale de la géométrie des pales, pour un même débit de ventilateur.

Palier lisse hydraulique autostabilisé (palier lisse SSO):
La série NF-S12 est pourvue d'un palier lisse hydraulique autolubrifiant, centré par magnétisme, qui garantit une stabilité à long terme et un fonctionnement silencieux dans une mesure jusqu'ici inconnue.

Spécifications ventilateur
Vitesse de rotation (+/-10%)
800 RPM
Vitesse de rotation avec U.L.N.A. (+/-10%)
500 RPM
Niveau sonore avec U.L.N.A.
< 5* dB(A)
Volume de livraison
Ultra-Low-Noise Adaptor (U.L.N.A.)
4 Vibration Compensators
Adapteur 3:4-Pin
4 vis de fixation
Can I use Noctua fans on my fan controller?
Our fans are compatible with the vast majority of fan controllers on the market. However, there is a compatibility issue with a few models such as the Zalman ZM-MFC2 and Bitfenix Recon, which apply Pulse Width Modulation (PWM) on the 12V line and use an unfavourable PWM carrier frequency. This can create an oscillation when used with certain fans, which will result in the fan speeding up and down. We therefore recommend not using the Zalman ZM-MFC2 or Bitfenix Recon with our fans.
My fan doesn't spin when I start up the PC - is it faulty?
If you've connected the fan directly (or using the supplied Low-Noise or Ultra-Low-Noise-Adaptors) to your mainboard, it's possible that the mainboard's automatic fan controller doesn't provide the required starting voltage due to the low CPU temperature. Please verify whether the fan starts spinning at higher CPU temperatures, remove any Low-Noise or Ultra-Low-Noise Adaptors, deactivate your mainboard's automatic fan controller in the BIOS or connect the fan directly to the power supply using the supplied 3:4-pin adaptor.
Can I run Noctua 3-pin fans on 4-pin PWM connectors and use my mainboard's automatic fan controller?
You can simply connect our fan's 3-pin connector to the 4-pin PWM sockets of today's mainboards so that the fourth pin that transmits the PWM signal is left blank (due to the shape of the connector, there's no danger of reversing polarity). Some mainboards (e.g. current Gigabyte models) are capable of controlling fans not only via PWM, but also by adjusting the supplied voltage. In some cases, this may require you to change BIOS options like "Fan Control Mode" from "PWM" to "Voltage" or "Analog". Please consult your mainboard's manual in this regard. However, some mainboards use an "auto" setting by default that automatically chooses PWM or voltage based regulation according to the connected fan. Automatically controlling the fan speed may not possible on mainboards that pulse the power rather than lowering the fan voltage.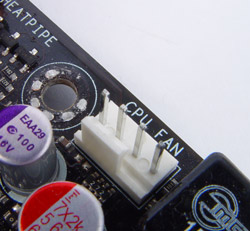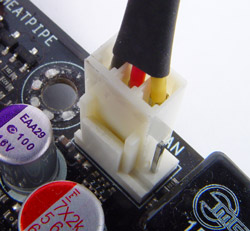 How can I check if my 4-pin fan header supports PWM?
Some mainboards feature 4-pin fan headers that actually don't use a PWM signal on Pin 4 to control the fan speed but rather reduce the voltage on Pin 2 (like a standard 3-pin fan header). As the fan speed at minimum voltage is usually higher than the speed at 20% PWM duty cycle, the fan can not reach as low minimum speeds under voltage control as under PWM control. Please refer to your mainboard manual to check whether or not your mainboard has 4-pin fan headers that control the fan speed by reducing voltage on Pin 2 rather than by changing the PWM duty cycle on Pin 4: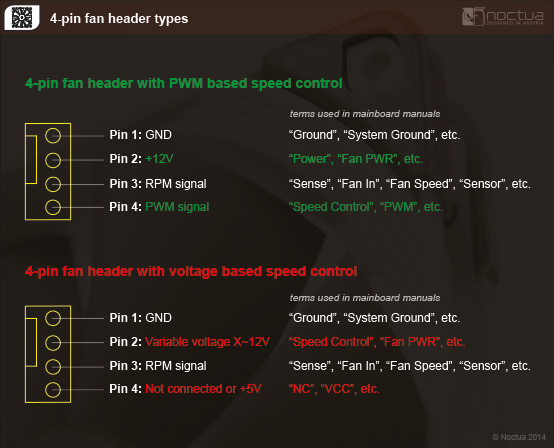 Note that mainboard manufacturers use different terms to indicate that Pin 4 is not being used for PWM control (e.g. "+5V", "VCC" or "NC"), but if one of these terms is used, you can be sure that the fan header does not support PWM. If Pin 4 is described as "Speed Control" or "PWM" or the like, you can be sure that the fan header supports PWM.

Unfortunately, the description of Pin 2 is not always a clear indication as some manufacturers use terms such as "Fan PWR" or "Power" for both types of fan headers. However, if Pin 2 is described as "Speed Control", you can also be sure that the fan header does not support PWM based speed control. If Pin 2 is described as "+12V", this is a clear indication that the fan header supports PWM.

Please also note that in some cases, the descriptions of the pin layouts in the mainboard manuals may not be correct and some models actually allow you to switch the fan headers from voltage control mode to PWM control mode in the BIOS even though the pin descriptions do not indicate PWM support. We thus recommend to look for these options in the BIOS before taking other measures. In case of doubt, please contact your mainboard manufacturer.
If your mainboard features other 4-pin fan headers that use PWM for speed control, you can run multiple fans from these headers using Y-split cables. Make sure not to exceed the specified maximum power draw of the fan headers (usually 10-12W) though.
Avez-vous une question sur un de nos produits ? Veuillez utiliser ce formulaire pour poser une question !