Is the cooler compatible with the Intel LGA2011 socket and Asus X-socket™?
The cooler doesn't come with LGA2011 mounting hardware out of the box, but it can be upgraded to support LGA2011 via the NM-I2011 mounting kit.

Please also note that the cooler is fully compatible with Asus Rampage IV series LGA2011 motherboards that feature Asus X-socket™. Asus X-socket™ models use an interchangeable backplate that makes it possible to install LGA1366 heatsinks, so the cooler is fully compatible with these mainboards out of the box and does not require any upgrades to be installed.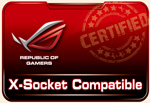 In order to install the cooler on Asus X-socket™ mainboards, please first remove the mainboard's LGA2011 backplate and install the LGA1366 backplate supplied with the mainboard instead (see the mainboard manual for detailed instructions). Then install the Noctua cooler as described in the supplied installation manual for LGA1366. In case you've lost the printed installation manual, you can download it here.
Do you have a question concerning one of our products? Please use this form to pose a question!