The NF-A14 is a premium quality quiet 140mm fan with a square frame that complies with Noctua's
AAO
(Advanced Acoustic Optimisation) standard. Its
square shape
and 140mm mounting holes (124.5mm spacing) make it ideal for use on watercooling radiators or as an upgrade for 140mm case fans. Featuring sophisticated aerodynamic design measures such as
Flow Acceleration Channels
, the NF-A14 further improves the renowned quiet cooling performance of the award-winning NF-P14. The ULN version provides super-slow 800/650rpm speed settings for ultra-low-noise applications and highly noise sensitive users who demand near-silent operation. Its superb running smoothness, reference-class
SSO2
bearing and Noctua's trusted premium quality make it an elite choice for the highest demands.
Details
Succeeding the award-winning NF-P14
Noctua's NF-P14 fan has become a default-choice among PC enthusiasts looking for a premium quality quiet 140mm fan. Thanks to its thoroughgoing aerodynamic optimisations, the NF-A14 provides higher static pressure and an even better airflow/noise ratio than its much acclaimed predecessor.
Square 140mm frame
The NF-A14's square 140mm frame with 140mm mounting holes (124.5mm spacing) makes it a premium grade replacement for common 140mm case fans and perfect for use on 140mm water cooling radiators, where its square shape will ensure full coverage and best pressure performance.
Flow Acceleration Channels
The NF-A14 impeller features suction side Flow Acceleration Channels. By speeding up the airflow at the crucial outer blade regions, this measure reduces suction side flow separation and thus leads to better efficiency and lower vortex noise.
AAO Frame
Noctua's AAO (Advanced Acoustic Optimisation) frames feature integrated anti-vibration pads as well as Noctua's proprietary Stepped Inlet Design and Inner Surface Microstructures, both of which further refine the fan's performance/noise efficiency.
Stepped Inlet Design
Noctua's Stepped Inlet Design adds turbulence to the influx in order to facilitate the transition from laminar flow to turbulent flow, which reduces tonal intake noise, improves flow attachment and increases suction capacity, especially in space-restricted environments.
Inner Surface Microstructures
With the tips of the fan blades ploughing through the boundary layer created by the Inner Surface Microstructures, flow separation from the suction side of the blades is significantly suppressed, which results in reduced blade passing noise and improved airflow and pressure efficiency.
Integrated Anti-Vibration Pads
Integrated Anti-Vibration Pads made from extra-soft silicone minimise the transmission of minute vibrations while maintaining full compatibility with all standard screws and other mounting systems.
SSO2 Bearing
The NF-A14 features the further optimised second generation of Noctua's renowned, time-tested SSO bearing. With SSO2, the rear magnet is placed closer to the axis to provide even better stabilisation, precision and durability.
Metal bearing shell
In order to guarantee the highest possible degree of manufacturing precision, minimum tolerance and excellent long-term stability, the NF-A14 sports a CNC milled bearing shell made entirely from brass.
Smooth Commutation Drive 2
The latest version of Noctua's advanced Smooth Commutation Drive system ensures superb running smoothness by eliminating torque variations and switching noises. This makes the NF-A14 remarkably quiet even at very close distances.
2 speed settings for maximum quietness
Providing 800 and 650 rpm speed settings via the supplied adaptor, the ULN (Ultra-Low-Noise) version is tailor made for serious silent enthusiasts who demand super-slow running speeds and utmost quietness of operation.
Extensive cabling options
The fan's short 20cm primary cable minimises cable clutter in typical applications while the supplied 30cm extension provides extended reach when necessary. Both cables are fully sleeved and the supplied 3:4 pin adaptor allows the connection of the fan directly to the power supply.
Ultra-Low Power Consumption
Despite of its further improved performance, the NF-A14 ULN consumes only 0.48W of power. This doesn't only make it eco-friendly but also helps to cut down the electricity bill!
6-year manufacturer's warranty
Noctua fans are renowned for their impeccable quality and outstanding longevity. Like all Noctua fans, the NF-A14 features an MTBF of more than 150.000 hours rating and comes with a full 6-year manufacturer's warranty.
Rotational Speed (+/- 10%)
800 RPM
Rotational Speed with L.N.A. (+/- 10%)
650 RPM
Airflow with L.N.A.
66,4 m³/h
Acoustical Noise
11,9 dB(A)
Acoustical Noise with L.N.A.
9,1 dB(A)
Static Pressure
0,69 mm H₂O
Static Pressure with L.N.A.
0,42 mm H₂O
Max. Input Current
0,04 A
Scope of Delivery
Low-Noise Adaptor (L.N.A.)
3:4 Pin Adaptor
30cm Extension Cable
4 Vibration-Compensators
4 Fan Screws
| | | |
| --- | --- | --- |
| | | |
| 14.01.2013 // eTeknix.com | | |

The Noctua NF-A14 ULN is a very nice fan for the "quiet enthusiast". As we've seen it runs at more or less in total silence, whether you pick 800 or 650 RPMs. Personally I think the difference between 650 and 800 ROM was so minor that you might as well opt for 800 RPM speeds to get that extra airflow. There isn't that much more to say that I haven't already said about Noctua fans in the past. To be concise, the NF-A14 ULN sticks to all the key Noctua principles of having excellent build quality, ultra-low power consumption that no other fan can even come close to, superb acoustic performance, solid cooling performance and the peace of mind of a huge 6 year manufacturer warranty. This particular model is an excellent choice for a silent 140mm case fan or radiator fan.

Test verdict: "The Noctua NF-A14 ULN fan really stands out as a fantastic buy for anyone who wants absolute silence. It measured in at barely 2 dBA above the ambient noise level, inside a case you wouldn't even know your computer was on! What a fantastic level of acoustic performance. And as we saw on the previous page, you can still get a good level of performance even at just 800 RPM." (Ryan Martin, eTeknix.com)
| | | |
| --- | --- | --- |
| | | |
| 29.06.2013 // Vortez.net | | |

Noctua has devoted itself to quiet cooling. In that they have succeeded well. One measure of their insistence on quietness was their not bringing PWM products to market until they were ready to do it the Noctua way. "Fans" of Noctua's fans long wrote about how they wanted PWM versions, yet there were no PWM fans from Noctua. But it turned out that Noctua was not ignoring PWM; their engineers were working on developing a silent PWM control. The clicking seen in other PWM fans – even quiet clicking – is completely absent in Noctua PWM fans. This started with their NF-F12's, and has now extended to their A series. All are clickless. As well as can be measured in a non-professional setup, Noctua's airflow specifications are accurate. You can listen to a fan and hear if it is quiet or not, and whether it makes unpleasant noises (Noctua fans are free of unpleasant noises). But airflow is another matter. Airflow takes special instruments to measure. It is comforting to know Noctua's specifications on this are accurate; so you can use those specifications in your buying decisions. The various Low Noise Adapters and Ultra Low Noise Adapters are different for each of the fans. Clearly, they are tailored to achieve particular results. This may or may not be unique to Noctua fans. Interestingly, Noctua says nothing about it. The Noctua accessories are of good quality, and appear likely to last in extended usage. They are all handsomely sleeved as well. The fan frames are sturdy, and the corner cushions do not extend into the screw holes. That means the fans can be securely fastened with or without the cushions.

Test verdict: "Overall, the Noctua A series is a fine set of fans. Careful attention to airflow and acoustics, along with the best PWM circuits in existence, make these superb fans." (Ed Hume, Vortez.net)
| | | |
| --- | --- | --- |
| | | |
| 04.03.2013 // Overclockers Club | | |

Keep in mind that while the test results aren't overwhelmingly spectacular, consumers are offered more options depending on what they're looking for. The Noctua NF-P14 was a "convertible" fan. It had 120mm hole spacings with 140mm extensions with a round frame, so it could fit 120mm or 140mm mounts However, like a real convertible with the top down, it's a bit louder. Round framed fans in general perform much better on air cooling radiators, but square framed fans in general perform better on watercooling radiators. Thus, you now have the option to choose between a variety of 140mm (and 150mm) fans from Noctua. Whether you're looking for the most optimal silent solution with the NF-A14 ULN, or a quieter replacement to the NF-P14 with the NF-A14 FLX that still does a great job with the U.L.N.A. adapter. The NF-P14 is still a solid performer and the NF-A15 PWM is a great replacement for 120mm fans where size isn't a factor. Decisions, decisions!

Test verdict: "One of my favorite things about Noctua is how quiet its fans are without sacrificing thermal performance. Noctua pushes the boundaries of continually making improvements in all aspects of its products, and the latest from Noctua doesn't disappoint. Comparing these fans to their predecessor, the Noctua NF-P14, it's easy to notice the differences in design, and I could definitely hear less vortex noise!" (Ebon Kim, Overclockers Club)
| | | |
| --- | --- | --- |
| | | |
| 23.02.2013 // Neoseeker.com | | |

Noctua's NF A-15 PWW, A-14 FLX, and the A14 ULN are a welcome addition to their lineup of cooling products. The NF-A15 PWM and the NF-A14 FLX run at 1200rpm when not equipped with the low noise adapters. This of course improves their overall performance at the cost of increased noise output from the fans. I am not saying they generate a lot of noise - as a matter of fact even at their maximum rotational speeds the fans are are extremely quiet, almost to the point that I continued to check just to make sure they actually were in operation. The NF-A14 ULN without a doubt generates the least amount of noise with or without the low noise adapter. [...] Noctua's NF-A15 PWM, NF-A14 FLX, and the NF-A14 ULN are priced around $24.00 each; a reasonable price considering the quality and performance of the fans (not to mention a 6 year warranty). In my book, that's a lot of bang for the buck.

Test verdict: "Noctua's NF A15 PWM, A-14 FLX, and the A-14 ULN did an excellent job of keeping our testbed cool given the fact they are not high RPM fans. [...] [T]hese fans would make a great addition to either an HTPC or gaming PC for those who like quiet." (Roger Cantwell, Neoseeker.com)
| | | |
| --- | --- | --- |
| | | |
| 13.02.2013 // HiTechLegion.com | | |

The NF-A14 ULN is obviously a niche piece, and it fills that niche perfectly. Added on as an intake directly in front of the HDD cage, temperatures dropped nicely, while the increase in noise was absolutely imperceptible. Aside from cooling the HDD, the NF-A14 ULN was getting enough air through them to make a measurable drop in the interior temps, as well with MB and GPU temps dropping. As far as low noise fans go, the NF-A14 ULN is the epitome of what they should be. [...] Noctua has again put out a series of absolutely top notch fans with the NF-A 140mm varieties. The versatility of the offerings should offer up something for the needs of just about any situation, ranging from extreme cooling to extreme silence. As always, Noctua's build quality is second to none with performance to match.

Test verdict: "The Noctua name has become synonymous with quiet cooling and extreme performance. Many of their products are rightfully legendary in enthusiast circles, and deservedly so. Over the years, Noctua has set a very high standard for themselves to live up to, and the NF-A Series fans do not disappoint in any way. The three configurations are very well thought out, and add a great deal of versatility to the line." (George Cella, HiTechLegion.com)
| | | |
| --- | --- | --- |
| | | |
| 24.01.2013 // OCmodshop.com | | |

So in short, what can I say… The NF-A15 and NF-A14 cooling fans are proper Noctua quality with added new innovations. With every new design they unveil, Noctua brings out great airflow with minimal noise and are extremely reliable (I still use 5 year old Noctua fans). They are a bit more expensive than typical case fans but are worth every penny.

Test verdict: "Would I buy these if I needed more? In a heartbeat. They are by far the best fans I ever had in my hands, and they have a six-year warranty to boot! I even replaced some older Noctua fans I still had. Don't worry the older fans now spin in my friend's case who needed some extra fans." (Daniel Pielage, OCmodshop.com)
| | | |
| --- | --- | --- |
| | | |
| 24.01.2013 // XtremeHardware.it | | |

Questa nuova serie, che verrà analizzata in modo superficiale in questo capitolo, rappresenta la volontà di Noctua di potenziare e consolidare la propria situazione nel panorama delle ventole aventi un diametro molto elevato, infatti a seguito dell'immissione in commercio di questi modelli si è raggiunto il completamento dell'offerta per ogni settore. La serie ULN e FLX da 140mm si caratterizza per il nuovo telaio AAO introdotto con l'eccellente ventola da 120mm NF-F12 Focused Flow, recensita da noi tempo fa (Qui), e per il cambiamento del formato da circolare a quadrato, oltre a tutta la nuova serie di migliorie tecniche e strutturali che sono già state menzionate nel capitolo precedente. L'intera serie "A" infatti presenta quasi sempre le medesime caratteristiche tecniche, indipendentemente da modello e dal diametro, per cui la qualità complessiva è sempre molto elevata.

Test verdict: "Oltre a questo troviamo le Noctua A15 e A14, che occupano posizioni basse, ma che però presentano una rumorosità davvero irrisoria se rapportata alle altre, e quindi un comfort acustico invidiabile. Il modello A14 FLX, sebbene occupi l'ultima posizione, troviamo che sia il migliore di tutti per quanto riguarda il rapporto Temperature / dBA" (Matteo Trinca, XtremeHardware.it)
| | | |
| --- | --- | --- |
| | | |
| 17.01.2013 // PC Ekspert | | |

Cijene manjih (A4x10/A6x25/A9x14 – 12,90/14,90/16,90€), kao i većih 140mm modela (21,90€) su uglavnom u skladu s dosadašnjom politikom Noctua proizvoda, koja se i dalje bazira na principu – kvaliteta prije svega, uz odgovarajuću cijenu. Nakon svega viđenog, zaista im ne možemo puno zamjeriti na tome, s obzirom na sve prednosti njihovih proizvoda iz nove A-serije za koje imamo gotovo isključivo riječi hvale.

Test verdict: "Noctua nam je ovom prilikom priredila mnoga iznenađenja po pitanju novih proizvoda raznih veličina i namjena. Od minijaturnog 40mm A4x10 modela, preko A6x25 i A9x14, pa sve do 140mm inačica, svaki od testiranih ventilatora odaje onu poznatu Noctua kvalitetu i uglađenost u radu uz visoku funkcionalnost i bogatu dodatnu opremu. Za svakoga ponešto, bi možda bio najslikovitiji opis nove A-serije ventilatora, a što se nas osobno tiče, itekako bismo voljeli vidjeti par 140mm ULN modela i u našem testnom računalu. Za korisnike koji zahtijevaju veliku efikasnost i relativno umjeren nivo buke, tu su naravno A14 FLX i A15 PWM modeli, koji svojom fleksibilnošću, elegantnim radom ali i visokom kvalitetnom izrade itekako zaslužuju našu preporuku." (Domagoj Hodak, PC Ekspert)
| | | |
| --- | --- | --- |
| | | |
| 26.12.2012 // hardwaremAx.net | | |

Nochmals besser zeigt sich der NF-A14 ULN, der selbst auf 12V sehr leise und frei von Nebengeräuschen agiert und an der überdurchschnittlich angenehmen Charakteristik ändert sich auch bei niedrigeren Drehzahlen und einer horizontalen Ausrichtung des Ventilators nichts. Wir gehen sogar soweit, dass wir Silent-Liebhabern eher zu einem Noctua NF-A14 ULN als zu einem be quiet! Silent Wings raten würden. Auch die Schallpegelmessungen unterstreichen unsere subjektiven Eindrücke vollends und die Noctuas geben hier den Ton an.

Test verdict: "Der Noctua NF-A14 ULN ist aus unserer Sicht der beste 140-mm-Silentlüfter am Markt und der NF-A15 PWM ist in Summe dank der speziellen Rahmenform und dem PWM-Anschluss der ideale Ventilator für diverse Kühlkörper." (Lukas Dornstauder, hardwaremAx.net)
| | | |
| --- | --- | --- |
| | | |
| 09.02.2015 // QWERTYmag.it | | |

In questa recensione ci siamo realmente resi conto di quanto Noctua sia attenta ai dettagli e alla cura dei propri prodotti anche in delle "semplici" ventole che poi, in questo caso specifico, semplici non sono visto l'elevata cura nella produzione e nelle tecnologie adottate. Ci ha stupito moltissimo il fatto di ritrovare tutte le tecnologie citate nell'introduzione anche nelle ventole di dimensione ridotta come le NF-A4. Siamo decisamente soddisfatti sia dalle prestazioni in termini di efficienza/rumore, sia dal bundle che dai prezzi decisamente in linea con quelli di altri produttori ma assolutamente superiori in termini di caratteristiche e prestazioni. Attribuiamo a tutta la NF-A Series il premio Gold Award per l'innovazione tecnologica e la cura dei particolari che L'azienda ha dimostrato in questa serie di ventole super-efficienti.

Test verdict: "Ventole per ogni tipo di esigenza. Noctua con la serie NF-A ha pensato proprio a tutti e a tutto proponendo prodotti di altissima qualità e tecnologia mantenendo un ottimo rapporto qualità/prezzo. Decisamente apprezzata la cura dei dettagli e del bundle che rendoni queste ventole il TOP DI GAMMA sul mercato." (Davide Torno, QWERTYmag.it)
I get a CPU fan error despite the fan is running!
Some mainboards display a CPU fan error when the fan speed falls below a certain threshold, e.g. 900rpm. If you want to run the fan below this speed (e.g. using the supplied U.L.N.A.), please adjust the threshold in the BIOS or disable CPU fan error warning.
Can I disassemble my fan for cleaning?
In order to ensure flawless operation over many years of usage, all Noctua fans come with a premium grade SSO bearing, which is fully sealed to prevent the entering of fine dust particles. Please note that the fan is not designed to be taken apart by the user. Removing the impeller from the frame will break the sealing of the bearing and results in a loss of warranty.

It is thus recommended to clean your fans using a duster, slightly moist tissue or canned air. Please be careful not to use too much force in order to prevent any damage to the fan. Please don't use a vacuum cleaner as this may apply excessive force to the fan.
Can I paint my Noctua fan in order to change its color?
Since even small variations in the layer of paint can lead to an imbalance of the impeller, resulting in vibrations, higher noise levels, increased stress on the bearing and thus reduced lifespan, we do not recommend painting the fan. Please note that for the reasons stated above, painting the fan will void your warranty.
How can I find out the direction of airflow and sense of rotation?
When looking at the fan so that the circular sticker with the Noctua logo is facing you, the direction of airflow is towards you and the sense of rotation is clockwise: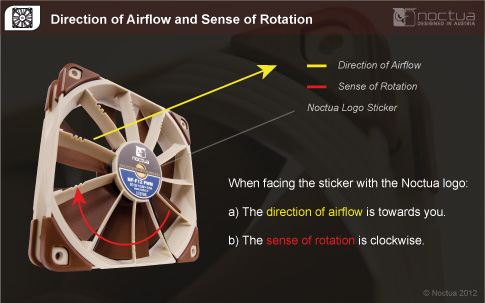 How should I clean my Noctua fan?
Fans inside computer cases tend to accumulate dust over longer periods of usage. In order to maintain maximum performance, please clean your fans regularly using a duster, slightly moist tissue or canned air. Please be careful not to use too much force in order to prevent any damage to the fan. Please do not use a vacuum cleaner as this may apply excessive force to the fan and do not put the fan under running water as water residues inside the motor may lead to short circuits.
In order to ensure flawless operation over many years of usage, Noctua's premium grade SSO bearings are fully sealed to prevent the entering of fine dust particles. Please note that the fan is not designed to be taken apart by the user. Removing the impeller from the frame will break the sealing of the bearing and results in a loss of warranty.
My Noctua 3-pin fan starts to spin when the PC boots but then stops, what is wrong?
Many mainboards are able to automatically regulate the fan speed of 3-pin fan via voltage based measures. However, due to limitations of this method it may occur that the mainboard reduces the voltage so much that the fan stops. To resolve the issue, you can:
Choose a higher fan speed profile in the BIOS (e.g. "normal" instead of "silent", etc.) or deactivate automatic fan speed control and use a Low-Noise Adaptor instead.
Use the mainboard's fan speed control software or 3rd party tools like Speedfan to regulate the fan speed. Unlike BIOS based fan speed control, the supplied software usually checks whether the fan has stopped and increases voltage accordingly or at least offer more options to set up the fan properly.
What pin configuration do Noctua fans use?
All Noctua fans feature the standard pin-configurations set out in the Intel and AMD specifications. These standard pin-configurations are used on most mainboards and fan controllers today: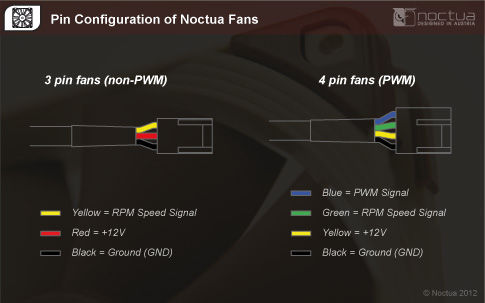 You specify airflow in m³/h, how can I convert to CFM?
In accordance to the International System of Units (SI system), Noctua specifies volumetric flow rate (airflow) using the SI unit of cubic metres per hour (m³/h). The SI unit can easily be converted to cubic feet per minute (CFM): One m³/h is ~0.589 CFM and one CFM is ~1.699 m³/h. For convenient conversion, online tools such as
www.convertunits.com
can be used.
Do you have a question concerning one of our products? Please use this form to pose a question!