Featuring advanced aerodynamic design measures such as
Flow Acceleration Channels
and Noctua's
AAO
frame, the NF-A4x10 FLX is a highly optimised, premium quality quiet fan in 40x10mm size.
Smooth Commutation Drive
technology and Noctua's reference class
SSO2
bearings guarantee superb running smoothness and excellent long-term stability. Topped off with modular cabling, a Low-Noise Adaptor and
OmniJoin Adaptor Set
as well as 6 years manufacturer's warranty, the NF-A4x10 is a premium choice for the highest demands.
Details
Flow Acceleration Channels
The NF-A4x10 impeller features suction side Flow Acceleration Channels. By speeding up the airflow at the crucial outer blade regions, this measure reduces suction side flow separation and thus leads to better efficiency and lower vortex noise.
Reduced Motor Hub Size
Thanks to its streamlined, compact motor design, the NF-A4x10's motor hub is smaller than with conventional 4cm fans. This allows for more blade surface area and thus contributes to the NF-A4x10's superior airflow and pressure performance.
AAO Frame
Noctua's AAO (Advanced Acoustic Optimisation) frames feature integrated anti-vibration pads as well as Noctua's proprietary Stepped Inlet Design and Inner Surface Microstructures, both of which further refine the fan's performance/noise efficiency.
Stepped Inlet Design
Noctua's Stepped Inlet Design adds turbulence to the influx in order to facilitate the transition from laminar flow to turbulent flow, which reduces tonal intake noise, improves flow attachment and increases suction capacity, especially in space-restricted environments.
Inner Surface Microstructures
With the tips of the fan blades ploughing through the boundary layer created by the Inner Surface Microstructures, flow separation from the suction side of the blades is significantly suppressed, which results in reduced blade passing noise and improved airflow and pressure efficiency.
Integrated Anti-Vibration Pads
Integrated Anti-Vibration Pads made from extra-soft silicone minimise the transmission of minute vibrations while maintaining full compatibility with all standard mounting systems and fan clips used on heatsinks.
Smooth Commutation Drive 2
The latest version of Noctua's advanced Smooth Commutation Drive system ensures superb running smoothness by eliminating torque variations and switching noises. This makes the NF-A4x10 remarkably quiet even at very close distances.
SSO2 Bearing
The NF-A4x10 features the further optimised second generation of Noctua's renowned, time-tested SSO bearing. With SSO2, the rear magnet is placed closer to the axis to provide even better stabilisation, precision and durability.
Low-Noise Adaptor for full flexibility
The NF-A4x10 FLX (Flexibility) is supplied with a Low-Noise Adaptor (L.N.A.) that reduces the maximum fan speed from 4500 to 3700rpm so that it can be fine-tuned for superior airflow or maximum quietness.
3 to 2-pin Adaptor and Polarity Protection
The NF-A4x10 comes with an adaptor from 3-pin Molex to the 2-pin connectors used on many graphics cards or network and storage devices. An integrated diode provides polarity protection on 2-pin connections.
OmniJoin Adaptor Set
Many devices featuring 40mm fans use proprietary fan headers, so the NF-A4x10 comes with Noctua's . Just cut the original fan's cable, fix it to the adaptor using the supplied 3M Scotchlok™ connectors and you can plug the NF-A4x10 to proprietary fan headers!
Extensive cabling options
The fan's short 20cm primary cable minimises cable clutter in typical applications while the supplied 30cm extension provides extended reach when necessary. Both cables are fully sleeved.
6-year manufacturer's warranty
Noctua fans are renowned for their impeccable quality and outstanding longevity. Like all Noctua fans, the NF-A4x10 features an MTBF of more than 150.000 hours rating and comes with a full 6-year manufacturer's warranty.
Rotational Speed (+/- 10%)
4500 RPM
Rotational Speed with L.N.A. (+/- 10%)
3700 RPM
Airflow with L.N.A.
6,6 m³/h
Acoustical Noise
17,9 dB(A)
Acoustical Noise with L.N.A.
12,9 dB(A)
Static Pressure
1,78 mm H₂O
Static Pressure with L.N.A.
1,21 mm H₂O
Max. Input Current
0,05 A
Scope of Delivery
Low-Noise Adaptor (L.N.A.)
3:2 Pin Adaptor
OmniJoin Adaptor Set
30cm Extension Cable
4 Vibration-Compensators
4 Fan Screws
| | | |
| --- | --- | --- |
| | | |
| 16.04.2013 // EasyCOM.com.ua | | |

Как видим, использование Noctua NF-A4х10 FLX позволяет понизить температуру процессора на 26 °C в сравнении с пассивным режимом, что всего на 6 °C уступает результату штатного 60-мм вентилятора, и является хорошим результатом. Включение LN-адаптера в цепь питания позволяет понизить обороты с 4500 до 3700 об/мин, сделав и без того тихую работу еще тише. При этом температура процессора повышается на 3°C.

Test verdict: "Компания Noctua предлагает обширную линейку продукции на все случаи жизни, очередной раз доказывая профессиональный подход к разработке компьютерных систем охлаждения. Представительница редкого типоразмера 40 мм – модель Noctua NF-A4х10 FLX, выполнена в лучших традициях. Здесь есть все, что характерно для более старших моделей – внушительный список реализованных технологий, богатая комплектация, высокая степень надежности и долговечности, что подтверждается 6-летней гарантией. Добавьте сюда высокую эффективность и практически бесшумную работу, и цена в €12,90 покажется вполне обоснованной." (Дмитрий Ветров, EasyCOM.com.ua)
| | | |
| --- | --- | --- |
| | | |
| 17.01.2013 // PC Ekspert | | |

Cijene manjih (A4x10/A6x25/A9x14 – 12,90/14,90/16,90€), kao i većih 140mm modela (21,90€) su uglavnom u skladu s dosadašnjom politikom Noctua proizvoda, koja se i dalje bazira na principu – kvaliteta prije svega, uz odgovarajuću cijenu. Nakon svega viđenog, zaista im ne možemo puno zamjeriti na tome, s obzirom na sve prednosti njihovih proizvoda iz nove A-serije za koje imamo gotovo isključivo riječi hvale.

Test verdict: "Noctua nam je ovom prilikom priredila mnoga iznenađenja po pitanju novih proizvoda raznih veličina i namjena. Od minijaturnog 40mm A4x10 modela, preko A6x25 i A9x14, pa sve do 140mm inačica, svaki od testiranih ventilatora odaje onu poznatu Noctua kvalitetu i uglađenost u radu uz visoku funkcionalnost i bogatu dodatnu opremu. Za svakoga ponešto, bi možda bio najslikovitiji opis nove A-serije ventilatora, a što se nas osobno tiče, itekako bismo voljeli vidjeti par 140mm ULN modela i u našem testnom računalu. Za korisnike koji zahtijevaju veliku efikasnost i relativno umjeren nivo buke, tu su naravno A14 FLX i A15 PWM modeli, koji svojom fleksibilnošću, elegantnim radom ali i visokom kvalitetnom izrade itekako zaslužuju našu preporuku." (Domagoj Hodak, PC Ekspert)
| | | |
| --- | --- | --- |
| | | |
| 20.11.2012 // HWBox.gr | | |

Αν μη τι άλλο, ο συγκεκριμένος ανεμιστήρας "έκλεψε" την παράσταση. Όχι για τις επιδόσεις του. Ούτε για την ησυχία του. Μπορεί το όνομά του να καμουφλάρει το τι πραγματικά είναι, όπως επίσης μπορεί και η συσκευασία του να θεωρηθεί παραπλανητική μιας και σε μέγεθος είναι παρόμοια με τους υπόλοιπους. Ο Noctua NF-A4x10 FLX είναι ένας ανεμιστήρας που μπορεί κάλλιστα να θεωρηθεί "μινιατούρα" κάποιου άλλου μοντέλου! Η διάμετρός του ανέρχεται στα 40mm ενώ το πάχος του δεν ξεπερνά τα 1 εκατοστό, και σαν αποτέλεσμα μπορεί να παρέχει μέγιστο 4.83 CFM στις 4500 RPM με θόρυβο μόλις 17,9 dB! Αν ψάχνετε έστω και την παραμικρή παροχή αέρα στο mITX σύστημά σας, να τον προσαρμόσετε πάνω στις μνήμες σας για καλύτερη και αθόρυβη ψύξη, να αντικαταστήσετε κάποιον ανεμιστήρα από παλαιότερο σύστημα, ο Noctua NF-A4x10 FLX είναι μια πιθανή λύση, αρκετά υποσχόμενη σε σχέση με οτιδήποτε κυκλοφορεί στην αγορά των 40mm ανεμιστήρων. Στα συνοδευτικά του περιλαμβάνεται και το OmniJoin Adaptor Set όπου μπορείτε να προσαρμόσετε τον ανεμιστήρα σας σε οποιοδήποτε propriertary pin design!

Test verdict: "Ειδικά για τον 40mm NF-A4x10, μπόρεσε με απόλυτη επιτυχία να αντικαταστήσει το παλιό χαλασμένο ανεμιστηράκι μιας Ge-Force FX 5200 που χρησιμοποιώ στον backup-server μου, εξαλείφοντας τον σχεδόν εκνευριστικό υψίσυχνο θόρυβο που παρήγαγε! Συνολικά, δεν είναι μόνο οι ανεμιστήρες που θα σας μείνουν από την αγορά τους, αλλά και τα αρκετά συνοδευτικά που έρχονται μαζί τους, όπως οι έξτρα διακλαδωτήρες, τα LNAs και τα rubber mounts για την εφαρμογή των ανεμιστήρων στο κουτί. Ειδικής χρήσης ανεμιστήρες για ειδικές περιπτώσεις!" (Vasilis Galiouras, HWBox.gr)
| | | |
| --- | --- | --- |
| | | |
| 14.11.2012 // El Chapuzas Informático | | |

Hemos probado los tres ventiladores y gratamente nos ha sorprendido su bajo nivel de ruido generado. El modelo de A4x10 es el único mínimamente más audible, pero por sus altas revoluciones es normal. Los modelos de 40 y 60 mm son perfectos para sistemas embebidos que requieren un ventilador para la extracción de aire, así como para los amantes del modding que deseen refrigerar zonas de su PC de menor superficie. El modelo de 90 mm es ideal para equipos HTPC con disipadores de perfil bajo, que lo verán aún más reducido al cambiar los habituales ventiladores de 25 mm de grosor por este de 14 mm.

Test verdict: "Los ventiladores Noctua Serie-A ofrecen en formato compacto el rendimiento esperado por un ventilador de esta prestigiosa marca: gran flujo de aire a un mínimo nivel sonoro. Su uso está limitado a necesidades concretas, por lo que gran parte de los usuarios no tendrán necesidad de ellos. Sin embargo, los que requieran productos de estas dimensiones agradecerán en gran medida el lanzamiento de estos ventiladores tan eficientes por parte de Noctua." (Iván Martínez, El Chapuzas Informático)
| | | |
| --- | --- | --- |
| | | |
| 28.10.2012 // PCkoloji.com | | |

Ufak boyutlardan ötürü fan motoru neredeyse çerçevenin yarısını işgal ediyor. Pervane ufak olunca devir iyice yükseliyor ve 4500 oluyor ama bu durumda gürültü sadece 17.9 dBA ve benzer fanlara kıyasla kat kat daha sessiz! Akım ise sadece 8.2 m³/h ama normal. LNA filtre eklenirse hız 3700 devire, gürültü 12.9 dBA'e ve akım 6.6 m³/h değerine iniyor. Her iki modda da aşırı sessiz.

Test verdict: "En yüksek güç tüketimi 0.6 Watt ve çalışma gerilimi 12 Volt olan fanın kullanım ömrü en az 150 bin saat. 6 sene garanti bu model için de geçerli. Daha kalın fan kullanan cihazlarla da uyumlu olması avantaj sağlıyor." (Görkem Yildirimy, PCkoloji.com)
| | | |
| --- | --- | --- |
| | | |
| 22.10.2012 // HD Technology | | |

Le ventole Noctua della nuova serie A, sono state veramente all'altezza delle nostre aspettative, qualità impeccabile ed una longevità eccezionale. Gli appassionati potranno utilizzare queste ventole per una durata di oltre 150.000 con una garanzia sul prodotto di ben 6 anni. Come tutte le fan delle varie serie, sono curate minimamente sotto ogni punto di vista.

Test verdict: "Con questa recensione, non possiamo far a meno di consigliarvi queste ventole per chi utilizza un HTPC." (Victor Italiano, HD Technology)
| | | |
| --- | --- | --- |
| | | |
| 11.10.2012 // Hardware - HDblog | | |

Dall'immagine si evince che, anche se siamo davanti a delle ventole molto piccole, la potenzialità che presentano è notevole anche rispetto alla sorella più grande da 92 mm, facendo registrare la stessa temperatura dell'hard disk utilizzando il modello A6x25 e, la ventola più piccola soltanto un grado di differenza rispetto alle sorelle più grandi. Segnaliamo infine la poca rumorosità di tutti e tre i modelli, confermando di fatto le specifiche proposte dall'azienda.

Test verdict: "Come da copione, anche con queste nuove ventole Noctua non ci ha delusi, proponendo prodotti che anche se di piccole dimensioni svolgono bene il proprio lavoro sia per prestazioni che la qualità; tutti e tre i modelli sono ideali per chi cerca prestazioni ottimali per il proprio sistema senza tralasciare la rumorosità." (Michele Bruno, Hardware - HDblog)
| | | |
| --- | --- | --- |
| | | |
| 04.02.2016 // SmallFormFactor.net | | |

All in all, these products are well built, well designed, and are able to achieve specs that by-and-large merit the premium price asked of them. None of the tested fans exhibited loud operation, and the included accessories ensured that the fans can be used in many different systems.

Test verdict: "It is typical for high-end or "luxury" goods to embrace a brand, style, or ethos, and Noctua does precisely that with their distinctive color scheme. The rest comes down to performance, though, and while you'll pay top dollar to install a Noctua fan in your build, we're hard-pressed to imagine how anyone will find themselves disappointed." (John Morrison, SmallFormFactor.net)
| | | |
| --- | --- | --- |
| | | |
| 08.11.2015 // AndroidPC.es | | |

Después de probar los modelos NF-A6x25 PWM, NF-A6x25 FLX, NF-A4x10 FLX y NF-A4x10 5V nos dan ganas de dejar un ventilador en nuestras placas pasivas, pero preferimos no hacerlo, como ya sabéis nos gustan los sistemas pasivos. Ciertamente es estos productos pueden ofrecen una mejora térmica en nuestros dispositivos si vamos a exprimirlos y además no nos molestan con ruidos. Si tenemos algún modelo pasivo con problemas térmicos añadirle un pequeño ventilador bien dimensionado siempre es una solución, sobretodo si tienen la calidad de estos modelos.

Test verdict: "Los recomendamos sin ninguna duda para quien quiera mejorar el rendimiento de su miniPC o AndroidPC con problemas térmicos." (Joaquin Prida Trujillo, AndroidPC.es)
| | | |
| --- | --- | --- |
| | | |
| 18.02.2015 // PCGamers.net.au | | |

Last year, Noctua gave us 120 and 140mm fans with a technology feature list that they struggled to fit on the back of the packaging. The designers had improved the bearings, the fan blades, the frame, mounts - basically everything about their previous (and very successful) design to further improve the efficiency to noise ratio. At the time it was great news for those looking to silence their medium to large sized PCs. Now there is also good news for builders looking to maximise the airflow whilst minimising the noise of their mini ITX builds with the NF-A8 and NF-A9 series of fans that include all the bells and whistles of their larger siblings. We also tested a pair of 40mm fans for chipsets and other really compact applications.

Test verdict: "If silence is critical to your build, the Premium series from Noctua is worth the price and a safe option." (Phil Carroll, PCGamers.net.au)
I get a CPU fan error despite the fan is running!
Some mainboards display a CPU fan error when the fan speed falls below a certain threshold, e.g. 900rpm. If you want to run the fan below this speed (e.g. using the supplied U.L.N.A.), please adjust the threshold in the BIOS or disable CPU fan error warning.
Can I disassemble my fan for cleaning?
In order to ensure flawless operation over many years of usage, all Noctua fans come with a premium grade SSO bearing, which is fully sealed to prevent the entering of fine dust particles. Please note that the fan is not designed to be taken apart by the user. Removing the impeller from the frame will break the sealing of the bearing and results in a loss of warranty.

It is thus recommended to clean your fans using a duster, slightly moist tissue or canned air. Please be careful not to use too much force in order to prevent any damage to the fan. Please don't use a vacuum cleaner as this may apply excessive force to the fan.
Can I paint my Noctua fan in order to change its color?
Since even small variations in the layer of paint can lead to an imbalance of the impeller, resulting in vibrations, higher noise levels, increased stress on the bearing and thus reduced lifespan, we do not recommend painting the fan. Please note that for the reasons stated above, painting the fan will void your warranty.
How can I find out the direction of airflow and sense of rotation?
When looking at the fan so that the circular sticker with the Noctua logo is facing you, the direction of airflow is towards you and the sense of rotation is clockwise: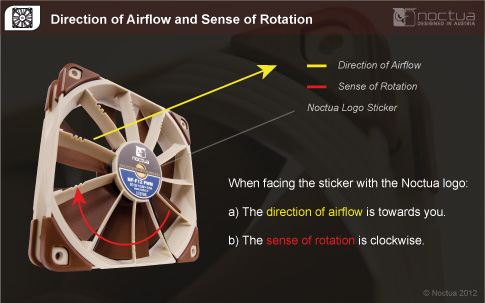 How should I clean my Noctua fan?
Fans inside computer cases tend to accumulate dust over longer periods of usage. In order to maintain maximum performance, please clean your fans regularly using a duster, slightly moist tissue or canned air. Please be careful not to use too much force in order to prevent any damage to the fan. Please do not use a vacuum cleaner as this may apply excessive force to the fan and do not put the fan under running water as water residues inside the motor may lead to short circuits.
In order to ensure flawless operation over many years of usage, Noctua's premium grade SSO bearings are fully sealed to prevent the entering of fine dust particles. Please note that the fan is not designed to be taken apart by the user. Removing the impeller from the frame will break the sealing of the bearing and results in a loss of warranty.
My Noctua 3-pin fan starts to spin when the PC boots but then stops, what is wrong?
Many mainboards are able to automatically regulate the fan speed of 3-pin fan via voltage based measures. However, due to limitations of this method it may occur that the mainboard reduces the voltage so much that the fan stops. To resolve the issue, you can:
Choose a higher fan speed profile in the BIOS (e.g. "normal" instead of "silent", etc.) or deactivate automatic fan speed control and use a Low-Noise Adaptor instead.
Use the mainboard's fan speed control software or 3rd party tools like Speedfan to regulate the fan speed. Unlike BIOS based fan speed control, the supplied software usually checks whether the fan has stopped and increases voltage accordingly or at least offer more options to set up the fan properly.
What pin configuration do Noctua fans use?
All Noctua fans feature the standard pin-configurations set out in the Intel and AMD specifications. These standard pin-configurations are used on most mainboards and fan controllers today: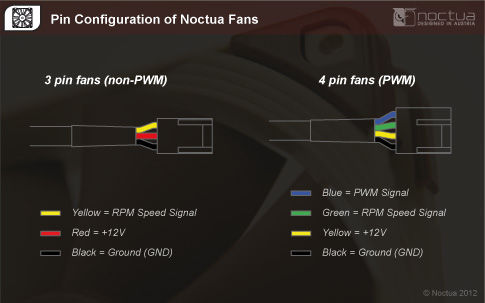 You specify airflow in m³/h, how can I convert to CFM?
In accordance to the International System of Units (SI system), Noctua specifies volumetric flow rate (airflow) using the SI unit of cubic metres per hour (m³/h). The SI unit can easily be converted to cubic feet per minute (CFM): One m³/h is ~0.589 CFM and one CFM is ~1.699 m³/h. For convenient conversion, online tools such as
www.convertunits.com
can be used.
Do you have a question concerning one of our products? Please use this form to pose a question!