The NH-L9a is a premium quality quiet CPU cooler for AMD based HTPCs and Small Form Factor systems. At a super-low profile of only 37mm, the NH-L9a is ideal for extremely slim cases and due to its 92x114mm footprint, it provides excellent compatibility with tall RAM modules and other components on mini-ITX mainboards. The custom designed SecuFirm2™ mounting system for AM3+/FM1/FM2/FM2+ makes installation a child's play and thanks to the highly optimised
NF-A9x14
premium fan that supports fully automatic speed control via PWM, the NH-L9a runs remarkably quiet. Topped off with Noctua's renowned
NT-H1
thermal compound, the NH-L9a fuses everything users have come to expect from Noctua's larger coolers into a super-compact package for slim HTPC systems.
| | |
| --- | --- |
| | Caution: The NH-L9a is a highly-compact low-profile quiet cooler designed for use in small form factor cases and HTPC environments. While it provides first rate performance in its class, it is not suitable for overclocking and only recommended for CPUs with up to 65W TDP (Thermal Design Power). Please consult our TDP guidelines to find out whether the NH-L9a is recommended for your CPU. |
Details
37mm low profile
Due to the slim 23mm heatsink and the NF-A9x14 low profile fan that measures only 14mm in thickness, the NH-L9 stands a mere 37mm tall, which makes it ideal for use in compact HTPCs or Small Form Factor cases that offer minimum clearance for CPU coolers.
100% RAM compatibility
The NH-L9a has a 92x114mm footprint that complies to the 96x114mm keep-out zone specified by AMD. This means that it doesn't overhang the RAM slots, so it's fully compatible with tall memory modules.*
100% compatibility with PCIe cards on mini-ITX
Some AMD based mini-ITX mainboards have the PCIe slot sitting close to the 96x114mm socket zone. While larger coolers that exceed this zone may block the PCIe slot, the 92x114mm sized NH-L9a provides full compatibility with PCIe cards.
NF-A9x14 PWM premium fan
The highly optimised NF-A9x14 premium fan features Noctua's proprietary AAO frame as well as sophisticated aerodynamic design measures. Supporting PWM for fully automatic speed control, the NF-A9x14 allows the NH-L9a to stay remarkably quiet.
Low-Noise Adaptor
Allowing to reduce the maximum speed of the NF-A9x14 fan from 2500 to 1800rpm, the included (L.N.A.) makes it possible to achieve near-silent setups using CPUs with less than 65W TDP.
Custom-designed SecuFirm2™ mounting for AMD
The NH-L9a bundles a custom-designed SecuFirm2™ mounting system for AM2(+)/AM3(+)/FM1/FM2/FM2+ that offers extended compatibility with mini-ITX boards and makes installation easier than ever, all while maintaining the trusted SecuFirm2™ quality.
NT-H1 thermal compound
Noctua's much-acclaimed
NT-H1
is a pro-grade TIM solution that provides minimum thermal resistance, excellent ease-of-use and outstanding reliability.
6-year manufacturer's warranty
Noctua products are renowned for their impeccable quality and outstanding longevity. Like all Noctua fans, the supplied NF-A9x14 features an MTTF rating of more than 150.000 hours and the entire NH-L9a package comes with a full 6-year manufacturer's warranty.
AM2(+), AM3(+), FM1, FM2, FM2+
Height (without fan)
23 mm
Width (without fan)
114 mm
Depth (without fan)
92 mm
Weight (without fan)
390 g
Weight (with fan/s)
465 g
Material
Copper (base and heat-pipes), aluminium (cooling fins), soldered joints & nickel plating
Fan compatibility
92x92x14mm, 92x92x25mm
Scope of Delivery
NF-A9x14 PWM premium fan
Low-Noise Adaptor (L.N.A.)
NT-H1 high-grade thermal compound
SecuFirm2™ Mounting Kit
Screws for 92x92x25mm fans
Noctua Metal Case-Badge
Model
Noctua NF-A9x14 PWM
Max. Rotational Speed (+/- 10%)
2500 RPM
Max. Rotational Speed with L.N.A. (+/- 10%)
1800 RPM
Min. Rotational Speed (PWM, +/-20%)
600 RPM
Max. Acoustical Noise
23,6 dB(A)
Max. Acoustical Noise with L.N.A.
14,8 dB(A)
| | | |
| --- | --- | --- |
| | | |
| 27.02.2013 // BigBruin.com | | |

The Noctua NH-L9a low profile AMD CPU cooler may be small, but it definitely isn't weak. During testing it easily outperformed the stock cooler it replaced in terms of cooling power and noise production. When compared to another, larger cooler cooler from Noctua it didn't come out on top, but it did fare well. Even without the Low Noise Adapter included in the package, the cooler was extremely quiet while keeping the CPU operating at safe temperatures. In addition to the performance and near silence, the NH-L9a was extremely easy to install. The whole process took less than 5 minutes and I would have to agree with the description of the installation found on the Noctua site where they call it 'child's play'.

Test verdict: " In the end, the Noctua NH-L9a low profile AMD CPU cooler earns the Bigbruin.com 'Highly Recommended' and 'Whisper Quiet' awards for its performance, ease of installation, and low noise output." (Jason Kohrs, BigBruin.com)
| | | |
| --- | --- | --- |
| | | |
| 15.02.2013 // Hispazone.com | | |

Para que nuestro procesador este en una banda aceptable de temperatura a carga maxima tenemos que forzar al ventilador del NH-L9a a trabajar a una frecuencia de unas 1600rpm donde produce menos de 20dBA. Buenos resultados si tenemos en cuenta que estamos con un procesador que va al límite de su capacidad de refrigeración pero que a su vez nos ofrece una gráfica de calidad y una CPU de cuatro núcleos con una frecuencia elevada.

Test verdict: "Noctua a lo logrado su mejor disipador hasta la fecha para ordenadores compactos basados sobre todo en factores de forma Mini ITX. No es el que más capacidad de refrigeración ofrece pero se limita al tamaño del socket, es silencioso y no da problemas con el resto de componentes. Está diseñado a medida de cada socket actual y es relativamente económico. Es el disipador que querrás tener para tu próximo HTPC potente." (Javier Rodríguez, Hispazone.com)
| | | |
| --- | --- | --- |
| | | |
| 20.12.2012 // ZeDen.net | | |

Le NH-L9a joue son rôle à merveille, car même avec un processeur hors gabarit pour lui, température et bruit ne sont pas excessifs, ils seront toujours inférieur au ventirad d'origine. Le NH-L9a, dernier né de la famille des ventirads du constructeur autrichien Noctua, débarque directement dans la cour des grands. Si toutes les configurations ne peuvent pas être supportées par ce ventirad, ce dernier s'avère être un allié de choix pour les configurations dites de station vidéo/home cinéma dans des boitiers au format « mini tour ».

Test verdict: "Noctua signe encore et comme toujours un nouveau succès avec ce ventirad haut de gamme, à la fois simple d'usage et performant pour des configurations non overclockées." (Jean-Baptiste Schmitt, ZeDen.net)
| | | |
| --- | --- | --- |
| | | |
| 11.12.2012 // Radeon3d.org | | |

Noctua hat mit dem NH-L9 einen Low Profile CPU-Kühler auf den Markt gebracht, der seines gleichen sucht. Die Verarbeitung und der Lieferumfang lässt keine Wünsche offen. Die Verarbeitung des Kühlers ist sehr sauber, es gibt keine scharfe Kanten. Der Boden des Kühlers ist plan und frei von Rillen. Der Lüfter ist sehr kompakt und dank seines Rahmen noch zusätzlich entkoppelt. Zudem hat man das 20 cm lange Anschlusskabel mit PWM Stecker noch mit einem schwarzen Sleeve versehen. Beim Lieferumfang ist alles dabei was man benötigt. Neben einer High-End Wärmeleitpaste liegt noch ein sehr edles Case-Badge aus Metall mit bei. Die Montage des Kühler ist sehr einfach gehalten, auch kommt dieser nicht mit dem RAM oder der Grafikkarte in die Quere. Sieht man sich das Verhältnis aus Lautstärke und Kühlleistung an, so kann man den Boxed Kühler des CPU Herstellers getrost bei Seite legen. Auch hat der Test gezeigt das trotz maximaler 65 Watt TDP der NH-L9a eine CPU mit 95 Watt TDP gut kühlen kann. Hier kam die CPU beim offenen Testaufbau nicht über 42°C laut CoreTemp.

Test verdict: " Der Noctua NH-L9 ist ein kompakter CPU-Kühler mit sehr guter Verarbeitung und gut ausgestattetem Lieferumfang bei sehr gutem Verhältnis aus Lautstärke und Kühlleistung. Zudem sollte er mit jedem Mainboard kompatible sein und kommt nicht dem RAM oder der Grafikkarte in die Quere. Deshalb bekommt der Noctua NH-L9 den Top Hardware Award verliehen." (Frank Hempel, Radeon3d.org)
| | | |
| --- | --- | --- |
| | | |
| 08.11.2012 // mod-your-case.de | | |

Wie man den beiden Testergebnissen entnehmen kann, eignet sich der Kühler bestens um ein solches System zu kühlen. Mit dem Boxed Kühler war der Lasttest nicht bis zum Ende möglich. Die CPU erreichte nach ca. 10 Minuten eine Temperatur von 69°C und das System schaltete sich ab. Der Reeven Kühler bewältigte die Situation schon besser, musste sich jedoch um Längen von dem NH-L9a schlagen lassen. Der Noctua Kühler verrichtete seine Arbeit nicht nur etwas leiser, sondern auch bedeutend effizienter.

Test verdict: "Wir können für den NH-L9a einfach nichts anderes aussprechen, als eine klare Kaufempfehlung. Der Kühler lieferte in unserem Test Bestwerte ab, die wir bei der doch sehr geringen Größe nicht erwartet hätten. Er eignet sich nicht nur durch diese geringe Größe bestens für ITX-System im heimischen Wohnzimmer, sonder auch durch seine geringe Geräuschentwicklung. Der Kühler ist subjektiv betrachtet etwa nur knapp halb so laut, wie der auf 12V laufende Boxed Kühler von unserer Test CPU. Die Verarbeitung ist auf einem sehr hohen Niveau und wird von einer kinderleichten Montage noch unterstrichen." (Patrick Seus, mod-your-case.de)
| | | |
| --- | --- | --- |
| | | |
| 16.04.2017 // HardManiacos.com | | |

Como conclusión, después de realizar las pruebas de rendimiento, podemos decir que este disipador cumple con su cometido en procesadores de gama media o baja y sin OC, además de tener un perfil bastante bajo, mejorando aún más la colocación en torres de reducidas dimensiones. En cuanto a los accesorios que trae, como estamos habituados, Noctua incorpora un completo juego para mejorar la conectividad del disipador con la placa base, además de traer la pasta térmica y un reductor de ruido, entre otros. Sin embargo, en este caso, echamos en falta la llave de estrella que suele incluir en otros disipadores para poder apretar los tornillos. En cuanto a ruido producido por el ventilador, aún funcionando al 100% de su capacidad no llegamos a notar que sea molesto, este es un aspecto que Noctua cuida mucho en todos los ventiladores que fabrica.

Test verdict: "Por todo ello, vemos que después de las pruebas realizadas, este disipador cumple muy bien el cometido para que fue pensado, teniendo una buena relación calidad-precio, recomendando su uso en un entorno de dimensiones reducidas donde necesitamos una buena refrigeración." (Daniel Rey, HardManiacos.com)
| | | |
| --- | --- | --- |
| | | |
| 14.11.2016 // PCMasters.de | | |

Der Kühlkörper wurde seitens Noctua erwartungsgemäß gut verarbeitet und bietet in diesem Punkt keinen Anlass zu negativer Kritik. Damit stellt der Hersteller abermals unter Beweis, dass unabhängig von der Größe des CPU-Kühlers die Verarbeitungsqualität im Hause Noctua hoch gehalten wird.

Test verdict: "Noctua bietet mit dem NH-L9a einen kleinen, schmucken Low-Profile CPU-Kühler in höchster Verarbeitungsqualität, welcher auch im aller kleinsten System Platz findet. Die Fertigungsgüte ist bis ins kleinste Detail äußerst präzise umgesetzt und kann einen bleibenden Eindruck hinterlassen." (Tobias Mann, PCMasters.de)
| | | |
| --- | --- | --- |
| | | |
| 11.08.2016 // PCReviews.es | | |

Uno de los aspectos a tener en cuenta es que Noctua especifica en su pagina web que el Noctua NH-L9i y el NH-L9a están diseñados para CPUs de hasta 65W de potencia térmica, aunque en caso de utilizar uno de mayor potencia tampoco pasa nada, aunque no tiene mucha lógica debido a que para este fin tenemos disipadores mejores e incluso más baratos. Para realizar la prueba se ha empleado un procesador 3770K que no es ni remotamente el idóneo pero ha aguantado de forma correcta los 77W. Aunque una vez lo probamos es imposible perder lo de vista, ya que la gran virtud de este disipador es que con 37 mm existen pocos disipadores con un perfil menor que este en el mercado y aun menos con la capacidad de que se encuentren diseñados para un consumo moderado y potencias térmicas limitadas. Las pruebas realizadas en idle y en full dejan un buen resultado, ademas hay que destacar su sonoridad, ya que apenas se escucha el disipador.

Test verdict: "Sin duda alguna los disipadores Noctua NH-L9i y NH-L9a son una opción recomendable para todos aquellos usuarios que quieran disponer de equipos pequeños a un sonido bajo, el punto negativo a estos disipadores es el precio ya que se encuentran con un precio aproximado de 50€ cada uno, pero aun así no deja de ser un precio adecuado para unos disipadores de una gran calidad." (Sergi Sanz, PCReviews.es)
| | | |
| --- | --- | --- |
| | | |
| 18.05.2016 // AndroidPC.es | | |

Después de probar los modelos Noctua NH-L9i y Noctua NH-L9a hemos podido comprobar otra vez como esta marca sigue en su línea de calidad, los acabados y materiales son excelentes. El rendimiento térmico está en la línea de lo exigido a un producto así que como es lógico no está diseñado para realizar OC del procesador. En cuanto al nivel de sonoridad como hemos podido comprobar casi son imperceptibles en un uso normal y molestan muy poco cuando se les exige algo más.

Test verdict: "Un modelo que se merece nuestro sello de producto recomendado ya que seguro que no defrauda a quien busque este tamaño de disipador para su caja." (Joaquin Prida Trujillo, AndroidPC.es)
| | | |
| --- | --- | --- |
| | | |
| 08.03.2015 // videotesty.pl | | |

Jest to dość cicha jednostka i w pełni kompatybilna z pierwszym slotem PCI-E czy pamięciami ram. Posiadacze platformy Intel powinni wybrać wersję oznaczoną "i". Model "a" przeznaczony jest na procesory firmy AMD. W środku znajdziemy wszystkie niezbędne narzędzia do zainstalowania chłodzenia na płycie głównej. Podobnie jak w przypadku wielu produktów od firmy Noctua, instalacja jest dziecinie prosta.

Test verdict: Te rozwiązanie znakomicie się sprawdza do komputerów biurowych i multimedialnych HTPC. Przy słabszych procesorach AMD, NH-L9a znakomicie będzie wykonywał swoją pracę." (Paweł Borysewicz, videotesty.pl)
The mounting brackets don't touch the mainboard, is this an issue?
No. The mounting brackets are not meant to touch the mainboard and the flexibility of the brackets is required to create the appropriate contact pressure. There should be up to 3mm (Intel) or 4mm (AMD) space between the mainboard and the mounting brackets when the cooler is correctly installed.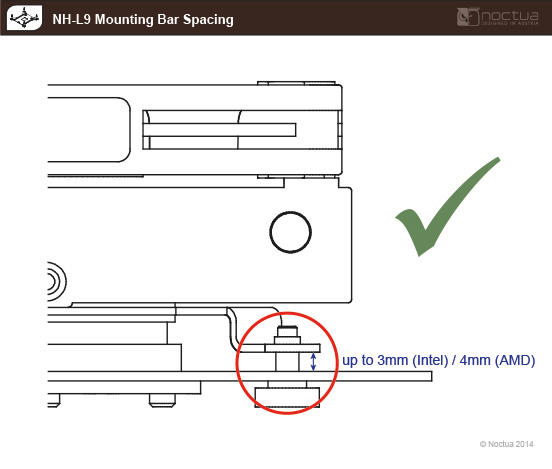 Can the cooler be used on mainboards where components on the rear side prevent the installation of the backplate?
Yes, the cooler can be installed on such mainboards using the NM-APS3 plastic spacers as shown below. The NM-APS3 spacers have been included within the NH-L9a's scope of delivery since April 2013. If your NH-L9a didn't yet include the NM-APS3 spacers and if you would like to install the cooler on a mainboard where components on the rear side prevent the installation of the backplate, please contact our customer support. We will send you the NM-APS3 spacers free of charge if you provide a proof of purchase (scan, photo or electronic copy of the invoice) of both the cooler and the mainboard.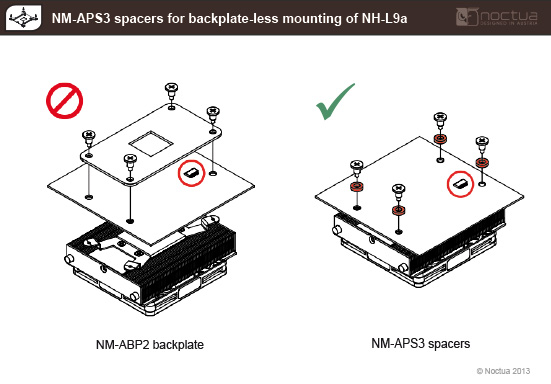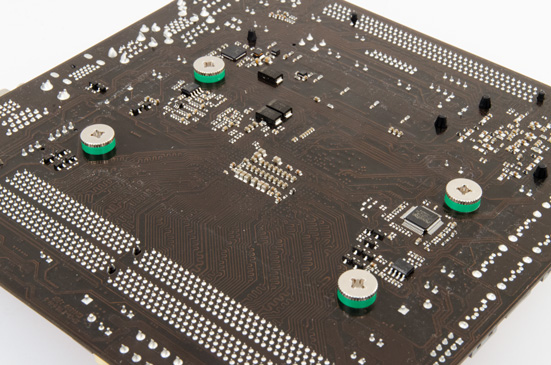 How can I determine if the motherboard's UEFI BIOS is overclocking my processor by default and deactivate this automatic overclocking?
Most motherboard vendors allow their overclocking-enabled products (e.g. those with Intels X- or Z-series chipsets) to run the processor at increased clock speeds by default, without requiring any user action at all. Since TDP (Thermal Design Power) limits are usually also disabled by default, this leads to the CPU exceeding the rated TDP to a varying degree, depending on the used applications and their workloads. Due to the increased heat output of the CPU, you may see higher CPU temperatures than expected.
In order to find out if your motherboard is overclocking your processor by default, please enter the UEFI BIOS and select the "advanced" or "overclocking" menu. There you should be able to find options such as "MultiCore Enhancement" (options: enabled/disabled), "CPU Ratio Apply Mode" (options: all/per core) or similar. To disable the automatic overclocking, adjust the settings either to "disabled" or "per core" and make sure that the individual multipliers match the original specifications.
In doubt, please contact your motherboard vendor for detailed instructions on how to disable this feature.
My unlocked Intel CPU is running too hot although my heatsink supports the specified TDP, what's the problem?
Intel's unlocked CPUs (K, X and C suffix) can dissipate more heat than indicated by the TDP specification if
the TDP limits are extended or disabled in the motherboards' BIOS.
the motherboard applies automatic overclocking by default, e.g. by raising the supply voltage of the CPU and using higher Turbo-Mode multipliers.
some software creates untypical loads, e.g. Prime95 with AVX2 support and a) and/or b) apply.
This can lead to temperature issues, especially when using smaller coolers or compact cases.
The actual power draw of the processor can be monitored with software provided by the motherboard vendor or with 3rd party tools like HWInfo or HWMonitor.
If you encounter temperature issues (>90°C) and notice a higher than specified power draw, please ensure that no automatic overclocking is applied and limit the TDP to the specified value by choosing appropriate BIOS settings.
For Kaby Lake CPUs, it may also help to lower the CPU clock speed for applications that heavily use the AVX instruction set, which can lead to higher loads and power draw. This option is usually referred to as "AVX offset" and makes it possible to lower the multiplier specifically for AVX based applications without reducing performance when using other instruction sets. Depending on the quality of the CPU and the programs being used, a reduction of 2-3 steps usually gives very good results.
Please contact your motherboard vendor for details if you have trouble finding the appropriate settings in the BIOS.
All our TDP recommendations are based on thorough testing with the default values specified by Intel using popular applications such as Asus Realbench and prime95. Please note, however, that prime95 creates a particularly high load that goes beyond typical application scenarios and this leads to elevated temperatures. We thus recommend using other programs such as Realbench for checking the stability and temperatures of the CPU in realistic scenarios.
Do you have a question concerning one of our products? Please use this form to pose a question!