Continuing the legacy of Noctua's classic NH-U-series, which has received more than a thousand awards and recommendations from international hardware websites and magazines, the
NH-U12S
has become a benchmark for slim, highly compatible 120mm single tower coolers. The TR4-SP3 version is a tailored custom model for AMD's TR4/SP3 platform (Ryzen Threadripper / Epyc) and features a larger contact surface as well as the latest SecuFirm2™ mounting system for socket TR4/SP3. Topped off with the renowned quiet
NF-F12 PWM
120mm fan, Noctua's proven
NT-H1
thermal compound and a full 6-year manufacturer's warranty, the NH-U12S TR4-SP3 forms a complete premium-quality solution that combines outstanding performance, superb acoustics and excellent compatibility for high-end TR4/SP3 systems.
| | |
| --- | --- |
| | Please note that the NH-U12S TR4-SP3 is a dedicated version for the AMD TR4/SP3 socket. Due to its customised larger base, it cannot be used on any other sockets and is incompatible with Noctua's standard mounting kits. |
Details
Award-winning NH-U12S cooler
Tens of thousands of enthusiast users all over the world swear by the
NH-U12S
' quality and performance. Recommended by more than 200 international hardware websites and magazines, it is renowned as being one of the best 120mm coolers on the market.
Tailored custom version for TR4/SP3 (Ryzen Threadripper / Epyc)
At 70x56mm, the copper contact surface of the TR4-SP3 version is more than double the size of the standard model. Tailored to fit the enormous integrated heat-spreaders (IHS) of AMD's TR4/SP3-based processors, this customised design allows for an optimal heat flow from the CPU over the base to the heatpipes and on to the cooling fins.
120mm size for excellent performance and compatibility
With five heatpipes and the powerful NF-F12 120mm fan, the NH-U12S achieves outstanding cooling performance while maintaining excellent compatibility: At 158mm height and 125mm width, it is short enough to fit most modern tower cases and stays clear of the top PCIe slot on most motherboards.
NF-F12 120mm Focused Flow™ fan
Recommended by more than 150 hardware publications and thousands of enthusiasts world-wide, the Noctua's premium quality
NF-F12
Focused Flow™ 120mm fan is renowned to combine superb static pressure, excellent heatsink performance and surprising quietness of operation.
Anti-vibration pads and fan-clips for second NF-F12 (optional)
For users who want to achieve even better performance by adding a second, optional
NF-F12
fan to create a push/pull setup, the NH-U12S includes fan clips and an extra set of custom-designed anti-vibration pads that allow to off-set the rear fan by 5mm to improve acoustics in dual-fan mode.
SecuFirm2™ mounting system for TR4/SP3
Noctua's SecuFirm2™ mounting systems have become synonymous with quality, safety and ease of use. The TR4-SP3 variant has been completely custom-designed for the new socket and is particularly easy to install: Put on the heatsink, fix the four spring-loaded screws and you're done!
Offset mounting options for better PCIe clearance
In order to assure optimal compatibility with SLI and CrossFire multi-GPU setups, the SecuFirm2™ mounting for TR4/SP3 makes it possible to offset the cooler by 3 or 6mm towards the upper edge of the motherboard, thereby increasing clearance of the top PCIe slot.
NT-H1 thermal compound
Having received more than 100 awards and recommendations from hardware journalists around the world, Noctua's NT-H1 is a proven professional grade TIM solution that provides minimum thermal resistance, excellent ease of use and outstanding reliability.
Notes and warnings
Please note that the NH-U12S TR4-SP3 is a dedicated version for the AMD TR4/SP3 socket. Due to its customised larger base, it cannot be used on any other sockets and is incompatible with Noctua's standard mounting kits.
Height (without fan)
158 mm
Width (without fan)
125 mm
Depth (without fan)
45 mm
Weight (without fan)
695 g
Weight (with fan/s)
870 g
Material
Copper (base and heat-pipes), aluminium (cooling fins), soldered joints & nickel plating
Fan compatibility
120x120x25
Scope of Delivery
NF-F12 PWM premium fan
Low-Noise Adaptor (L.N.A.)
NT-H1 high-grade thermal compound
SecuFirm2™ TR4/SP3 mounting-kit
Anti-vibration pads and fan-clips for second NF-F12
Noctua metal case-badge
Max. Rotational Speed (+/- 10%)
1500 RPM
Max. Rotational Speed with L.N.A. (+/- 10%)
1200 RPM
Min. Rotational Speed (PWM, +/-20%)
300 RPM
Max. Acoustical Noise
22,4 dB(A)
Max. Acoustical Noise with L.N.A.
18,6 dB(A)
How big is the NH-U12S and how much clearance does it provide for RAM and chipset coolers?
Please refer to the following drawing for the exact measurements and clearance for RAM and chipset coolers: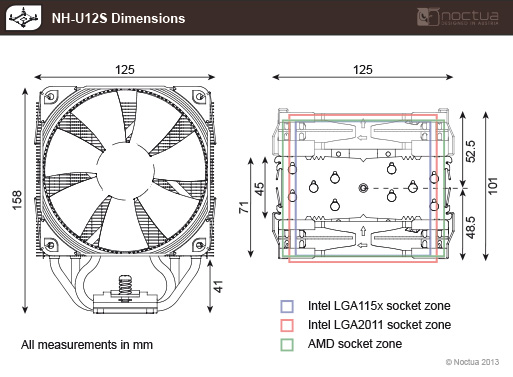 Should I take the cooler off before transporting my system?
As it is not possible to reliably calculate or control the forces that act upon a system during transport (e.g. in shipping), we generally recommend, for safety reasons, taking the fan off the heatsink in order to reduce the weight below 700g. Noctua cannot be held responsible for any damage that may arise due to excessive stress during transport if you keep the fan installed.
How should I clean my Noctua cooler?
Dust: Fans and heatsinks inside computer cases tend to accumulate dust over longer periods of usage. In order to maintain maximum performance, please clean your fan and heatsink regularly. For cleaning, please first remove the fan from the heatsink and clean it using a duster, slightly moist tissue or canned air. Please be careful not to use too much force in order to prevent any damage to the fan. Please do not use a vacuum cleaner as this may apply excessive force to the fan and do not put the fan under running water as water residues inside the motor may lead to short circuits. Please also note that the fan is not designed to be taken apart by the user. Removing the impeller from the frame will break the sealing of the bearing and results in a loss of warranty. Before reinstalling the fan, clean the heatsink itself with a duster or vacuum cleaner. Do not use water to clean the cooler. Finally put the fan back on and connect it to your motherboard fan header or fan controller.
Thermal paste residues: Whenever you take off the heatsink from the CPU, we recommend to clean the CPU as well as the base of the cooler before re-applying thermal paste and re-installing the cooler. You can either just wipe the base and the CPU clean with a dry, lint-free tissue or, for more thorough cleaning, use a lint-free tissue moistened with either a mild solution of washing-up liquid or isopropyl alcohol. Do not put the cooler or CPU under running water. Note that both the base of the heatsink and the CPU should be dry, free from residues of thermal compound and free from grease before re-applying thermal paste and re-installing the cooler.
What Thermal Design Power (TDP) is this cooler recommended for and how much Watt (W) of heat can it dissipate?
Please refer to our
TDP guide
for information on maximum recommended TDP and heat dissipation.
My case supports CPU coolers of up to XXXmm height, which model should I choose?
Please refer to our
TDP guide
in order to select the cooler that offers the best cooling performance at a given height.
I have difficulties installing the cooler, can you help?
How much torque should be applied when tightening the screws of a Noctua CPU cooler?
All screws should be tightened gently until they stop without using excessive force. Please do not exceed the following values for maximum tightening torque:
| Screw type | Max. torque |
| --- | --- |
| NM-SSC1 screws for fixing the fastening brackets to the base of the heatsink | 0.5 Nm |
| NM-ITS1 thumb screws for fixing Intel mounting bars | 0.5 Nm |
| NM-ALS1 screws for fixing AMD mounting bars | 0.6 Nm |
| Spring-loaded screws for fixing the heatsink to the mounting bars | 0.6 Nm |
How can I determine if the motherboard's UEFI BIOS is overclocking my processor by default and deactivate this automatic overclocking?
Most motherboard vendors allow their overclocking-enabled products (e.g. those with Intels X- or Z-series chipsets) to run the processor at increased clock speeds by default, without requiring any user action at all. Since TDP (Thermal Design Power) limits are usually also disabled by default, this leads to the CPU exceeding the rated TDP to a varying degree, depending on the used applications and their workloads. Due to the increased heat output of the CPU, you may see higher CPU temperatures than expected.
In order to find out if your motherboard is overclocking your processor by default, please enter the UEFI BIOS and select the "advanced" or "overclocking" menu. There you should be able to find options such as "MultiCore Enhancement" (options: enabled/disabled), "CPU Ratio Apply Mode" (options: all/per core) or similar. To disable the automatic overclocking, adjust the settings either to "disabled" or "per core" and make sure that the individual multipliers match the original specifications.
In doubt, please contact your motherboard vendor for detailed instructions on how to disable this feature.
Can I install a Noctua cooler in my system from Acer, Dell, HP or Lenovo?
Systems from Acer, Apple, Dell, HP, Lenovo or other major brands often use motherboards which differ slightly from the specifications issued by Intel and AMD. While those changes are usually subtle, they can lead to compatibility issues with coolers that where built to comply with these specifications.
Even in case the cooler is mechanically compatible and can be installed, other issues can occur, e.g. proprietary fan connectors, BIOS errors due to a low fan speed, shutdowns, etc. Some of these problems can be avoided with some technical knowledge, but especially BIOS related issues can often not be resolved.
Due to the large number of possible issues that cannot be resolved with different mounting parts alone, Noctua does not officially support systems from Acer, Apple, Dell, HP, Lenovo or other major brands.
Can I upgrade my existing Noctua cooler to socket TR4 or SP3?
Unfortunately, it is not possible to upgrade existing Noctua heatsinks to support the AMD TR4 and SP3 sockets for Ryzen Threadripper (X399) and Epyc CPUs. TR4/SP3 CPUs have much bigger heatspreaders (as compared to e.g. LGA2066 or AM4 processors) and the contact surfaces of standard Noctua heatsinks would cover only about half of these heatspreaders, which would result in insufficient cooling performance. On top of that, the heatpipes of bigger cooler models like the NH-D15 or NH-D15S would completely block the RAM slots on many TR4/SP3 motherboards. For this reason, Noctua has introduced the new
NH-U14S TR4-SP3
,
NH-U12S TR4-SP3
and
NH-U9 TR4-SP3
cooler models that feature bigger contact surfaces and have been tailored to fit TR4 and SP3 systems. Please choose these models for AMD Ryzen Threadripper and Epyc systems.
Which Noctua fan or CPU cooler should I buy? How to choose the right model?
Not sure which Noctua product to buy? Our detailed buying guides for
fans
and
CPU coolers
help you to choose the model that works best for you.
Do you have a question concerning one of our products? Please use this form to pose a question!