NF-S12B Blade Design

The NF-S12B sports a further refined version of the original NF-S12's Straight-Blade-Design that broke new ground in the realm of quiet PC cooling in 2006 and quickly became renowned for its excellent airflow/noise ratio, making the NF-S12 one of the last years' most successful fans in the PC cooling market. Building on the proven basis of the award-winning NF-S12's impeller, the design goal for the NF-S12B was to further improve its predecessor's much acclaimed airflow/noise ratio and to increase static pressure in order to allow for a broader range of application. These goals have been achieved by reducing the tip clearance at the leading edge and adding Bevelled Blade-Tips, a feature first introduced with the NF-B9 92mm fan.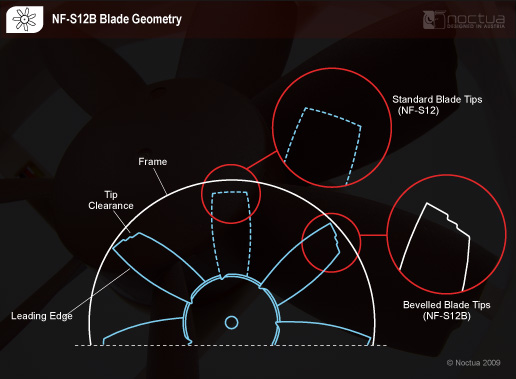 Reducing the tip clearance by increasing the length of the blades allows for a bigger blade surface area as well as improvements both in airflow and static pressure. This measure though tends to come at the expense of increased noise emission due to critical rotor-stator interaction. For the NF-S12B, this issue has been dealt with by only increasing the length of the blades at the leading edges and adding a bevelled structure (Bevelled Blade-Tips). By increasing the distance between the impeller and the frame at the outermost areas of the fan where the impeller achieves the highest velocities, Bevelled Blade-Tips help to reduce critical rotor-stator interaction. As a result, the NF-S12B's modification of the original NF-S12 blade geometry combines the benefits of a reduced tip clearance with those of a bigger distance between the tip of the trailing edge and stator parts, achieving up to 10% improvement both in airflow to noise and pressure to noise ratio.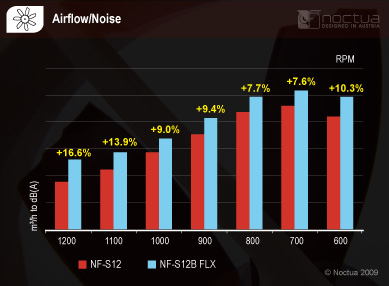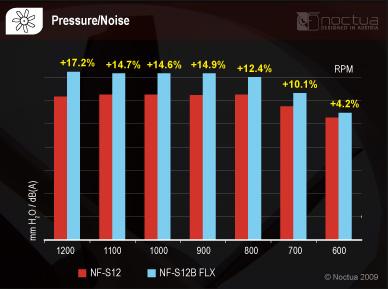 At 1200rpm, the NF-S12B FLX produces 18% more airflow and 14% more static pressure than its predecessor at 1300rpm. Running at 100rpm slower, the NF-S12B is almost 1dB(A) quieter at the same time!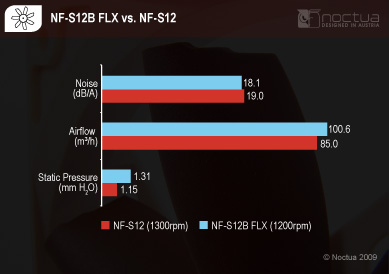 At 700rpm, the NF-S12B ULN produced 13% more airflow and 16% more static pressure than its predecessor. Despite of this impressive boost in performance, the NF-S12B runs just as quiet as the NF-S12!