Noctua at Computex 2016
Vienna, June 8th 2016 – At this year's Computex Taipei trade show, Noctua not only displayed a wide range of upcoming products and prototypes, but also gave insights into its research on advanced heatsink fin structures and materials. Noctua's A-series fans were awarded best case fan series of the year by the European Hardware Association.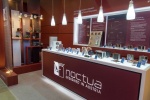 Among a broad range of exclusive products and prototypes, Noctua's award-winning A-series fans took centre stage: early prototypes of slim 140x15, 80x15, 70x15, 60x15 and 50x10mm models were on display, all of which are scheduled for release in 2017. A new 40x20mm fan as well as the slim 120x15mm fan project, which was at the prototype stage last year, have now reached pre-production and are scheduled for launch in late 2016. While the slim 120 and 140mm models will provide new possibilities in designing high-performance, low-profile CPU coolers, the smaller models will allow Noctua to target an even wider range of applications in fields such as storage and network solutions, DVRs or LED lighting.





The long-awaited 200mm A-series model has undergone a thoroughgoing optimisation throughout the last year: For example, the impeller material has been switched from fibreglass reinforced PBT to fibreglass reinforced PP, which allows for a 26% reduction in impeller weight and thereby reduces bearing load significantly. In order to achieve better bearing load distribution, the diameter of the axis has been increased from 3mm to 4mm.
The upcoming next-generation 120x25mm A-series fan has seen a switch from PBT to a novel, state-of-the-art liquid crystal polymer (LCP) compound as well as far-reaching structural modifications that help to reduce tensions in the plastic after injection moulding. Through a combination of these and other measures, Noctua aims to reach the goal of manufacturing the fan with a revolutionary low tip clearance of only 0.5mm.
Both the 200mm and the next-generation 120x25mm A-series fan will have to undergo final stress tests before an ETA can be confirmed, but Noctua aspires to have them available towards the end of the year or early 2017. As soon as the 120mm model is finalised, Noctua will also resume R&D on its ambitious Active Noise Cancellation (ANC) project, which will be based on this model and thus had to be put on hold during the last year while the focus was on overcoming the manufacturing challenges associated with ultra-tight tip clearances.


Complementing the broad expansion of its A-series fans, Noctua is readying two types of anti-vibration mounts that not only work with standard 25mm fans with open frame corners, but also support 10, 15, 20 and 25mm fans with closed corners. While one type features a long case-side end for convenient installation, the other type has a flat case-side end that is flush with the case panel and thus provides a clean exterior look.

In addition to its upcoming new fan models, Noctua exhibited its novel Self-Stabilising Polymer (SSP) bearing for high-temperature industrialPPC fans. Made from a high-tech polymer compound with lubricant particles contained within the compound itself, the SSP bearing is designed to work without extra lubricant. While the lifetime of oil-based bearings at higher temperatures is often limited by dry-out of the lubricant, the SSP system does not have this limitation and can thus reach a theoretical maximum operating temperature of 200°C. Factoring in the temperature limits of the other fan components, the development goal is to reach a maximum operating temperature of 100°C for the entire product, thus surpassing current top-end ball bearing fans and providing better life expectancy at these temperatures. Noctua aims at introducing the first industrialPPC fans using the new SSP bearing technology in 2017.

Due to an outstanding customer response to the chromax anti-vibration parts released at the end of last year, Noctua is now also preparing customisation accessories for heatsinks. The newly designed slide-on covers for the NH-U12S, NH-D15 and NH-D15S will come in three versions (all black, all white and black with interchangeable inlays in black, white, red, yellow, green, blue) that will allow users to colour-coordinate their heatsinks with all popular build colour schemes. All versions should be available before the end of the year.


As far as new CPU coolers are concerned, Noctua showed an impending update of the existing NH-L12 heatsink that will use the new 120mm slim fan as well as prototypes of a 4U version of the NH-U12DX i4 for Intel Xeon and a novel design for the upcoming AMD socket SP3 for Opteron and Intel socket P (LGA3647) for Xeon and Xeon Phi. While the new L12 and U12 versions are targeting a late 2016 release, the latter is scheduled for 2017.


In addition to these upcoming heatsink models, Noctua also gave insights into its R&D for advanced fin structures and materials for increased heat transfer performance, including novel approaches such as an offset-split fin design, oblique groove patterns, flow duct scoops and copper aluminium composite fins. While no breakthrough has been reached as yet, Noctua will carry on its efforts to develop a structure that can provide a substantial improvement in efficiency over standard flat fins across a broad RPM range.






For its industrial clients, Noctua showed two control modules for programmable logic controllers (PLCs). Since common PLCs from Siemens and other manufacturers such as B&R, Beckhoff, Bosch Rexroth, Eaton, Mitsubishi, Omron, Schneider or VIPA cannot process the dynamic RPM signals from standard DC fans, Noctua's watchdog and failover modules provide a pre-processed, potential-free status signal output that can be used both by PLCs and in proprietary control systems. While the watchdog module triggers the alarm on fan failure (blocking etc.), the failover module speeds up the secondary fans if the primary fans fail (load transfer mode) or starts backup fans if the primary fans fail (cold standby mode). Both modules support up to 4 fans per module and an adjustable RPM threshold value. They will be available with 35mm DIN rail mounting, flange enclosure or open frame (PCB only) and are ideal for use in basic control and monitoring tasks such as industrial machinery control, ventilation monitoring, building automation etc.

Last but not least, Noctua showed a prototype of its mounting upgrade kit for the upcoming AMD AM4 socket. The upgrade kit will be backwards compatible with all Noctua retail coolers since 2005 except the NH-L9i and will offer the possibility of installing the cooler turned by 90°. Owners of Noctua coolers will be able to order the kit free of charge by uploading a proof of purchase (scan or electronic copy of the invoice) of both a Noctua CPU cooler and an AM4 CPU or motherboard. The kit will be available as soon as the AM4 platform is officially launched.

Aside from the busy show floor, Noctua's renowned A-series fans were voted the best case fan series of the year 2016 by the jury of the European Hardware Association, made up of editors of nine leading hardware publications from Europe.


Video coverage
LinusTechTips.com (English)
Vortez.net (English)
Hardwareluxx.de (German)
Tom's Hardware (Italian)
iXBT.com (Russian)
SweClockers.com (Swedish)
Techalook (Chinese)
Goldfries.com (English)
FunkyKit.com I (English)
FunkyKit.com II (English)
FunkyKit.com III (English)
Further reading
Noctua Computex 2016 press-kit
About Noctua
Designed in Austria, Noctua's premium cooling components are internationally renowned for their superb quietness, exceptional performance and thoroughgoing quality. Having received more than 6000 awards and recommendations from leading hardware websites and magazines, Noctua's fans and heatsinks are serving hundreds of thousands of satisfied customers around the globe.
Your opinion matters!
We are excited to invite you to participate in our short website survey. It will only take 5 minutes of your time!