Noctua presents chromax.black versions of NH-D9L and NH-L9x65


Noctua presents chromax.black versions of NH-D9L and NH-L9x65
Vienna, November 7th 2023 – Noctua today expanded its chromax.black line with all-black versions of the award-winning NH-D9L and NH-L9x65 CPU coolers: Staying true to the successful formula of the original models, the new chromax.black versions with their black fans and black coated heatsinks combine the same signature quiet cooling performance with a sleek stealth look.
"Many users who build Small Form Factor systems value build-aesthetics just as much as performance and quietness of operation",
says Roland Mossig (Noctua CEO).
"Our NH-D9L and NH-L9x65 are highly popular among Small Form Factor builders, so we're excited to introduce them in all-black chromax versions!"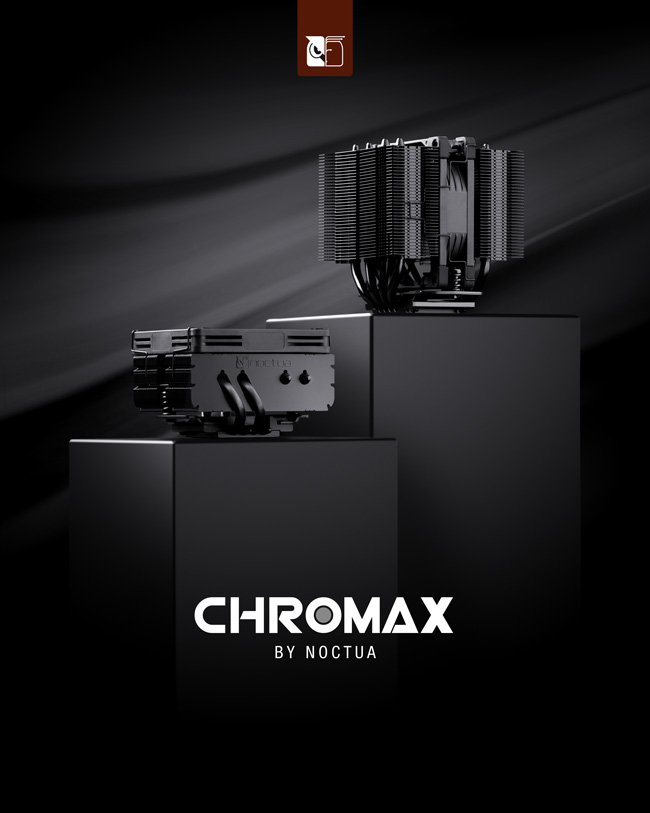 The new NH-D9L chromax.black and NH-L9x65 chromax.black are identical to the award-winning regular models except for the colour: Featuring black coated heatsinks, black fans with black anti-vibration-pads, black fan clips and black mounting parts, they are literally black from head to toe. Thanks to thoroughgoing optimisations of the coating material and process, the chromax.black models provide the same, renowned quiet cooling performance as their regular, non-coated counterparts.
The NH-D9L has been designed to provide excellent efficiency at a height of only 110mm. Its comparably low profile (15mm lower than classic 9cm tower coolers such as the NH-U9S) doesn't only guarantee full 3U compliance but also makes the NH-D9L ideal for compact mini-ITX and Small Form Factor cases that have airflow paths parallel to the motherboard. Thanks to its 95x95mm footprint, the NH-D9L always clears the RAM and PCIe slots, even on ITX motherboards.
The NH-L9x65 covers a middle ground between the larger NH-L12 series and the ultra-compact NH-L9i and NH-L9a series. With 65 instead of 37mm height and four instead of two heatpipes, the NH-L9x65 is more powerful than its smaller siblings yet retains the NH-L9i's 95x95mm footprint, which, like with the D9L, not only guarantees 100% RAM and PCIe compatibility on current motherboards but also makes the cooler more convenient to work with as it doesn't overhang near-socket connectors.
Thanks to their highly optimised NF-A9 and NF-A9x14 premium fans that support fully automatic speed control via PWM, both coolers run remarkably quiet. Topped off with the professional SecuFirm2™ multi-socket mounting system for Intel and AMD (including the new offset mounting bars for better performance on AM5), Noctua's renowned NT-H1 thermal compound and a 6 year manufacturer's warranty, they fuse everything users have come to expect from Noctua's larger coolers into compact premium packages for space restricted systems.
Suggested retail prices
The manufacturer's suggested retail prices are as follows:
NH-D9L chromax.black
: EUR 74.90 / USD 74.90
NH-L9x65 chromax.black
: EUR 69.90 / USD 69.90
Availability
Both coolers are available as of today via Noctua's official Amazon stores:
Buy NH-D9L chromax.black
Buy NH-L9x65 chromax.black
Other sales partners will receive stock shortly.
About Noctua
Designed in Austria, Noctua's premium cooling components are internationally renowned for their superb quietness, exceptional performance and thoroughgoing quality. Having received more than 6000 awards and recommendations from leading hardware websites and magazines, Noctua's fans and heatsinks are serving hundreds of thousands of satisfied customers around the globe.
Your opinion matters!
We are excited to invite you to participate in our short website survey. It will only take 5 minutes of your time!