Noctua presents two AM4-compatible low-profile coolers


Noctua presents two AM4-compatible low-profile coolers
Vienna, September 20th 2017 – Noctua today presented two updates to its range of quiet low-profile CPU coolers. Successors to the award-winning NH-L9a and NH-L12, the new NH-L9a-AM4 and NH-L12S models now support the AM4 socket of AMD's Ryzen processors. Whereas the NH-L9a-AM4 stands a mere 37mm tall, which makes it ideal for use in compact HTPCs or Small Form Factor cases that offer minimum clearance for CPU coolers, the slightly bigger NH-L12S comes equipped with the new NF-A12x15 PWM fan and combines excellent compatibility, surprising efficiency and remarkable flexibility.
"AMD has made a big impact on the market with its Ryzen architecture and the platform will become even more interesting for compact HTPC builds when the first Ryzen-based APUs are introduced next year,"
says Roland Mossig (Noctua CEO).
"We're thus updating two of our award-winning low-profile models to support Ryzen's AM4 socket."
The new NH-L9a-AM4 is an AM4-specific revision of Noctua's award-winning NH-L9a low-profile CPU cooler. At a height of only 37mm, the NH-L9a is ideal for extremely slim cases and, due to its small footprint, it provides 100% RAM and PCIe compatibility as well as easy access to near-socket connectors, even on tightly packed mini-ITX motherboards. The custom-designed SecuFirm2™ mounting system for the AM4 socket makes installation child's play and, thanks to the highly optimised NF-A9x14 92mm fan that supports fully automatic speed control via PWM, the NH-L9a-AM4 runs remarkably quietly.
The new S-version of the renowned NH-L12 not only adds AM4 support but also gives more flexibility and improved performance in low-profile mode. Thanks to the new NF-A12x15 PWM slim 120mm fan, the NH-L12S provides even better cooling than the previous model with its 92mm fan. At the same time, the NH-L12S is highly versatile: with the fan installed on top of the fins, the cooler is compatible with RAM modules of up to 45mm in height. With the fan installed underneath the fins, the total height of the cooler is only 70mm, making it suitable for use in many compact cases. Topped off with a SecuFirm2™ multi-socket mounting system for Intel LGA115x (LGA1150, LGA1151, LGA1155, LGA1156), LGA20xx (LGA2066, LGA2011-0, LGA2011-3) and AMD (AM2, AM2+, AM3, AM3+, AM4, FM1, FM2, FM2+), the NH-L12S is ideal for both Intel and AMD-based HTPC or SFF builds.
Prices and availability
Both models are currently shipping and will be available shortly. The suggested retail prices are EUR 39.90 / USD 39.90 for the NH-L9a-AM4 and EUR 49.90 / USD 49.00 for the NH-L12S.
Links
NH-L12S
NH-L9a-AM4
General AM4 compatibility information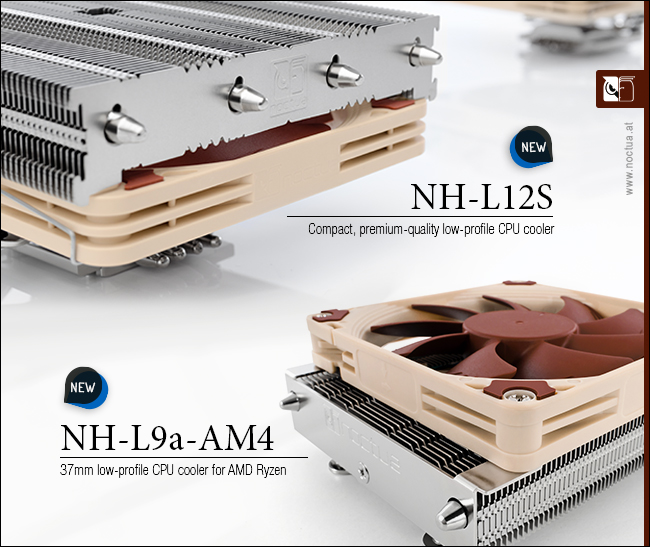 About Noctua
Designed in Austria, Noctua's premium cooling components are internationally renowned for their superb quietness, exceptional performance and thoroughgoing quality. Having received more than 6000 awards and recommendations from leading hardware websites and magazines, Noctua's fans and heatsinks are serving hundreds of thousands of satisfied customers around the globe.
Your opinion matters!
We are excited to invite you to participate in our short website survey. It will only take 5 minutes of your time!