Premium-quality Noctua T-shirts now available!


Premium-quality Noctua T-shirts now available!
Noctua today expanded its range of official merchandise with the introduction of the premium-quality NP-T1 and NP-T2 T-shirts, offering yet another opportunity for Noctua enthusiasts to express their love of the renowned Austrian PC cooling brand through their wardrobe.
The NP-T1 combines Noctua's iconic brown colour scheme with a casual, raglan sleeve silhouette, and high-quality printed Noctua logo on the chest. The NP-T2 meanwhile offers a playful, geometric, chromax-inspired black, grey and white design.
Both models have been built with Noctua's tireless dedication to quality in mind, combining remarkably soft, premium-feel fabrics with a unique, attractive design: perfect for the avid Noctua follower.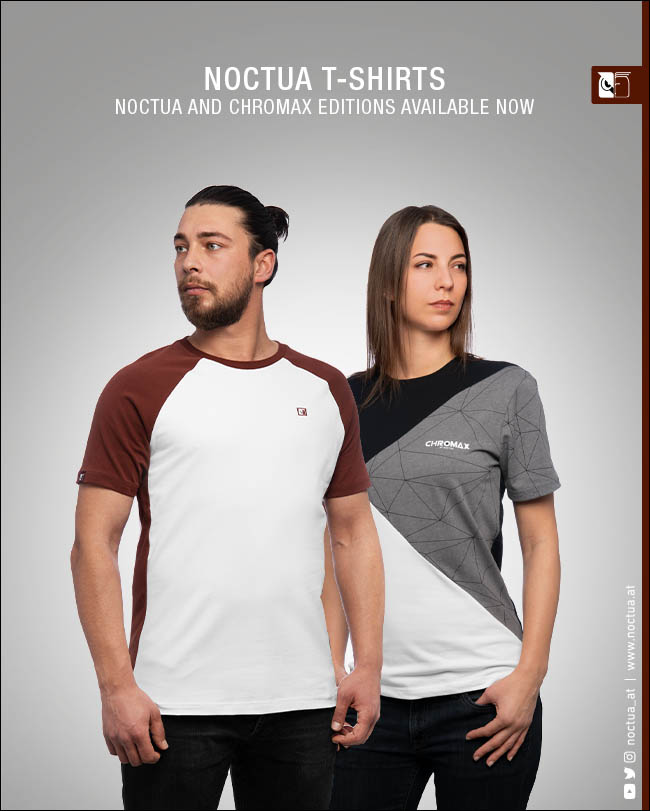 The T-shirts are available as of today via Noctua's official Amazon and eBay stores for EUR/USD 29.90:
Buy NP-T1
Buy NP-T2
About Noctua
Designed in Austria, Noctua's premium cooling components are internationally renowned for their superb quietness, exceptional performance and thoroughgoing quality. Having received more than 6000 awards and recommendations from leading hardware websites and magazines, Noctua's fans and heatsinks are serving hundreds of thousands of satisfied customers around the globe.