Roadmap of upcoming products


Roadmap of upcoming products
Thank you very much for your interest in our upcoming products! This roadmap allows you to stay up to date regarding the estimated time of arrival (ETA) of future Noctua products.
Please note the following points:
We regularly update this page to reflect the current ETAs of upcoming products, but we cannot specify the estimated release dates more precisely than in the table below.
Follow us on twitter or Instagram to be notified about updates made to this roadmap. To be notified about new product releases, you can also follow us on twitter, Instagram or subscribe to our newsletter.
We annually show upcoming products and projects at Computex Taipei (see news coverage) but beyond that, we cannot provide further information regarding the technical characteristics and specifications of upcoming products.
All ETAs given here reflect our current plans, but there may be delays due to various reasons such as further research and development, fine-tuning, manufacturing capacities or coordination with other projects.
In case of delays, we will update the ETAs in this roadmap accordingly, but we cannot provide explanations regarding the exact causes of such delays. We understand and share your frustration if a product gets delayed, but we always need to make sure that it has what it takes to be a Noctua product and this often requires extra time to perfect.
The table below lists all upcoming products that we can currently comment on or provide an ETA for. Please understand that we cannot answer inquiries regarding other possible products or projects. If a product is not listed in the table below, it will usually take at least another year to be released and it will be added to the table once we can provide an ETA.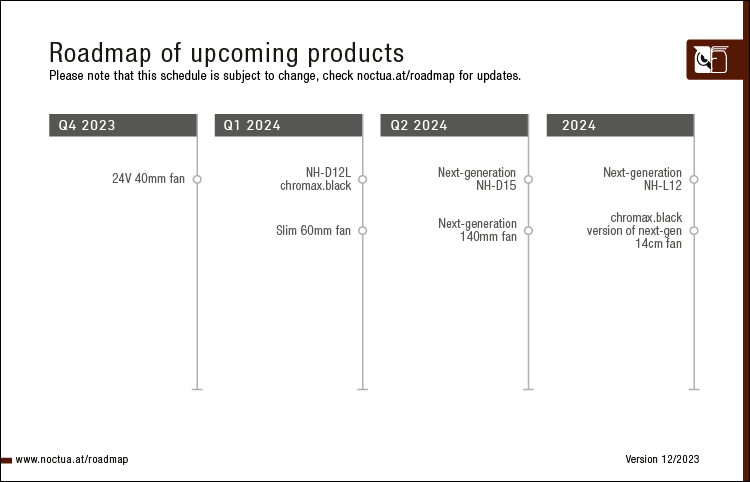 Last updated 12/2023
Your opinion matters!
We are excited to invite you to participate in our short website survey. It will only take 5 minutes of your time!