The NM-I3 SecuFirm2™ Mounting-Kit makes all Noctua CPU coolers compatible with Intel's LGA775 & LGA1366 sockets for Core i5 and Core i7 processors. Designed to combine outstanding reliability, optimal contact pressure and easy, straightforward installation, SecuFirm2™ is an enthusiast-grade mounting system that meets the highest demands in safety, performance and ease-of-use.
Please use the new NM-i115x kit for upgrading older heatsinks to LGA1150, LGA1151, LGA1155 or LGA1156. The NM-I3 kit is now only available to provide LGA775 and LGA1366 support.

Owners of Noctua CPU coolers* can obtain the NM-I3 Mounting-Kit free of charge via this form. A proof of purchase (photo, scan or screenshot of the invoice) of both a Noctua CPU cooler and either a socket 775/1366 mainboard or socket 775/1366 CPU are required.

The NM-I3 SecuFirm2™ Mounting-Kit is also available for purchase at some of our resellers. If you need the kit urgently, please consider ordering it via a local reseller.

*The kit can not be provided free of charge for the NH-D14 SE2011 (special edition for LGA2011 only) as well as for DX series Intel Xeon coolers. If you would like to use the kit with these coolers, please purchase it a local reseller. Also note that this kit is not compatible with the NH-L9i & NH-L9a low profile coolers and DO series AMD Opteron coolers.
/


Ultimate Reliability
Noctua's SecuFirm™ mounting systems are renowned for their excellent reliability, minimize the stress on mainboards and make it possible to transport the system without uninstalling the CPU cooler. With tens of thousands of units sold, there's not a single known case of failure.

Backplate with Screw-Threads
SecuFirm2™ utilizes a backplate with screw-threads that simply installs on top of the stock LGA1366/LGA1156/LGA1155 backplate. Not having to remove the stock backplate significantly reduces overall installation time and eliminates the risk of damaging the CPU socket. Thanks to the screw threads, the backplate can't slip during the installation process.

Integrated Fastening Brackets
Fully integrated fastening brackets with fixed pressure screws and springs greatly facilitate the installation process. No more fiddling with screws and springs!

Maximum Convenience for Enthusiasts
Thanks to the use of separate mounting bars, uninstalling and reinstalling the cooler only takes two screws. Loosening two thumbscrews gives full access to the socket without the backplate falling off, making it a child's play to change CPUs even if the mainboard is installed inside a case.

Backwards Compatibility
SecuFirm2™ is fully backwards compatible with all Noctua coolers since 2005, making them safe long-term investments that can be used for several CPU generations.

Trusted SecuFirm2™ quality
Over the years, SecuFirm2™ has become synonymous with impeccable long-term stability and flawless craftsmanship. Enthusiast users and industry clients alike trust the time-tested quality of Noctua's professional mounting systems.

Perfect contact pressure
SecuFirm2™ mounting systems use high-grade coil springs to achieve perfect contact pressure. No guesswork regarding how far to tighten the mounting screws, no risk of damaging the socket with excessive pressure!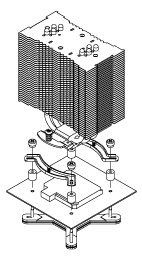 Supported CPU series
Intel Core i5 & Core i7
Cooler compatibility
Noctua NH-C12P, NH-C14S, NH-D14, NH-D14 SE2011, NH-D15, NH-D15 chromax.black, NH-D15 SE-AM4, NH-D15S, NH-D15S chromax.black, NH-L12S, NH-L9x65, NH-L9x65 SE-AM4, NH-U12, NH-U12F, NH-U12P, NH-U12P SE1366, NH-U12S, NH-U12S chromax.black, NH-U12S SE-AM4, NH-U14S, NH-U9, NH-U9B, NH-U9S, NH-U9S chromax.black