Noctua releases offset mounting for improved cooling performance on AMD AM5 processors


Noctua releases offset mounting for improved cooling performance on AMD AM5 processors
Vienna, June 13th 2023 – Noctua today announced the availability of its new offset mounting bars for installing Noctua CPU coolers on AMD AM5 processors. By offsetting the heatsink 7mm towards the south side of the socket, more pressure is applied right above the CPU's CCD(s). This improved contact exactly at the processor's hotspot can significantly reduce CPU temperatures with typical improvements in the range of 1-3°C.
"We have experimented with offset mountings ever since AMD introduced its first chiplet processors that had the hotspot shifted towards the south side of the socket, but on AM4, we only saw relatively small improvements in the range of 0.5-1°C",
says Roland Mossig (Noctua CEO).
"With the new AM5 platform and its different heat-spreader design, we managed to achieve typical improvements in the range of 1-3°C, so we think that this will be a very interesting performance upgrade for Ryzen 7000 users!"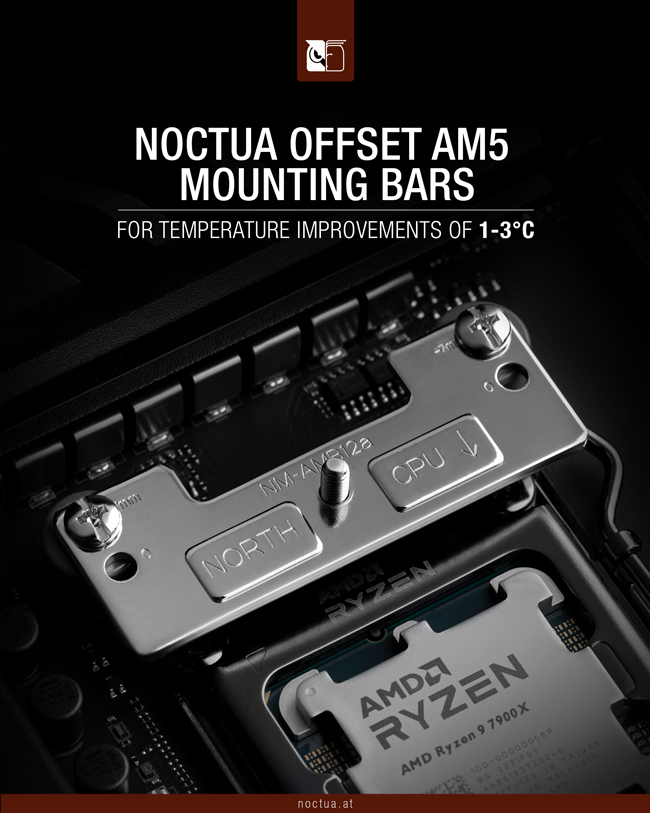 AMD's latest Ryzen processors have their Core Complex Die(s) not at the centre, but slightly towards the south side of the CPU. By shifting the heatsink right above the hotspot created by the CCD(s) and applying optimal contact pressure where it matters the most, thermal performance can often be improved significantly.
While the results can vary due to different heat flux densities, tolerances of both the CPU and heatsink as well as other factors such as thermal paste application, the offset mounting can yield significant improvements with typical reductions in core temperatures ranging between 1 and 3°C on high-end AM5 processors. These gains can be used to let the CPU run cooler, to achieve higher boost clock frequencies or to reduce fan speeds and noise levels.
While primarily designed for AM5, the offset mounting bars can also be used on AM4, where they may yield slight improvements on Ryzen 5000 and 3000 series processors. However, the improvements when using the offset mounting position on these CPUs tend to be much smaller, typically <1°C instead of the 1-3°C gains that can be achieved on AM5.
There are different sets of offset mounting bars for different coolers depending on their mounting pitch (83mm vs. 78mm) and basic architecture (e.g. single tower coolers require mounting points east and west of the socket for optimal orientation, dual tower coolers require mounting points north and south of the socket):
For a full compatibility list, please see
this FAQ
. For chromax.black CPU coolers, the NM-AMB12 and NM-AMB15 are also available in chromax.black versions.
Pricing and availability
The new offset mounting bars will be available as of today via Noctua's website or Amazon for a service charge of EUR 3.90 (website form) or EUR/USD 4.90 (Amazon) that helps to cover parts of the shipping and handling costs.
While the NM-AMB12, NM-AMB14 and NM-AMB15 bars for current cooler models are already in stock, NM-AMB13 that are required for legacy models will be ready to order within 1-2 weeks.
Noctua is also currently updating all its multi-socket CPU cooler models to include the new offset mounting bars. While availability will vary between models and countries, the first coolers that already include the offset mounting bars should start to become available by Q4.
Links
Technical backgrounds
FAQ: Which offset AM5 mounting bars are required for which cooler model?
Buy NM-AMB12 on Amazon
Buy NM-AMB12 chromax.black on Amazon
Buy NM-AMB14 on Amazon
Buy NM-AMB15 on Amazon
Buy NM-AMB15 chromax.black on Amazon
NM-AMB12 order form on Noctua.at
NM-AMB12 chromax.black order form on Noctua.at
NM-AMB13 order form on Noctua.at (to be enabled in 1-2 weeks)
NM-AMB14 order form on Noctua.at
NM-AMB15 order form on Noctua.at
NM-AMB15 chromax.black order form on Noctua.at
About Noctua
Designed in Austria, Noctua's premium cooling components are internationally renowned for their superb quietness, exceptional performance and thoroughgoing quality. Having received more than 6000 awards and recommendations from leading hardware websites and magazines, Noctua's fans and heatsinks are serving hundreds of thousands of satisfied customers around the globe.
Your opinion matters!
We are excited to invite you to participate in our short website survey. It will only take 5 minutes of your time!