Your opinion matters!
We are excited to invite you to participate in our short website survey. It will only take 5 minutes of your time!


En offrant un vaste de choix de combinaisons de couleurs, la série chromax est idéale pour les utilisateurs souhaitant créer des configurations PC haut de gamme avec une esthétique unique. Nous évoquons ici la version chromax.black disponible pour certains modèles Noctua iconiques destinés à équiper les ventirads CPU ou bien les ventilateurs noirs mais aussi les accessoires disponibles en différentes couleurs tels que les caches pour radiateur, les câbles, les silentblocs et attaches anti-vibrations. Tout cela permet de customiser les ventilateurs ou les ventirads CPU compatibles. En permettant de coordonner le système de refroidissement avec les autres composants et avec les thèmes couleur populaires (noir, noir et blanc ou rouge et noir), la série chromax Noctua est la solution rêvée des utilisateurs en quête de qualité, de performance mais aussi d'esthétique et d'une certaine élégance.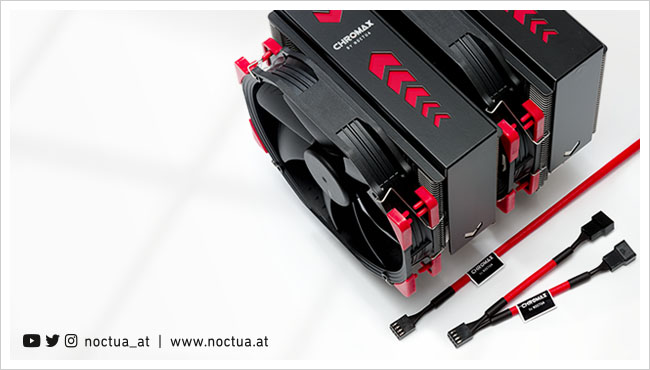 NH-D15 chromax.black
NH-D15S chromax.black
NH-U12S chromax.black
NH-U9S chromax.black
NH-L9a-AM4 chromax.black
NH-L9i chromax.black



Chromax fans
NF-A20 PWM chromax.black.swap
NF-A15 HS-PWM chromax.black.swap
NF-A14 PWM chromax.black.swap
NF-F12 PWM chromax.black.swap
NF-A12x15 PWM chromax.black.swap
NF-A9 PWM chromax.black.swap
NF-A9x14 PWM chromax.black.swap
NF-A8 PWM chromax.black.swap



Chromax heatsink covers
NA-HC1 chromax.black.swap
NA-HC2 chromax.black
NA-HC2 chromax.white
NA-HC3 chromax.black.swap
NA-HC4 chromax.black
NA-HC4 chromax.white
NA-HC5 chromax.black.swap
NA-HC6 chromax.black
NA-HC6 chromax.white



Chromax cables
NA-SEC1 chromax.black
NA-SEC1 chromax.blue
NA-SEC1 chromax.green
NA-SEC1 chromax.red
NA-SEC1 chromax.white
NA-SEC1 chromax.yellow

NA-SYC1 chromax.black
NA-SYC1 chromax.blue
NA-SYC1 chromax.green
NA-SYC1 chromax.red
NA-SYC1 chromax.white
NA-SYC1 chromax.yellow



Chromax anti-vibration accessories
NA-SAVP1 chromax.black
NA-SAVP1 chromax.blue
NA-SAVP1 chromax.green
NA-SAVP1 chromax.red
NA-SAVP1 chromax.white
NA-SAVP1 chromax.yellow
NA-SAVP1 chromax.grey

NA-SAVP3 chromax.black
NA-SAVP3 chromax.blue
NA-SAVP3 chromax.green
NA-SAVP3 chromax.red
NA-SAVP3 chromax.white
NA-SAVP3 chromax.yellow

NA-SAVP5 chromax.black
NA-SAVP5 chromax.blue
NA-SAVP5 chromax.green
NA-SAVP5 chromax.red
NA-SAVP5 chromax.white
NA-SAVP5 chromax.yellow

NA-SAVP6 chromax.black
NA-SAVP6 chromax.blue
NA-SAVP6 chromax.green
NA-SAVP6 chromax.red
NA-SAVP6 chromax.white
NA-SAVP6 chromax.yellow

NA-SAV2 chromax.black
NA-SAV2 chromax.blue
NA-SAV2 chromax.green
NA-SAV2 chromax.red
NA-SAV2 chromax.white
NA-SAV2 chromax.yellow