The NM-A90 Upgrade-Kit for NH-U12P SE2 and NH-U9B SE2 CPU coolers makes it possible to install the heatsink turned by 90° on socket AM2/AM2+/AM3/AM3+/FM1/FM2/FM2+ AMD motherboards. Using the NM-A90 kit thus gives AMD users more flexibility in aligning the cooler with the airflow inside their case.
| | |
| --- | --- |
| | Caution: The NM-A90 Upgrade-Kit is compatible with NH-U12P SE2 and NH-U9B SE2 coolers only. |
/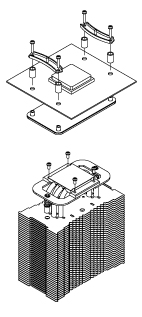 Cooler compatibility
Noctua NH-U12P SE2 & NH-U9B SE2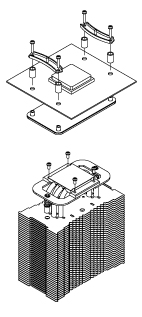 FAQ: How can I check whether my AMD mainboard has a standard AMD backplate that's compatible with the SecuFirm2 mounting system and how should I proceed with the installation?
The SecuFirm2™ mounting system requires a standard AMD backplate (either plastic or metal) with screw threads as shown on the pictures below. These backplates are pre-installed on the rear side of most AMD mainboards (see first picture below) and fixed to the retention module with four screws (see second picture below). If your retention module is fixed with plastic bolts instead of metal screws, please contact
support@noctua.at
in order to obtain an appropriate backplate.
In order to proceed with the installation of your Noctua cooler, please remove the four screws and the retention module but keep the backplate in place so that you can see the screw threads from the top side of the motherboard (see third picture below). You can then proceed with the installation of the SecuFirm2™ mounting kit as described in the manual (see fourth picture below).