Le NH-L9a-AM4 est la dernière version du célèbre ventilateur Noctua faible encombrement
NH-L9a
dédié au refroidissement des CPU. Il s'agit ici de la version spécifiquement conçue pour les configurations au format SFF (Small Form Factor) ou HTPC avec AMD Ryzen. Avec une hauteur de seulement 37mm, le NH-L9a est idéal pour les boîtiers ayant une hauteur très faible car son encombrement réduit assure une parfaite compatibilité tant au niveau des modules de RAM que des emplacements PCIe et laisse un accès facile aux connections autour du socket y compris sur les cartes mères compactes de type mini-ITX. Le système de fixation SecuFirm2™, spécifiquement étudié pour le socket AM4, rend l'installation simplissime. Le ventilateur haute technologie
NF-A9x14
92mm, dont la vitesse peut être entièrement automatisée via PWM, permet par ailleurs au NH-L9a-AM4 de fonctionner avec un silence étonnant. Livré avec la célèbre pâte thermique
NT-H1
Noctua, le NH-L9a-AM4 réunit ainsi – au sein d'un pack premium dédié au CPU/APU Ryzen pour environnements ITX et HTPC - tout ce que les utilisateurs ont eu l'habitude d'attendre des ventirads Noctua plus imposants.
| | |
| --- | --- |
| | Le NH-L9a-AM4 est un ventirad silencieux ultra compact de dimension réduite dédié aux petits boîtiers au format SFF et aux HTPC. Malgré son niveau impressionnant de performance, il n'est néanmoins pas adapté à l'overclocking et ne convient pas aux CPU/APU ayant un TDP (Thermal Design Power) supérieur à 95W. Veuillez consulter notre guide TDP pour vérifier l'adéquation de votre CPU/APU avec le NH-L9a-AM4. |
Détails
Nouvelle version dédiée au socket AM4 Ryzen
Le modèle NH-L9a original conçu pour les AM2(+), AM3(+), FM1 et FM2(+) a reçu plus de 50 distinctions et recommendations de la part de la presse internationale et de sites spécialisés. La nouvelle version pour AM4 repose sur les mêmes caractéristiques technologiques avancées qui ont fait ce succès afin de garantir, pour un modèle compact, un niveau de performance ultime pour les CPU et APU Ryzen.
Faible hauteur de 37mm
Avec un radiateur mince de 23mm associé au ventilateur faible encombrement NF-A9x14 dont l'épaisseur n'excède pas 14mm, le NF-A9x14 offre une hauteur totale de seulement 37mm… autant d'atouts qui le rendent idéal pour les HTPC et les boîtiers Small Form Factor qui ne laissent que peu d'espace disponible pour le ventirad du CPU.
Compatibilité RAM totale
L'encombrement réduit du NH-L9a-AM4 répond parfaitement aux exigences formulées par AMD en termes d'occupation d'espace (keep-out zone). Ceci signifie que ni le ventirad ni le ventilateur n'empiètent sur les slots dédiés aux modules de RAM, la compatibilité étant ainsi assurée avec les modules de mémoire hauts.
Compatibilité totale avec les cartes VGA sur mini-ITX
Certaines cartes mères AMD mini-ITX possèdent un slot PCIe proche de la zone dédiée au socket CPU. Alors que les ventirads plus imposants qui débordent sur cette zone critique empêchent l'utilisation du slot PCIe, le format compact du NH-L9a-AM4 assure une compatibilité totale avec les cartes PCIe.
Accès facilité aux connecteurs proches du socket
De nombreux ventirads faible hauteur sont dotés, pour des raisons de performance, de ventilateurs ou de dissipateurs plus imposants et viennent ainsi empiéter sur la zone du socket. Il devient alors difficile voire impossible d'accéder aux connecteurs environnant le socket sur les carte mères ITX encombrées. Grâce à son format compact, le NH-L9a-AM4 permet quant à lui d'accéder librement aux connecteurs et autres composants environnants.
NF-A9x14 PWM : un ventilateur haute performance
Le ventilateur NF-A9x14 est un modèle premium hautement optimisé, pourvu d'un cadre exclusif Noctua AAO et bénéficiant d'un design avancé offrant des performances aérodynamiques exceptionnelles. Compatible PWM, avec une vitesse ainsi totalement automatisable, le NF-A9x14 permet au NH-L9a-AM4 de rester étonnamment silencieux.
Adaptateur Faible Bruit
En offrant la possibilité de réduire la vitesse plafond du NF-A9x14 PWM (1800 tr/min au lieu de 2500 tr/min), l'adaptateur faible bruit (L.N.A.) fourni permet d'obtenir des configurations quasi inaudibles avec les CPU ayant un TDP de moins de 65W.
Système de fixation SecuFirm2™ spécifique pour le AM4
Le NH-L9a-AM4 est livré avec une version du système de fixation SecuFirm2™ spécifiquement conçue pour les configurations Ryzen AMD avec socket AM4. En permettant de fixer le ventirad depuis l'arrière de la carte mère, ce système offre une installation extrêmement aisée tout en maintenant les qualités et le niveau de sécurité du système SecuFirm2™.
Pâte thermique NT-H1
La célèbre NT-H1 de Noctua est une solution professionnelle TIM offrant une résistance thermique minimale, une grande facilité d'application et une fiabilité hors pair. Sans cesse plébiscité par les adeptes de l'overclocking et les utilisateurs passionnés, ce produit est devenu LA référence incontestée des composés thermiques premium.
Garantie fabricant de 6 ans
Les produits Noctua ont gagné une solide réputation pour leur grande qualité et leur longévité exceptionnelle. Tout comme l'ensemble des ventilateurs Noctua, le NF-A9x14 bénéficie d'un MTTF de plus de 150 000 heures de test et le pack NH-L9a est assorti d'une garantie fabricant de 6 ans.
Notes and warnings
Le NH-L9a-AM4 est un ventirad silencieux ultra compact de dimension réduite dédié aux petits boîtiers au format SFF et aux HTPC. Malgré son niveau impressionnant de performance, il n'est néanmoins pas adapté à l'overclocking et ne convient pas aux CPU/APU ayant un TDP (Thermal Design Power) supérieur à 95W. Veuillez consulter notre
guide TDP
pour vérifier l'adéquation de votre CPU/APU avec le NH-L9a-AM4.
Spécifications radiateurrn
Hauteur (ventilateur non compris)
23 mm
Largeur (ventilateur non compris)
114 mm
Profondeur (ventilateur non compris)
92 mm
Hauteur (ventilateur compris)
37 mm
Largeur (ventilateur compris)
114 mm
Profondeur (ventilateur compris)
92 mm
Poids (ventilateur non compris)
390 g
Poids (ventilateur/s compris)
465 g
Matériau
cuivre (fond et caloducs), aluminium (plaques de refroidissement), soudé & nickelé
Dimensions du ventilateur
92x92x14mm, 92x92x25mm
Volume de livraison
Ventilateur haut de gamme NF-A9x14 PWM
Adaptateur Faible Bruit (L.N.A.)
Pâte thermique NT-H1
Système de fixation SecuFirm2™
Vis de fixation pour ventilateurs 92x92x25mm
Noctua Case-Badge en métal
Spécifications ventilateur
Modèle
Noctua NF-A9x14 PWM
Vitesse de rotation max. (+/-10%)
2500 RPM
Vitesse de rotation avec L.N.A. max. (+/-10%)
1800 RPM
Vitesse de rotation min. (PWM, +/-20%)
600 RPM
Niveau sonore max.
23,6 dB(A)
Niveau sonore avec L.N.A. max.
14,8 dB(A)
Puissance consommée
2,52 W
| | | |
| --- | --- | --- |
| | | |
| 22.10.2017 // hardwarepoint.net | | |

Der L9a hatte in unserem Test natürlich so sein Schaffen, da wir die TDP mit unserer A10 APU weit überschritten haben. Man muss natürlich auch die Grenzen ausloten, wobei sich der L9a dafür sehr gut geschlagen hat. Die dabei entstehende Geräuschkulisse ist allerdings nicht wirklich Noctua üblich – der Lüfter ist halt aber auch deutlich kleiner, als das was wir hier sonst von Noctua zum Test hier bei uns haben. Bei 100% der möglichen Drehzahl, was ca. 2500 RPM entspricht ist der Lüfter sehr dominant und störend, aber auch bei 75% der Drehzahl ist der Lüfter noch deutlich hörbar und garantiert auch noch durch ein Gehäuse als eher belästigend zu empfinden. Hier sind Produkte von Nocuta normalerweise schon recht zahm was die Geräuschabgabe anbelangt. Der Lüfter muss also weiter gedrosselt werden, gerade wenn man einen HTPC bzw. small form factor PC verwendet, die ja oft ohne Dämmung daherkommen und auf dem Schreibtisch, also näher am Nutzer, platziert werden. Als Optimum sehe ich eine maximal Drehzahl um und bei 60%, in Kombination mit einer Lüfterkurve, die im IDLE auf 50% oder sogar niedriger absenkt. Denn wenn wir bei 1250 RPM ankommen wird der L9a doch ganz schnell leise und wird sich nicht mehr durchs Gehäuse hindurch melden.

Verdict du test: "Trotz der Tortour, durch die wir den L9a geschickt haben, indem wir die "erlaubte" TDP um fast 50% überschritten haben, schlug er sich im Test doch ausgesprochen gut." (Dennis Heinze, hardwarepoint.net)
| | | |
| --- | --- | --- |
| | | |
| 22.10.2017 // JotaReviews.pt | | |

Após correr todos os testes constatamos que o Noctua NH-L9a-AM4 tem uma perfomance muito similar ao cooler stock com um ganho médio de apenas ~ 2.5 ºC. O desempenho vai ao encontro daquilo que estávamos à espera, dado que ambos os coolers tem dimensões reduzidas e ventoinhas do mesmo tamanho. Embora os ganhos em relação ao cooler stock sejam marginais, não nos podemos esquecer que este produto foi feito para um target muito específico – HTPCs ou computadores SFF – onde habitualmente encontramos processadores de baixo consumo sem capacidade de overclock e onde geralmente não há muito espaço disponível para o cooler. Este é provavelmente o cooler mais slim que há no mercado, com uma altura de apenas 37 mm. Para um processador com o TDP do R7 1700 e uma voltagem de 1.325 v, não poderíamos esperar milagres vindos deste cooler. A nível de ruído não temos um decibelímetro para dizer com exactidão qual é o ruído nem fazer comparações com outros coolers, contudo, durante os nossos testes a ventoinha funcionou a 100% (porque ultrapassou o limite de 80ºC) e foi completamente abafada pelas ventoinhas da caixa.

Verdict du test: "Embora o desempenho do Noctua NH-L9a-AM4 seja semelhante ao cooler stock quando submetido aos testes de stress, o cooler da Noctua pode ser uma alternativa nos casos em que a caixa tem pouca altura disponível (o Noctua é cerca de 17 mm mais baixo) e em casos onde o silêncio tem peso." (João Teixeira, JotaReviews.pt)
| | | |
| --- | --- | --- |
| | | |
| 15.10.2017 // RealHardTechX.com | | |

El NOCTUA NH-L9a-AM4 es un soberbio disipador para entornos HTPC. Su enorme calidad impresiona. El equipo de ingenieros de la marca austríaca ha logrado adecuar con éxito el diseño ofrecido por el ya excelente NH-L9a a la nueva plataforma AM4. El grado de excelencia alcanzado por Noctua no deja de maravillarnos y nos hace esperar con impaciencia su siguiente innovación. Destacar la inclusión de el excelente ventilador Noctua NF-A9x14 PWM. Con él, Noctua consiguen maximizar el rendimiento sin comprometer por ello lo que para la marca es su santo y seña, que no es otra cosa que el funcionamiento silencioso. El montaje no puede ser más sencillo. El sistema de montaje multisocket SecuFirm2 para AM4 acompañado por unas completas y claras instrucciones hace que el proceso sea un juego de niños independientemente del nivel que se tenga.

Verdict du test: "En definitiva, el maravilloso NOCTUa NH-L9a-AM4 es un refrigerador premium diseñado para satisfacer a los más exigentes." (José Romero, RealHardTechX.com)
| | | |
| --- | --- | --- |
| | | |
| 11.10.2017 // GreenTechReviews.ru | | |

Что ж, результаты нас очень впечатлили! Даже при максимальной работе вентилятора, которую мы выставили вручную, систему было очень слабо слышно. А при автоматическом управлении скоростью, вентилятор было вообще не слышно даже практически в упор.

Verdict du test: "Процессорный кулер Noctua NH-L9a-AM4 является бескомпромиссным решением для сборки очень компактной системы даже с флагманским процессором. Кулер проявил себя исключительно с лучших сторон — он демонстрирует впечатляющую эффективность при своих скромных размеров, а также характерен практически бесшумной работой." Владимир Солонин, GreenTechReviews.ru)
| | | |
| --- | --- | --- |
| | | |
| 08.10.2017 // XtremeSystems.org | | |

The NH-L9a-AM4 continues with the excellent built quality and a quiet operation that we have come to love and expected from Noctua. Make no mistake, the NH-L9a-AM4 is not meant for extreme overclockers. Its low profile design and small foot-print is meant to be used in slim profile PC and HTPC systems. It is designed for compact systems that need decent cooling performance and low operational noise level. From a performance outlook, we were pleasantly surprised from its performance in such a small form factor. While Noctua didn't recommended any overclocking with this cooler we feel that it has the capacity to handle a decent mild overclock.

Verdict du test: "In addition to the performance and near silence, the NH-L9a-AM4 was extremely easy to install." (Ambrosidou Nat, XtremeSystems.org)
| | | |
| --- | --- | --- |
| | | |
| 06.10.2017 // HWready.it | | |

Il piccolo L9 si comporta alla grande e si candida per essere il più piccolo dei dissipatori per socket AM4. Nonostante le dimensioni i risultati ottenuti sono molto buoni e il dissipatore riesce a rimanere silenzioso. NH-L12S: Questo è un dissipatore completo che riesce senza molti problemi anche a reggere il nostro test in overclock. Una grande compatibilità con quasi tutti i socket lo rendono sicuramente un acquisto molto appetibile per la longevità.

Verdict du test: "I due dissipatori si comportano entrambi molto bene, L12 permette anche un considerevole overclock, quindi un ottima scelta per chi vuole dilettarsi in questa pratica. Per quanto riguarda il piccolo L9 invece è un ottima alternativa per PC molto compatti garantendo dissipazione migliore del dissipatore stock originale." (Mauro Santoro, HWready.it)
| | | |
| --- | --- | --- |
| | | |
| 06.10.2017 // Razorman.net | | |

Medimos en IDLE una temperatura mínima de 31.8ºC tras 10 minutos de tener encendido el equipo, llegando a una temperatura máxima de 37.7ºC en el minuto 12 de la prueba. La temperatura es realmente muy buena para tratarse de un cooler tan pequeño y que mantiene a raya a todo un Ryzen 7 1700 con un TDP de 65W. En cuanto a sonoridad, sólo podemos alabar el buen funcionamiento del ventilador, que ni a máximas revoluciones es molesto, recordemos que tan sólo produce 23.6 dB(A).

Verdict du test: "El cooler Noctua NH-L9A-AM4 es ideal para nuestro HTPC de salón, pues sus diminutas dimensiones son ideales para equipos de estas características. Nos ha gustado su bajísima sonoridad en cualquier circunstancia – pudiendo rebajarla aún más utilizando el cable ULNA – y la facilidad de instalación, pues es sólo preciso colocar el backplate trasero y asegurarlo con 4 tornillos." (Jose Luis Fernandez, Razorman.net)
| | | |
| --- | --- | --- |
| | | |
| 04.10.2017 // PCnet.com.tr | | |

95 Watt TDP sınırı olan soğutucunun overclock ve daha üst TDP'ler durumunda yetersiz olacağı ortada ama zaten bu derece kompakt boyutlarına bakarsak daha fazlasını beklemek mantıklı olmazdı. Sıcaklık değerleri 70C üstüne çıkıyor ama bu sadece aralıksız olarak 12 komut işlettiğinizde geçerli ve tehlike söz konusu değil. Kasanızda soğutma kötüyse daha da yükselebilir.

Verdict du test: "AMD Ryzen işlemcinizi dar bir kasada kullanmak ve tamamen sessiz biçimde soğutmak istiyorsanız temin edebileceğiniz en iyi işlemci soğutucularından biri." (Gorkem Yildirim, PCnet.com.tr)
The mounting brackets don't touch the mainboard, is this an issue?
No. The mounting brackets are not meant to touch the mainboard and the flexibility of the brackets is required to create the appropriate contact pressure. There should be up to 3mm (Intel) or 4mm (AMD) space between the mainboard and the mounting brackets when the cooler is correctly installed.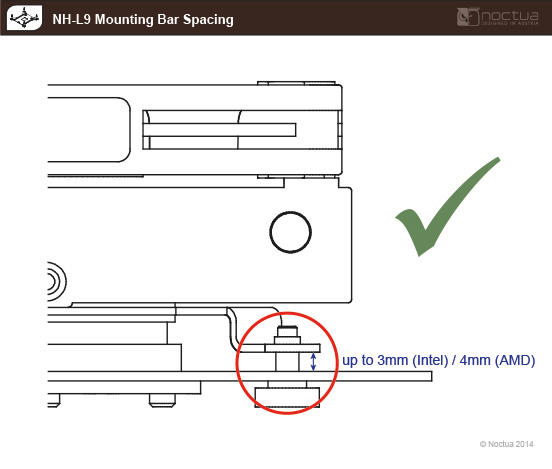 How should I clean my Noctua cooler?
Dust: Fans and heatsinks inside computer cases tend to accumulate dust over longer periods of usage. In order to maintain maximum performance, please clean your fan and heatsink regularly. For cleaning, please first remove the fan from the heatsink and clean it using a duster, slightly moist tissue or canned air. Please be careful not to use too much force in order to prevent any damage to the fan. Please do not use a vacuum cleaner as this may apply excessive force to the fan and do not put the fan under running water as water residues inside the motor may lead to short circuits. Please also note that the fan is not designed to be taken apart by the user. Removing the impeller from the frame will break the sealing of the bearing and results in a loss of warranty. Before reinstalling the fan, clean the heatsink itself with a duster or vacuum cleaner. Do not use water to clean the cooler. Finally put the fan back on and connect it to your motherboard fan header or fan controller.
Thermal paste residues: Whenever you take off the heatsink from the CPU, we recommend to clean the CPU as well as the base of the cooler before re-applying thermal paste and re-installing the cooler. You can either just wipe the base and the CPU clean with a dry, lint-free tissue or, for more thorough cleaning, use a lint-free tissue moistened with either a mild solution of washing-up liquid or isopropyl alcohol. Do not put the cooler or CPU under running water. Note that both the base of the heatsink and the CPU should be dry, free from residues of thermal compound and free from grease before re-applying thermal paste and re-installing the cooler.
What Thermal Design Power (TDP) is this cooler recommended for and how much Watt (W) of heat can it dissipate?
Please refer to our
TDP guide
for information on maximum recommended TDP and heat dissipation.
My case supports CPU coolers of up to XXXmm height, which model should I choose?
Please refer to our
TDP guide
in order to select the cooler that offers the best cooling performance at a given height.
I have difficulties installing the cooler, can you help?
How much torque should be applied when tightening the screws of a Noctua CPU cooler?
All screws should be tightened gently until they stop without using excessive force. Please do not exceed the following values for maximum tightening torque:
| Screw type | Max. torque |
| --- | --- |
| NM-SSC1 screws for fixing the fastening brackets to the base of the heatsink | 0.5 Nm |
| NM-ITS1 thumb screws for fixing Intel mounting bars | 0.5 Nm |
| NM-ALS1 screws for fixing AMD mounting bars | 0.6 Nm |
| Spring-loaded screws for fixing the heatsink to the mounting bars | 0.6 Nm |
How can I determine if the motherboard's UEFI BIOS is overclocking my processor by default and deactivate this automatic overclocking?
Most motherboard vendors allow their overclocking-enabled products (e.g. those with Intels X- or Z-series chipsets) to run the processor at increased clock speeds by default, without requiring any user action at all. Since TDP (Thermal Design Power) limits are usually also disabled by default, this leads to the CPU exceeding the rated TDP to a varying degree, depending on the used applications and their workloads. Due to the increased heat output of the CPU, you may see higher CPU temperatures than expected.
In order to find out if your motherboard is overclocking your processor by default, please enter the UEFI BIOS and select the "advanced" or "overclocking" menu. There you should be able to find options such as "MultiCore Enhancement" (options: enabled/disabled), "CPU Ratio Apply Mode" (options: all/per core) or similar. To disable the automatic overclocking, adjust the settings either to "disabled" or "per core" and make sure that the individual multipliers match the original specifications.
In doubt, please contact your motherboard vendor for detailed instructions on how to disable this feature.
Can I install a Noctua cooler in my system from Acer, Dell, HP or Lenovo?
Systems from Acer, Apple, Dell, HP, Lenovo or other major brands often use motherboards which differ slightly from the specifications issued by Intel and AMD. While those changes are usually subtle, they can lead to compatibility issues with coolers that were built to comply with these specifications.
Even in case the cooler is mechanically compatible and can be installed, other issues can occur, e.g. proprietary fan connectors, BIOS errors due to a low fan speed, shutdowns, etc. Some of these problems can be avoided with some technical knowledge, but especially BIOS related issues can often not be resolved.
Due to the large number of possible issues that cannot be resolved with different mounting parts alone, Noctua does not officially support systems from Acer, Apple, Dell, HP, Lenovo or other major brands.
Can I upgrade my existing Noctua cooler to socket TR4 or SP3?
Unfortunately, it is not possible to upgrade existing Noctua heatsinks to support the AMD TR4 and SP3 sockets for Ryzen Threadripper (X399) and Epyc CPUs. TR4/SP3 CPUs have much bigger heatspreaders (as compared to e.g. LGA2066 or AM4 processors) and the contact surfaces of standard Noctua heatsinks would cover only about half of these heatspreaders, which would result in insufficient cooling performance. On top of that, the heatpipes of bigger cooler models like the NH-D15 or NH-D15S would completely block the RAM slots on many TR4/SP3 motherboards. For this reason, Noctua has introduced the new
NH-U14S TR4-SP3
,
NH-U12S TR4-SP3
and
NH-U9 TR4-SP3
cooler models that feature bigger contact surfaces and have been tailored to fit TR4 and SP3 systems. Please choose these models for AMD Ryzen Threadripper and Epyc systems.
Which Noctua fan or CPU cooler should I buy? How to choose the right model?
Not sure which Noctua product to buy? Our detailed buying guides for
fans
and
CPU coolers
help you to choose the model that works best for you.
Avez-vous une question sur un de nos produits ? Veuillez utiliser ce formulaire pour poser une question !