Anti-Stall Knobs
Noctua's S12 series impellers use a high angle of attack in order to achieve superior airflow. However, impellers with high angles of attack are typically more prone to undesired stall and flow separation phenomena that can occur when the fan is working against higher impedance such as when blowing through tight fan filters or when used on heatsinks and radiators. In these situations when the fan is building up high pressure but less air is moving through, the speed of the air particles flowing alongside the suction side of the fan blades gradually decreases towards the trailing edge. The lower the speed and the higher the counter-pressure, the higher the risk of the air particles becoming detached from the blade surface. This flow separation phenomenon known as stall leads to undesired turbulence, reduced efficiency and translates into a dent in the fan's performance curve.



The NF-S12A features Anti-Stall Knobs close to the trailing edges of the fan blades. By speeding up the air at this critical point of the blade profile, the Anti-Stall Knobs reduce the risk of undesired stall and flow separation phenomena. This means that the NF-S12A works more efficient than its predecessors in most mid- to high impedance situations despite its slightly lower maximum pressure: While providing a bit less static pressure at the shut off point, the NF-S12A produces more pressure throughout most of the curve, making it better suited for all-round use, tight air filters or even heatsinks and radiators: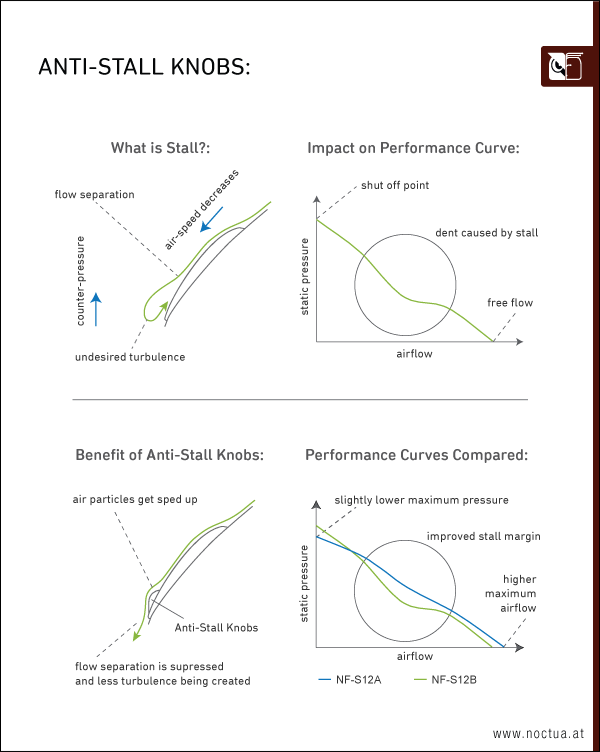 Comparing the NF-S12A's performance curve to its predecessor's, the improved stall margin is immediately visible: Thanks to the suppression of the stall effect, the dent in the curve occurs much later and less pronounced than with the NF-S12B. Combined with its higher maximum airflow in free flow and further reduced noise emission, this allows the NF-S12A to achieve even better results than its renowned predecessor.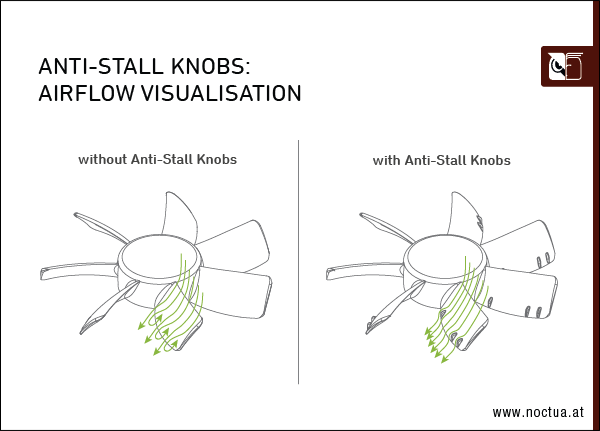 Your opinion matters!
We are excited to invite you to participate in our short website survey. It will only take 5 minutes of your time!