Focused Flow™ Frame
Designed for superior performance in pressure demanding applications such as heatsinks and radiators, the Focused Flow™ frame features eleven stator guide vanes that straighten, channel and focus the airflow, which allows the NF-F12 to rival the performance of conventional fans running at much faster speeds.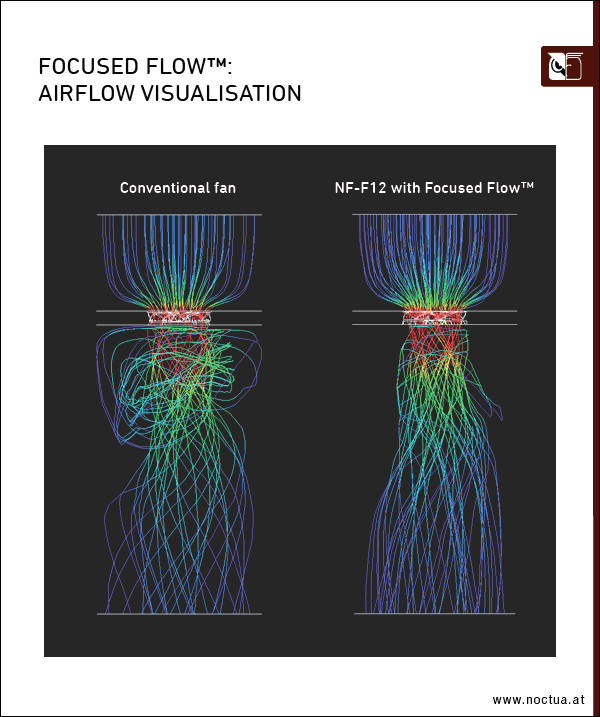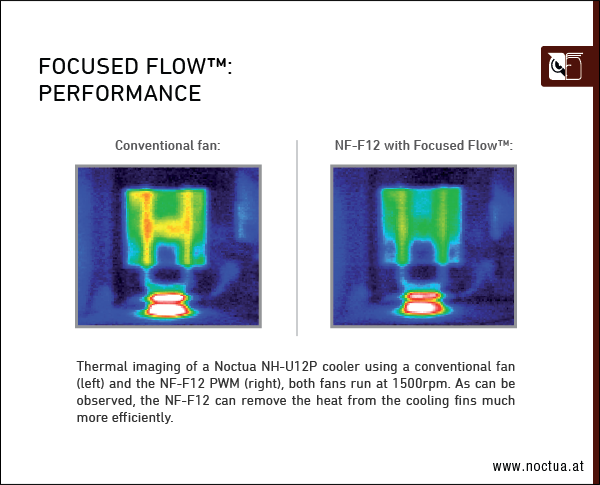 The NF-F12's stator guide vanes are set out in Varying Angular Distance and feature Vortex-Control Notches. Both measures help to spread the noise emission over a broader frequency spectrum and thus make the fan's sound pattern more agreeable to the human ear.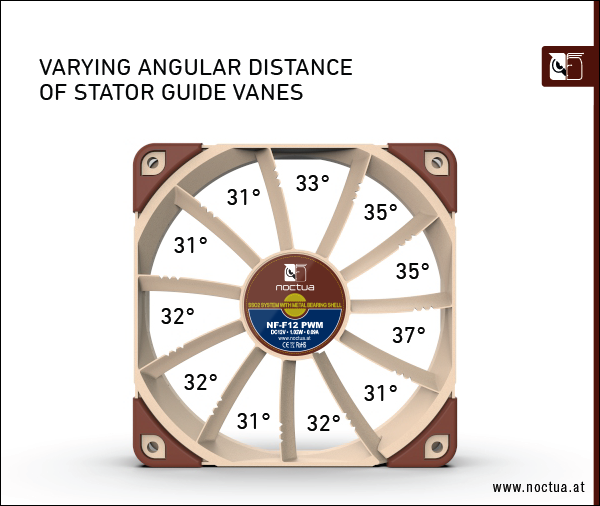 Moving over the stator guide vanes, the fan blades create pressure pulses. This type of rotor-stator interaction significantly contributes to the fan's overall noise emission. With a uniform distribution of the stator vanes, the relative geometrical constellation of the rotor blades and the stator guide vanes is identical each time the rotor moves over the next stator vane. This means that each time a stator vane is passed by a rotor blade, the same pressure pulses are created. Acoustically, these periodic pulses lead to noises at distinct frequencies and manifest themselves as frequency spikes in the fan's acoustic spectrum, giving it a more tonal and distinguishable character. To avoid this phenomenon, the NF-F12's stator guide vanes are set out in Varying Angular Distance (between 31° and 37°). Due to this measure, the geometrical situation between the rotor and the stator parts is slightly different each time the rotor moves over the next stator vane, which results in aerodynamically different pressure pulses and hence spreads the noise emission over a broader frequency range. Producing a less tonal and more broadband acoustic profile, the VAD stator guide vanes make the fan more agreeable to the human ear and let it blend into the background noise more easily.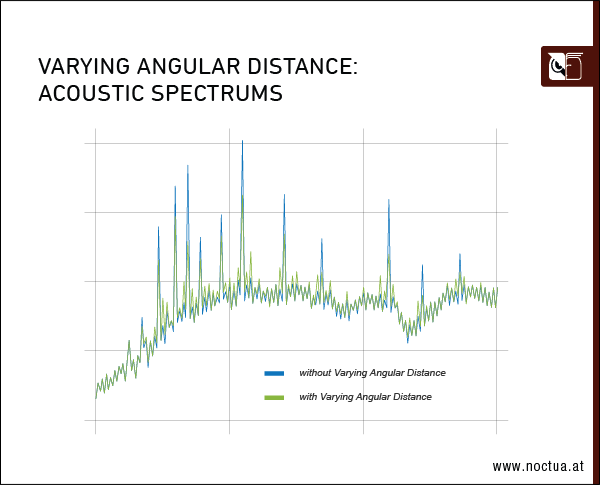 First introduced with the Noctua's much acclaimed NF-P12 fan, Vortex-Control Notches are an advanced aerodynamic design measure that serves a twofold purpose: Firstly, Vortex-Control Notches make the flows along the suction and the pressure side of the blades or stator guide vanes mix more smoothly at the trailing edge, allowing for less turbulence and velocity loss, which leads to increased efficiency and reduced noise emission.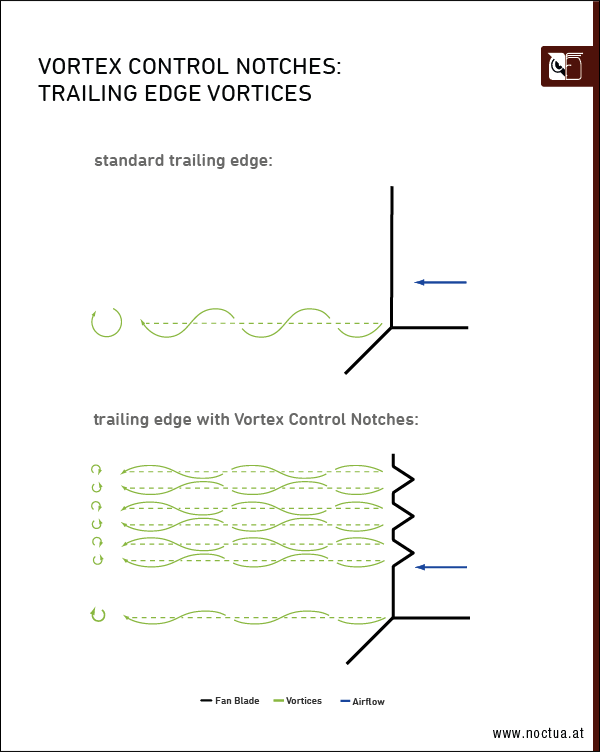 Secondly, Vortex-Control Notches also help to make the fan's acoustic profile more pleasant to the human ear. Due to the Vortex-Control Notches, trailing edge vortices are split up into several smaller vortices, each having slightly different tonal characteristics. This has a similar effect as the Varying Angular Distance of the stator guide vanes insofar as the noise emission is spread over a wider range of frequencies and frequency spikes are reduced. As a result, the fan's noise pattern is perceived as much less annoying and more agreeable to the human ear.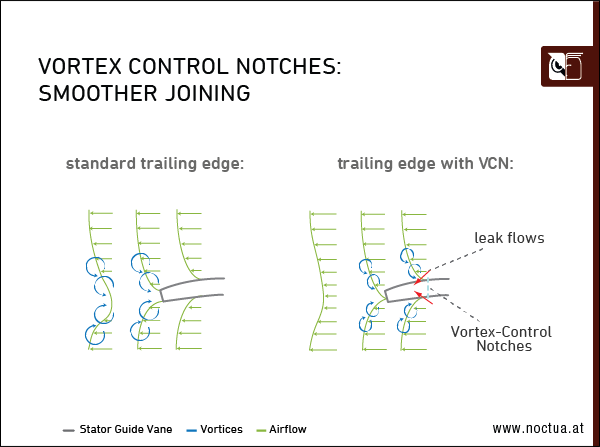 Your opinion matters!
We are excited to invite you to participate in our short website survey. It will only take 5 minutes of your time!