Stepped Inlet Design
Noctua's Stepped Inlet Design is an advanced aerodynamic design measure first introduced with the NF-F12 fan. By adding turbulence to the fan's influx, the Stepped Inlet Design facilitates the transition from laminar to turbulent flow. This measure has an effect similar to the dimple structure of a golf ball in so far as it leads to better flow attachment to the frame, which allows the impeller to suck in more air and hence improves overall airflow efficiency.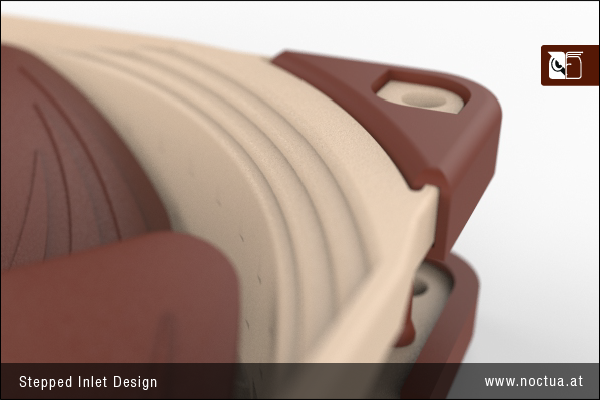 In addition to these aerodynamic benefits, the Stepped Inlet Design also reduces tonal intake noises caused by laminar inflow due to it being transformed to turbulent flow, which produces a more broadband noise profile. This way, the Stepped Inlet Design helps to refine the fan's acoustic qualities by letting it blend into the background noise more easily and making it more agreeable to the human ear.