SSO2 Bearing
The self-stabilising oil-pressure bearing (SSO-Bearing) system has always been at the heart of Noctua's award-winning premium fans. Silent enthusiasts and industry clients alike swear by its proven, time-tested quality. SSO combines the proven concept of oil-based hydrodynamic bearings with an additional magnet that supports the self-stabilisation of the rotor axis. Due to the axis being stabilised by the magnetic field, Noctua's SSO Bearing achieves higher precision and better longevity than conventional ball-, sleeve- or hydrodynamic bearings.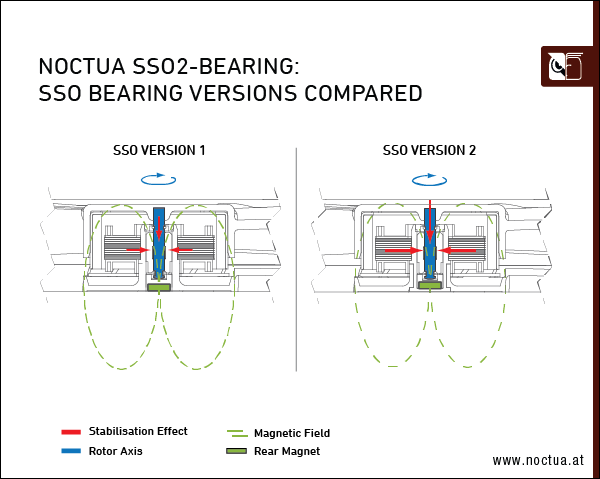 SSO2 is the further optimised second generation of SSO. Made possible by the use of metal bearing shells and new injection moulding techniques, the magnet is now placed closer to the rotor axis and thus exerts higher magnetic force to it. This results in even better stabilisation, precision and durability.
Your opinion matters!
We are excited to invite you to participate in our short website survey. It will only take 5 minutes of your time!